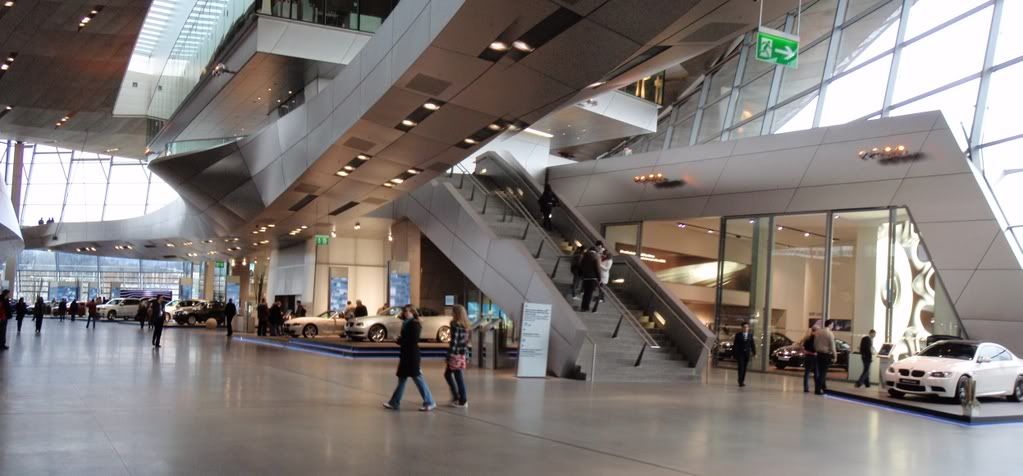 Today was very rainy and we decided to check out BMW's new world museum, which has some very beautiful architecture and the famed BMW's. I love having visitors, especially when they are my parents. My Dad always likes to try something new and encourages me to do the same, so it was nice to have a reason to visit the beautiful new museum / show room, not to mention he is a car guy, so it wasn't too difficult to get him to go. I've seen the museum for months, but it's always something to do later. I'm happy that 'later' finally came.



Buying a BMW and picking it up direct off the line is a major experience here. I have to give it to BMW to make it an experience and create some hype and excitement around it. Living in Munich is nice, because we often see brand new cars that we don't even know what they are. We also, on occasion, see these new BMW's being test drove on the autobahn (the area between the airport and Alliance Arena is a hot spot for that).


In addition to going to the museum we also went to the Olympic park, which has spectacular views of the city and park from Olympiaberg, a large hill made entirely out of trash from World War II. The wind was a bit intense, but the view is definitely worth it.


| | |
| --- | --- |
| | |
I'm quickly running out of places to take my parents around town - we have been walking and walking. Tuesday we also checked out the museums at Königsplatz. This area has a lot of Third Reich history, which is quite grim, but the art work and architecture of the buildings has been able to transcend that and have a new beginning. There's always life with art!
It's difficult not to miss my parents before they are gone. They are going to be leaving in a week already, and it seems like it's coming much too fast.