(This post is a follow up from our trip around the world. I will be writing a recap for each place we visited during our 4 month trip. Prior to Cambodia we also visited India, Nepal, Thailand, Malaysia and Singapore).



- Visiting Tonlé Sap takes some effort, but it's most definitely worth it. We chose to go a bit further at the recommendation of our hotel and it took roughly 2 hours to get to the Kampong Phluk Village (Harbor of the Tusks). This area is less touristed due to being only accessible by water.


- Getting out of the city area was very eye opening and heart warming. We saw so many adorable little school children and even tinier ones with little tanned bottoms that would wave and say 'Hello!' with so much enthusiasm. Once again we were shown so much kindness and generosity without expectations for anything in return. I truly can't think of a more hospitable place.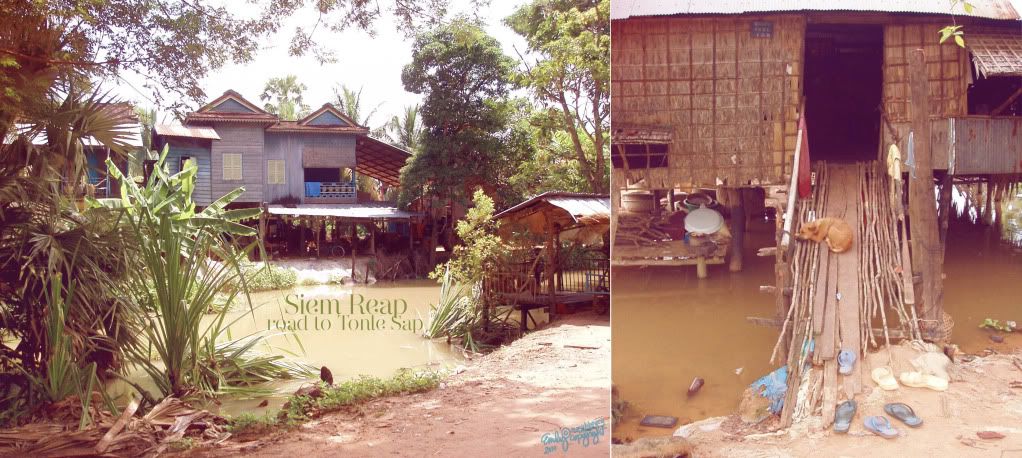 - As we went down many dirt roads and it crossed my mind that we were so trusting, because we really didn't have an idea where we were. That vulnerable state seems to really awaken all senses. It's so nice to get out of the city and to see how people truly live. This day will forever stay in my mind.



- After our long journey we arrived at the boat station where a young boy started our boat. It was clear he was accustomed to navigating the water. At one point he the engine stopped and he climbed out on the side and began finagling around in the middle of the lake. Evidently he's also well versed in fixing engines.


- Along the way we saw a very small island packed with cattle, random foliage growing in the water, and the occasional settlement or home. The lake was especially vast due to the recent heavy rains and our arrival at the end of the wet season when it swells to 4 times its original size.



- Approaching the large housing area was one of those eye opening moments seeing how people could live entirely on water. I worried about children falling in and found it interesting to think they learned to row boats and swim before running and riding bikes. Impressively these homes have stilts between 6 and 10 meters high to keep them above the water line. When the water decreases temporary housing is built to follow the fish.



- Living surrounded by water naturally brings about the difficult nature of using the water to bathe, clean, and use the restroom. Thankfully this is the largest fresh lake in Southeast Asia. We also saw signs with US flags on several water wells in land. Not having proper bathroom facilities or clean water should be something everyone has access to.


- Fish was clearly the staple food, however we also saw chickens in cages underneath homes, and piglets in boats. There were also small floating markets.


-We were transfered from our larger boat to a small row boat so we could visit the submerged mangrove forest. It was a very beautiful place and surprisingly quite large. I was also surprised when the woman rowing the boat pulled out a cell phone with images to show us where she was taking us. It definitely showed me that even being so far out how inter-connected the world really is.

- The only very tiny area of land had the community school, healthy center, and a small pagoda. We also saw a police station and what appeared to be a lot of political signage.

Kampong Phluk felt like a testament to both what people do to survive and also how resilient people are, although not necessarily by choice. It's so impressive to see people live so close with nature and I wish I could have talked to more people about they knowledge they've gained from doing so.

It reminds me of one of my favorite quotes:

"Study nature, love nature, stay close to nature. It will never fail you."
- Frank Lloyd Wright