One of my painting teachers in college told me he thought I would really enjoy Marrakech and now I can tell him that he was right. It was so nice to be able to spend so much time exploring the city, because there is so much to see and do.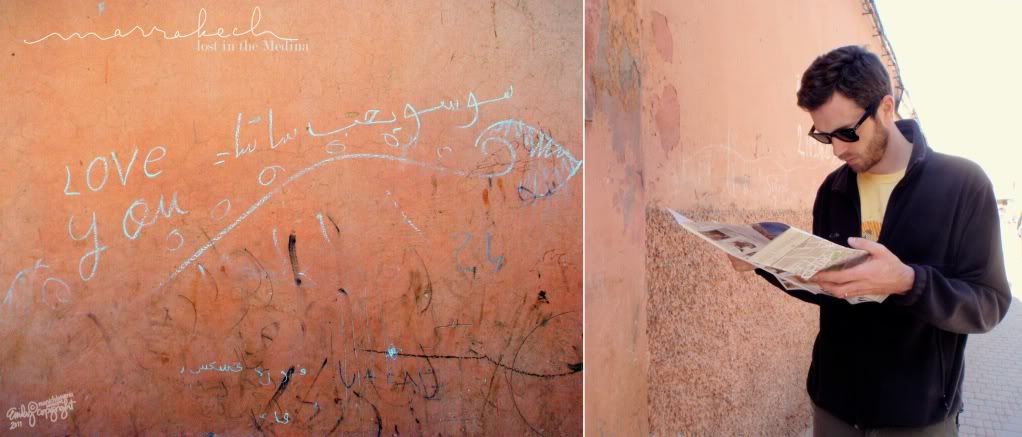 The area is conducive to getting lost - even if you have a reasonable map, which often leads to some interesting places.
The Djemaa el Fna...
is where most roads lead and at night this UNESCO site really awakens with an array of characters, foods, sounds, and smells.

- One of my favorite things was sitting at the little café on the corner and watching the action down below at dusk and watching the early evening action. The light was magnificent and it steadily faded into night.
Snake Charmers
Produce Market...
it felt like we were stepping back in time to see the weights + scales that were used.
Goods Markets...
one of many places to buy tea sets, clothing, carpets, decor + household items.
Transport...
seeing donkeys, horses, carts, motorbikes, and cars sharing the roads.

Souks...
there were a large array of goods for sale, but the light beams shining through the thatched roof was especially beautiful. (Side note: Stefan had no idea this slab of meat was behind him.)
Souks at Night...
so quiet compared to the hustle and bustle of the day.
Escargot...
food may be safe, but dishware can be problematic since there aren't great washing facilities - or so we were warned.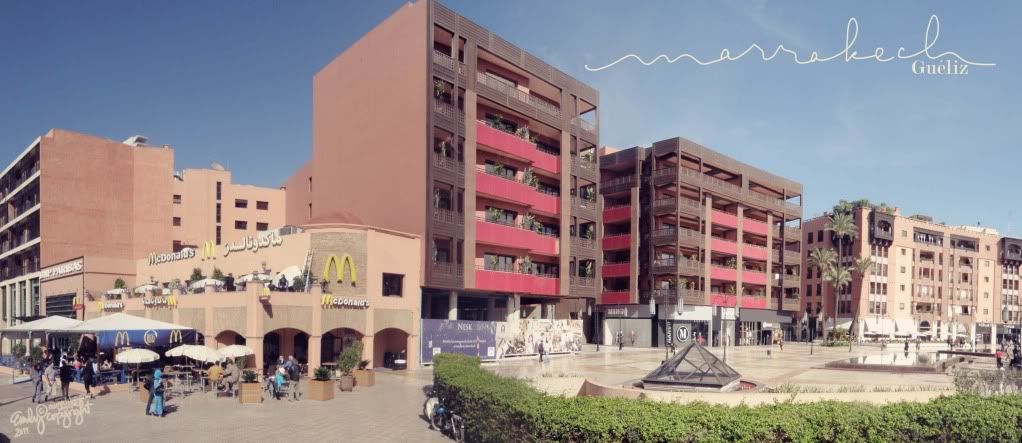 Guéliz...
Considered 'New Marrakech' and has a very European feel. It's also an easy place to go for things with marked prices instead of bartering.
Modern foods and fantastic pastries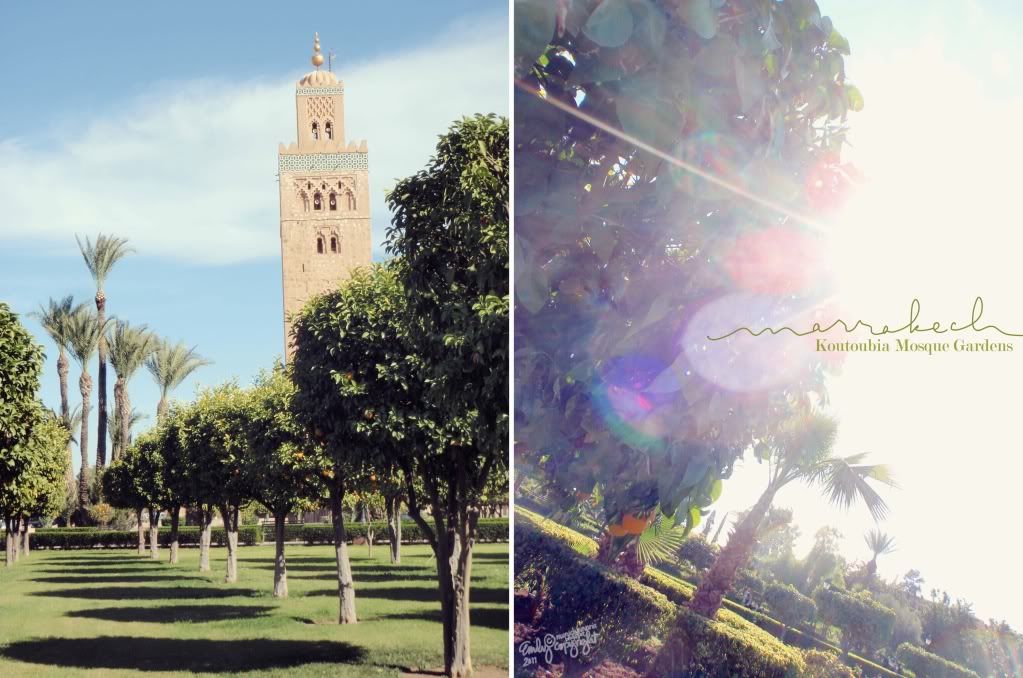 Koutoubia Mosque + Gardens...
beautifully tended with orange trees, greenery and a bit of shade.
City Walls...
those little holes allowed for the expanding and contrasting of the stone as it was being built.
Tanner's District...
even as soon as we approached the area men would come up with photos of the colorful Fes market to show us in hopes of guiding us there (In Marrakech it's not as colorful). Many people and children are more than willing to offer help back in exchange for some pocket money, although it's easy to visit on your own as well, which is what we did. The children were sweet - they would start yelling 'fermé (closed)' if you ventured down a residential dead end.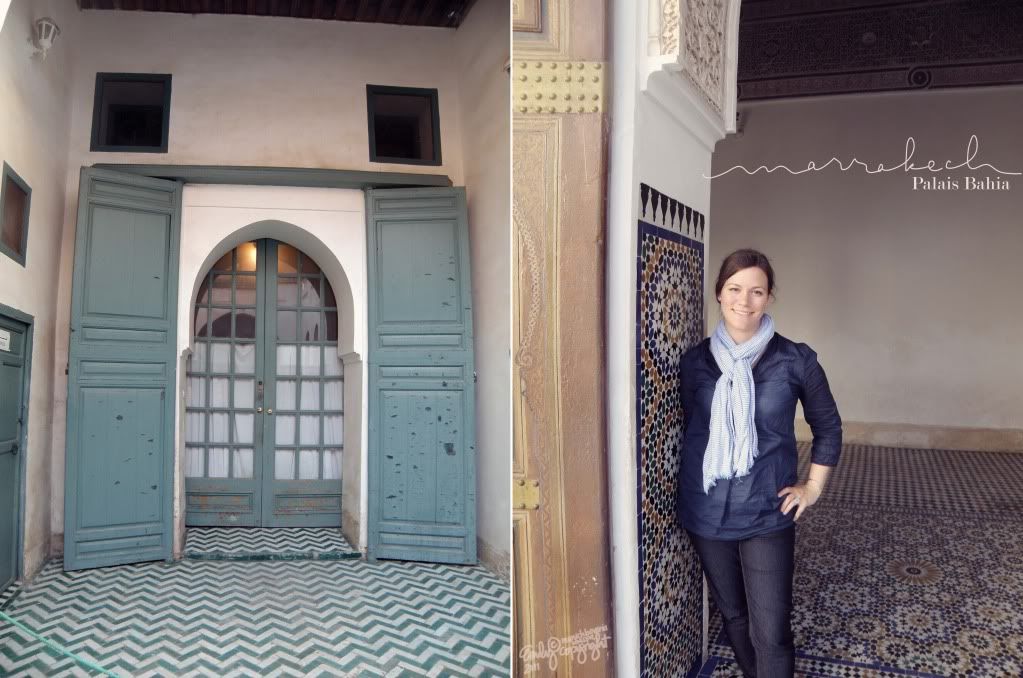 Palais Bahia...
one of the most visited sites in Marrakech. There are so many beautiful patterns, textures, and architectural details.
Memorial to Yves Saint Laurent
Oasis...
it's incredible to think this is more or less in the middle of a desert, because the area is so lush and green.
Marjorelle Blue...
Not quite Yves Klein blue, but quite similar and equally as beautiful.
Train Station at dusk
Mosques
Palmerie
Camels

Lantern shop...
I wanted a bright colored lantern and there was only one shop where we saw them for sale. I tried to negotiate for one and the man told me they start at 600 dirhams, which is about 60€. I went with the approach of knowing what I'd be willing to pay and being willing to walk away, which is what I ended up doing.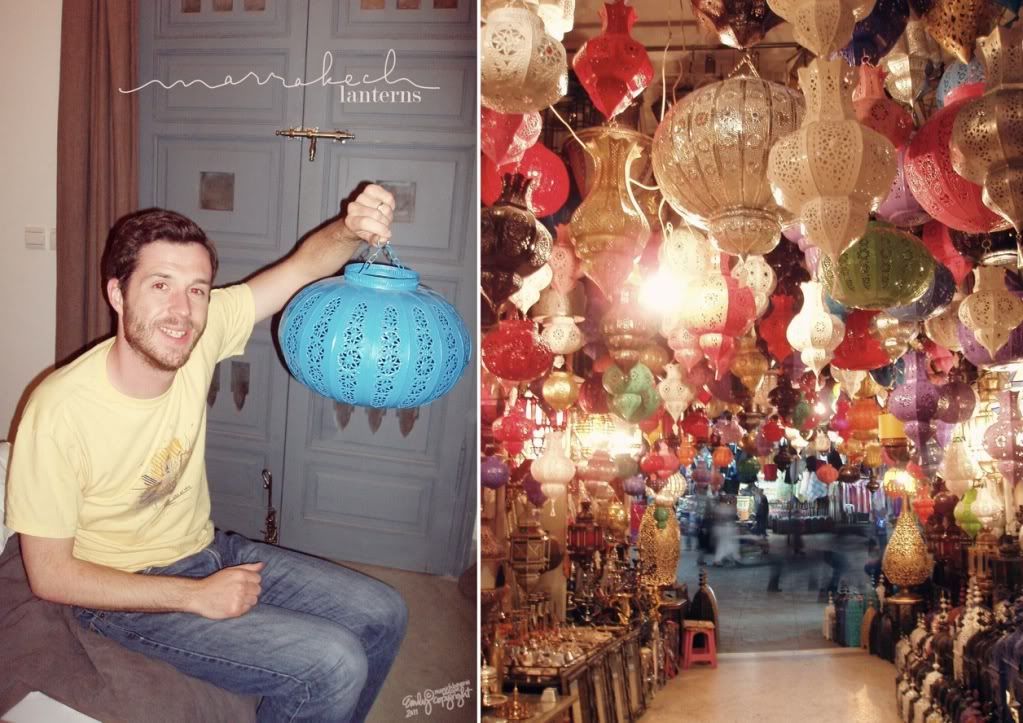 - We went back another evening with a plan and had a different sales man. Stefan tried his hand and incredibly the starting price was mysteriously 400 dirhams, or 20€ less than I was initially offered. Typically giving 10-20% of their initial offer and not more than 50% is fair market value.

Spices + Tagines...
we also brought back lots of spices and this little tagine trio, which is currently home to a variety of salts on our table, because I certainly love salt - and having a useful reminder from our travels.