We wanted to get a grasp on seeing two completely different areas of Morocco, so we set out for the coast using the Supratours coach bus for a scenic and comfortable 3 hour journey through the desert.
- Along the way we even saw goats in a tree - no joke. I really wish I could have taken a photo, but I had just enough time to wake Stefan and say, 'Look, goats in a tree!'
We also stopped at a rest area in the middle of the Argan fields. I wasn't aware that Argan oil is made from nuts that goats eat and the pits they are unable to digest. Sort of like that super expensive kopi luwak coffee from Sumatra. Isn't nature grand? The Argan pits then get pressed into the oil, which is edible and also used in beauty products.
- Although unsuccessful at photographing the goats in a tree, I do have some photos of the rest stop dogs, which differ from the Saouirian dogs, who were clearly a mix of dachshund and chihuahua.

- Once we arrived in Essaouira we instantly noticed the sea side feeling of the town - blue and white buildings with many boats and fishermen wandering through the bustling streets.
- Place Moulay el Hassan is where the port and Medina collide.
- The port was packed with boats. Beautiful blue boats everywhere.

- Sometimes it seems so incredible to me to consider how differently people grow up all around the world. We saw some boys playing in the port and on the boats. The feeling of community is omnipresent in Morocco. We encountered that in different ways several times. It's interesting to see children roaming about on their own and being so independent at such a young age.
- Small markets and shops under arched doorways at virtually every turn.
- The Moorish influence was evident with little tiles similar to those in Portugal.

- The blue color was also splashed throughout the city in various tints and tones.
- The monochromatic colors of the city provided a beautiful backdrop for the pops of color.

- The alley ways wove through around the Medina and we were happy that our host had picked us up, because finding this riad would have never happened.

- Something I loved about Morocco is you really have to be in the know. Hiding behind seemingly simple façades are elaborate homes, restaurants, and markets. It's so much fun to wander about and get lost amidst the striking scenery.
- Other times the façade is merely that... like on those pyramids of spices. So picturesque, but really just spice painted on a figure underneath.
- Every meal was served with bread and olives. I think I need to incorporate more lemon herb olives into my diet. Best of all a small bag could be purchased from the street vendors for 30¢ and bread was just 10¢.

- It was a little startling to see entire slabs of animals dangling from meat hooks. One evening we saw 3 cats begging in front of a stand.

- Whenever we travel I love to look at the details and analyze how they should fit into the greater world, because every place I go has something incredible to offer. In Essaouira, one of my favorite things was the lack of chain stores - everything was local. Being on the coast the fish were plentiful. They had two fish markets, one near the coast that catered more to tourists and this 'souk au poisson' for the locals, although both were willing to cook up whatever you'd like right on the spot.
- Locals seemed to enjoy the slow pace of life. When the call to prayer would happen we noticed shop keepers would turn a stool upside down and leave their stall trusting things would be OK. It was nice to see that kind of honesty.
- Wandering through the markets surprised us, because the items for sale were different than those in Marrakech. The small woodworks, bright babouche shoes, Fatima's hand silver jewelry, and tiny tagine spice trays were more prevalent.
- I always love the lanterns and was surprised that many shops didn't have brightly painted ones that I would expect.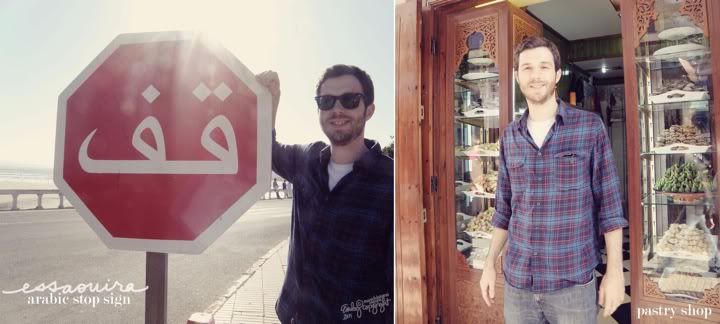 - We enjoyed many traditional pastries. I need to learn how to make them!
- We caught a couple of the legendary sunsets from the ramparts. Despite January normally being their wet month, we had spectacular weather the entire time. This time of year the sun has the most brilliant glow over the narrow streets.
- Near the ramparts it was very interesting to watch the stray animals compete for attention. A woman, who we later realized was a local painter, was excitedly greeted by a few dogs. It was really a great exchange. She knelt down and gave them attention, which surprised me, because as I've been told in the Islamic faith Mohammed liked cats and therefore dogs are seen as unclean. One scampered after her as she walked on and we later spotted him sunbathing close to her. At another point a dog and cat fought for attention from some French tourists.
-After a few days in Essaouira we were heading back to really delve into Marrakech's hustle, bustle, and dusty red Medina.
- As our bus drove towards the main road out of town I noticed a witty spray painted doorway that said, "I'm Muslim, don't panic." With that we went into the warm light that grazed the landscape and made everything seem to glow on the way back to Marrakech.