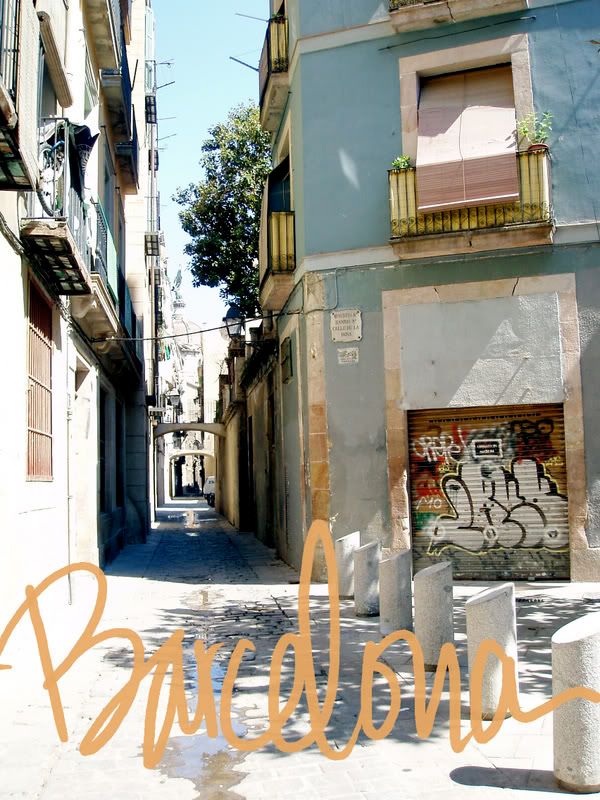 We had such an amazing time visiting Barcelona and I think it easily has become one of my favorite cities with so much charm and character.

When we arrived I think they had a baggage issue, because we waited for over an hour for our luggage to come through. Stefan heard it once again from me that he needs to have a smaller bag that we can carry on. We finally got our bags and hopped on the bus into the city and then to Plaça Catalunya. We promptly went to the tourist information office and picked up tickets for the next day's bus tours. I would rather roam about, but a city like Barcelona is so huge that doing some kind of tour is almost a necessity during the first visit.

Our hotel was modern and simplistic - just the way we like them. It also had a beautiful courtyard with a few cats roaming about. After getting settled, we hit the town and went down to the shore and into Christopher Columbus, one of the great views that I had read about. While there was virtually no space to move I was able to get some panorama images, which I always love.





After a long day of roaming around the harbor and Port Vell area, we wandered back down Las Ramblas and through the beautiful Barrí Gótic neighborhood. I was struck by all of the 'store fronts' that were spray painted garage door coverings. The winding alley ways reminded me of Venice. There was a definite bohemian spirit through the city.

We stumbled upon a little tapas restaurant and were not sure how much food to order, however we walked away quite content with our sangria and tiny plates as we prepared for a day of sight seeing.

The next day we were awe struck by the Gaudi architecture. All of it was simply amazing and creative. We decided to bypass the other tourists and go directly to Sagrada Familia one of the most inspiring and complex structures I have ever seen. I really appreciated that the people shared Gaudi's visions and were still making his plan happen nearly 100 years later. The dripping façade was striking and had so many stories involved in it (the turtle on the side facing land was a land turtle, whlie the otherside towards the ocean was a sea turtle). Being able to enter it during the construction is also amazing.


The interior was completely organic and very much drawn from nature. Looking up you felt as though you were standing under trees and the sun was gorgeous as it shined through the windows and over head. I was very happy that we decided to go before the mass humanity came. That enabled us to go up into the steeples and get a beautiful view of the city. It was an awe inspiring moment that I will never forget. Barcelona quickly rose in ranking to be one of my favorite cities.

We also stopped at the MNAC, a beautiful art museum and the near by site of the 1992 Olympics. The olympic's site was less than amazing, but I am happy that we were able to see it. We started to talk about the Dream Team. Funny memories.

Our next destination was to Park Güell, a whimsical and colorful park built off Gaudi's imaginative designs. We walked up the hill past a beautiful violet house that I had seen a photo of online and I was delighted that I didn't have to search for it. Upon arriving to the gates of the park we were greeted with a woman dressed as the Gaudi dragon that is made of tiles. We opted to get our photo taken for a small donation. Surely she would be baking under all of that costume. We felt like we were constantly buying water.




The park was also awe inspiring. There simply aren't words to explain what a stunning and spectacular mind Gaudi had. The tourists were surely awake by this time, because we had tons and tons of people around. We walked down through the area and finished two loops of the bus tour around the city. We still had two for the next days.

I wish that we had more time to spend at the Boqueria market that we near our hotel. Unfortunately it was a Saturday and would be closed Sunday. Seeing all of the foods and commotion is neat.

We made our way to Plaça Espana and Font Majica, the colorful classical music themed fountain near the MNAC at night. The light show was beautiful and I was happy that we went. If I were to go back to Barcelona I would undoubtedly stay at the 'B Hotel' located close by. I am happy however, that we stayed right off Las Ramblas for our first visit. The Barrí Gótic quarter was definitely my favorite neighborhood (where our hotel was located).