I've been really getting excited about all of our upcoming trips. 
I decided a couple different options while we are in Paris, including a day trip to a couple champagne houses in Reims. 
To surprise Stefan, I went to the grocery and bought some tiny bottles of Veuve-Clicquot and Pommery Pop (the 2 houses I'd like to go to) and lit our apartment with candles and wrote a nice card saying it was 'a taste of what's to come' – he was surprised to say the least. 
We tried the trick where you put ice and then about a cup of salt in a little water for instantly chilled beverages– it worked marvelously.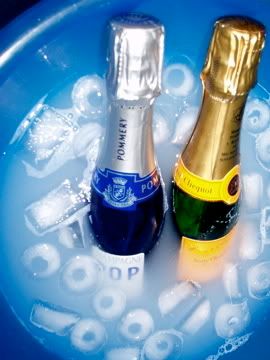 I love random surprises... especially when champagne is involved. We already have the best 'paper' anniversary gift planned, with our plane tickets.