Since I live in Munich, Oktoberfest is a common topic and a large reason people visit. Suddenly our delightful and efficient subway system swells to maximum capacity and renders anything in the vicinity of Theresenwiese useless for the few weeks that Oktoberfest lasts.


When + Why? 
First things first - Oktoberfest begins in September.
2010: September 18 - October 4 (this is the 200th anniversary!)
2011: September 17 - October 3
2012: September 22 - October 7
It's the celebration of what must have been an elaborate wedding reception that was so amazing it continues on today. People here often refer to it as 'Wies'n'. It's sensory overload and what many Americans would consider a glorified fair.
Go super early if you want a chance at getting a table. Even then many are reserved, so you will have to squeeze in or find one that's open. You have to be seated at a table to be served, so that can also be an issue.
From what I understand the best time to get a table is on Monday after the first weekend, when everyone is partied out. This is according to the cab drivers, who I assume have a slump on the first Monday. Even though many tables are reserved they are open through the early part of the day and free for the taking, so go early!
Oktoberfest is free to roam through, however beer prices climb each year...

Here are the prices from the past couple years:
2009 = 8.10-8.60€ / liter
2010 = 8.40-8.90€ / liter.

It's easy to drop a lot of cash, although it tends to be a wonderful time. 
As a side note, many of the biergartens offer their special Oktoberfest brews for a bit less. Yes, you'll miss out on some of the camaraderie, but I doubt you'll want to spend a week straight guzzling beers - especially at such steep prices and the biergartens are something not to be missed. 
How can you reserve a table?
Well you're going to need a lot of friends and a fair amount of money. Reservations are done many months in advance towards the beginning of the year and it certainly helps to know people. If you're a tourist you can pretty much bank on not getting a reservation, but it doesn't mean you're out on the fun.
The reason it's a fair amount of money is because you receive vouchers towards food and drink purchases, so you're essentially paying for things up front so the tent owners get their money. 
You can read more information on the
Official Oktoberfest site
. 
Tents
The tents are all very different (
here are photos of the interiors + exteriors
). It's worth trying to walk around and walk in, even if there are no seats in the place. If there are seats you will probably want to grab them while you can. When choosing tents it's best to pick by the beer selection... avoid drinking logos with animals or tools.
You're in luck if you're a group of ladies, however you might get harassed a bit. Last year we had offers for golf lessons, free tickets to a Beatles Experience show, and my friend even had a marriage proposal from a Norweigen guy.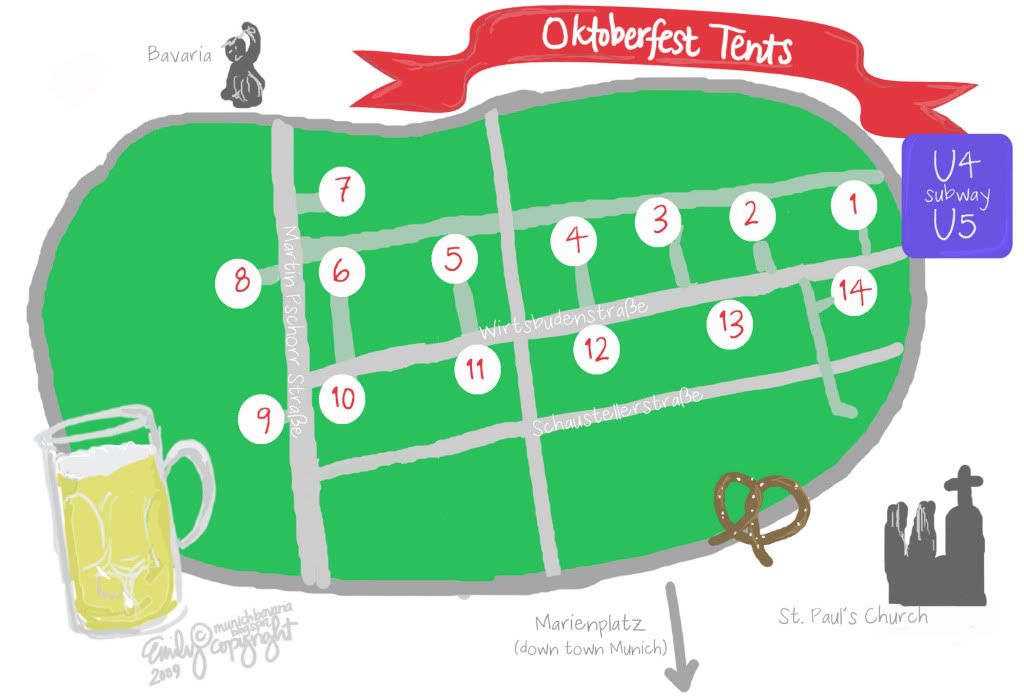 1. Hippodrom - smallest of the tents and a bit of 'see and be seen' atmosphere. It seems the TV stations are always there... as are those who want to mingle 
2. Armbrustschützen-Festhalle - 'crossbow shooting tent' - this is ultra traditional with the oompah music and all.
3. Hofbräu-Festzelt - The place to go if you want to hang out with Americans or Australians. It's a frat party atmosphere. This tent was also clearly the smelliest after the smoking ban.
4. Hacker-Festzelt - This tent is very beautiful and it appears as though you're sitting under the sky.
5. Schottenhamel - This is the tent that starts it all at noon on the first day. The Mayor taps the kegs here before the others can begin. It tends to be very traditional and cosy since they have unique square tables and a favorite among all.
6. Winzerer Fähndl - Cosy Paulaner tent with the enormous beer on top.
7. Schützen-Festzelt - Löwenbräu tent right under the Lady Bavaria statue.
8. Käfer's Wies'n-Schänke - A posh tent with higher end food, due to being owned by one of the gourmet groceries in town.
9. Weinzelt - wine tent with an older clientele and late hours.
10. Löwenbräu-Festhalle - least popular among locals (or maybe that's just my opinion). You're probably going to regret sitting outside and hearing the Lion rawr 'Löwenbräu' every few minutes.
11. Bräurosl -  traditional and untraditional Hacker Pschorr tent. This tent is popular for gay men, especially on the first Sunday of the fest.
12. Augustiner-Festhalle - very popular with the locals. This is Munich's beer - yes, they all technically are, but this is a favorite.  
13. Spatenbräu-Festhalle (Ochsenbraterei) - Ox specialities. Each ox has a name and you can read who is being served up daily, when it was born, and how much it weighed.
14. Fischer-Vroni - catering to fish specialities and even sushi. 
More information on the tents and Oktoberfest can be found
here
.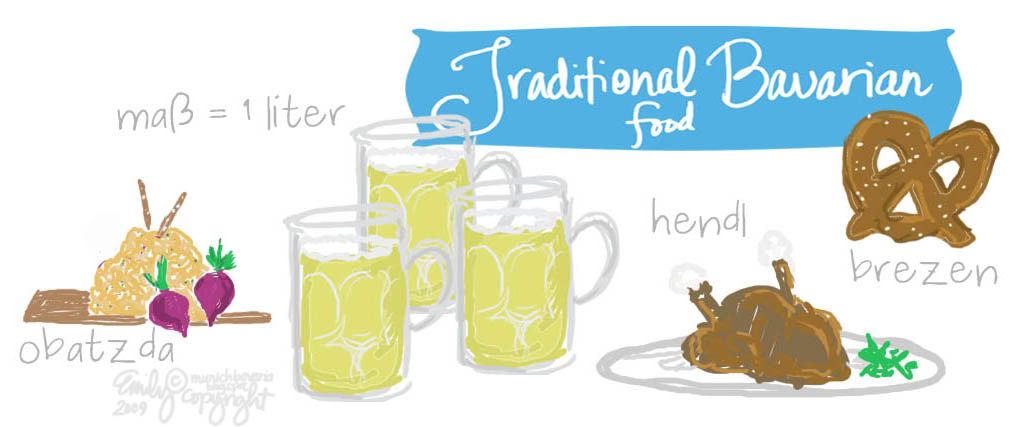 Food
As with all of the food here - it is very meat heavy. If you are a meat eater or lover, you will probably find things you'd enjoy. 
As a vegetarian you can enjoy pretzels, obatzda (a delicacy that is a mixture of cheeses, (primarily camembert), onions, spices, and butter), or spätzle. 
There are also plenty of places to buy spiced nuts and those gingerbread hearts you will see everywhere, although I'm told while the gingerbread is completely edible you're not supposed to eat it (probably because it doesn't taste that great).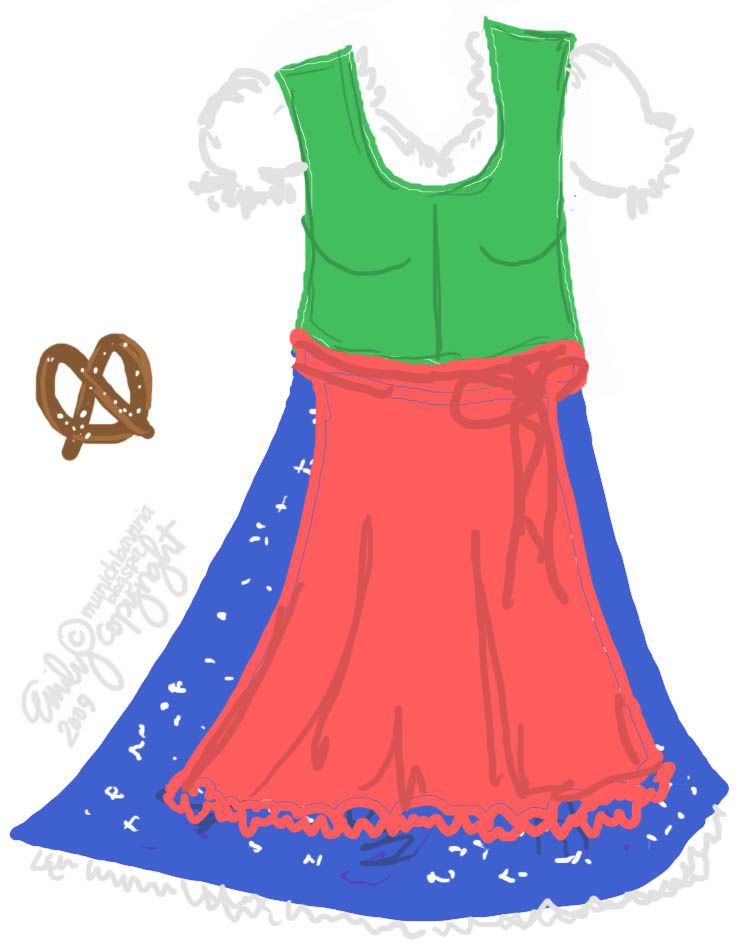 Clothing
Tracht (lederhosen + dirndl) is the traditional attire for the Oktoberfest. It's fun to dress like the locals and there are a variety of places to purchase inexpensive tracht (especially along 'Tal' between Marienplatz and Isartor), however there are quite a few rules to making it work and not looking like you're in a Halloween costume. Funky tights and shoes being one of the worst fashion faux pas. 
Tracht can be seen as Bavarian formal wear - remember this is for Princess Therese of Saxe-Hildburghausen's ongoing wedding reception. Some ultra traditional wedding parties still wear this when they are getting married, so gym shoes etc. look really ridiculous. 
There's even a particular way to tie your apron ladies, to denote if you are a virgin (middle), single (left), married / taken (right), or widow / waitress (back). I don't know who wants to advertise being a virgin at the Oktoberfest, but that's local lore and I've never seen it - you can take that for what it's worth. 
Hotels
For a hotel I would get something close to one of the S-bahn lines or near the U4/ U5 if possible. Also close by is the U3 /U6. 
 Those are the lines to get to the Oktoberfest, although there are plenty of others with the tram as well. You're probably going to need to get on that pronto, because hotels get super expensive and book out very fast.
Even better is figuring out the walking route from your hotel to the Wies'n. 
If you have a super tight budget you can try to book online with
Wombats
once they open their online reservations June 1 at Noon (Central European Time). 
They do have several double rooms if you're not wanting to sleep in a room with drunken strangers, but you really have to be quick. I'm also not certain what the alternative is, because not having a hotel or place to stay in June leaves slim pickings.