(This post is a follow up from our trip around the world. I will be writing a recap for each place we visited during our 4 month trip. Prior to Singapore we also visited India, Nepal, Thailand and Malaysia).


- As I mentioned before even traveling 'first class' from Kuala Lumpur was not exactly a smooth journey. Our cabin had a shower, but no functioning toilet. When Stefan asked one of the conductors he laughed and told us none of the toilets worked. The bunks were set up so we couldn't even sit in them. We had to constantly lay on the beds, which would have been nice if we could have slept. There was also a television that didn't work that was knocking around while the trash can was falling out. It was a long night. On the bright side it really makes me appreciate how great the trains are here in Germany.



- Our arrival was really strange. I kept questioning if we were really in Singapore, because there were Malaysian flags and nothing mentioning Singapore (it's technically on Malaysian land). As we left the train station there were no waiting taxis or clear directions to the subway. Before even finding a subway or taxi for that matter we would have to get some Singapore Dollars anyway. It's probably best to fly into Singapore - especially since their airport is continually rated as one of the best in the world.



- Early morning the streets were filled with men and women wearing suits. We asked several how to get to a subway station, which required walking several blocks. Even early in the morning it was sweltering and very humid. Once again we quickly learned people don't often spend time outside.


- While Singapore is rather small there is plenty to see and do. Food and taxis are very inexpensive, which make being a tourist pretty effortless. Clarke Quay seems to be the center of night life, although it wasn't difficult to find something going on. More than once I had to remind myself I was in Asia, because there were always various languages being spoken and especially English with various accents from all around the world. I would have loved to have stayed at least a few days longer to really explore those little culture pockets and neighborhoods.


-The restaurants there are fascinating and many have themes. One was even The Clinic and people would sit in wheelchairs while enjoying their drinks out of IV drips. We didn't stop there, but we did have dinner in a former church outside near the Botanical Gardens at a place called the White Rabbit. Singapore will always be synonymous with food to me. Their famed dish is the chili crab, but I really think it's difficult to find bad food there. With so many restaurants there's a lot of competition and they all seem to always be crowded. We visited one aptly called Brotzeit that even featured Paulaner beer straight from Munich. It was a nice little touch of home.


- Another food area that was fun was called Food Republic in VivoCity (we later saw this in Beijing, too). Stefan and I shared a portion of fried hokkien prawn noodles in an opeh leaf. Then he wanted to make a dessert competition using SG$5 (about 2.50€). Just to give you an idea of how inexpensive things are - I left and came back with 4 keha tutu coconut cakes and a mango pomello shaved ice with 50 cents to spare. He picked dim sum and went over his SG$5 limit (but only by 20 cents).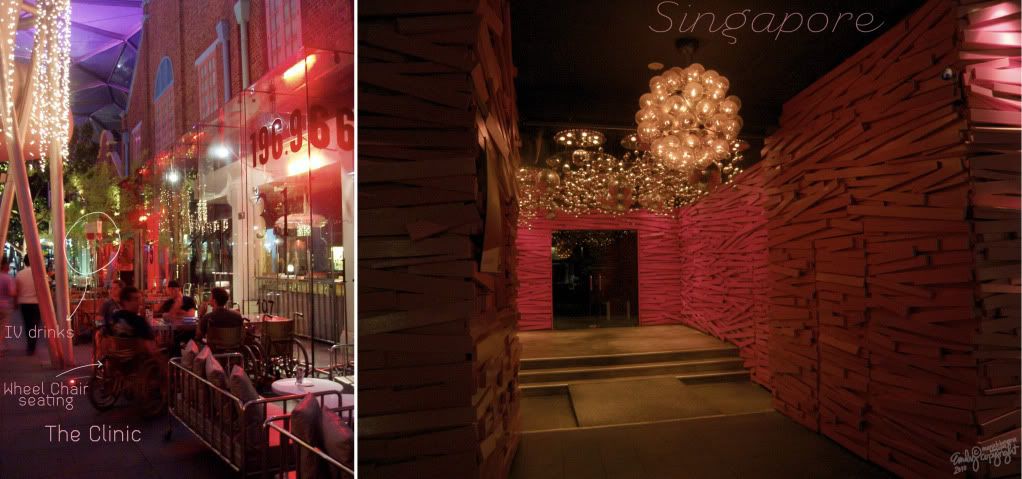 - As we explored this diverse and wealthy city-state it felt more and more like an adult playground. Fantastic and inexpensive restaurants were everywhere and there were a large array of activities to spend money on. We always enjoy meeting friends or even friends of friends when traveling. We were able to do so in Singapore and quickly learned the food halls / hawker stalls are plentiful with high quality food and were told that Singaporeans really love to gamble. We were even told that on lunch breaks co-workers would gamble on virtually anything. Not exactly what I expected.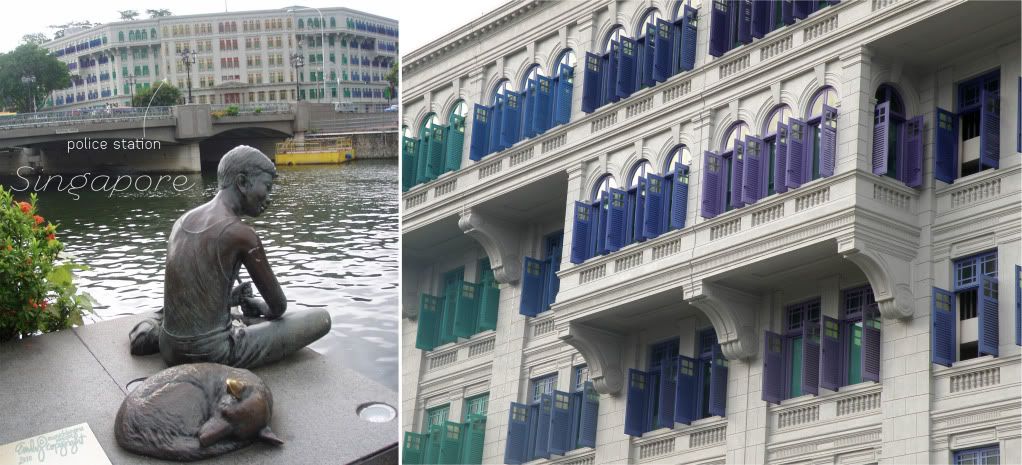 - We joined the river cruise to check out the Central Business District and Merlion from the water. It certainly made me feel small with those towering skyscrapers. I think the funniest part was when a man tossed some old flowers into the river and the guide said, "I probably should have called the police."



- Evidently there are $1,000 SG (500€) fines for spitting, picking flowers, wasting water, littering, and I'm sure a multitude of other crimes. That definitely put things into perspective on how much order and rule following were taken seriously. There were constantly groundskeepers taking care of the walk ways and making sure to even pick up detritus and leaf litter that is simply part of nature. I've since had a lot of the Singapore Airlines flight crew on tours, because there is a new direct flight between Munich and Singapore. I always tease them about enjoying the chewing gum while they are here. I always love asking them about flying and the people they encounter.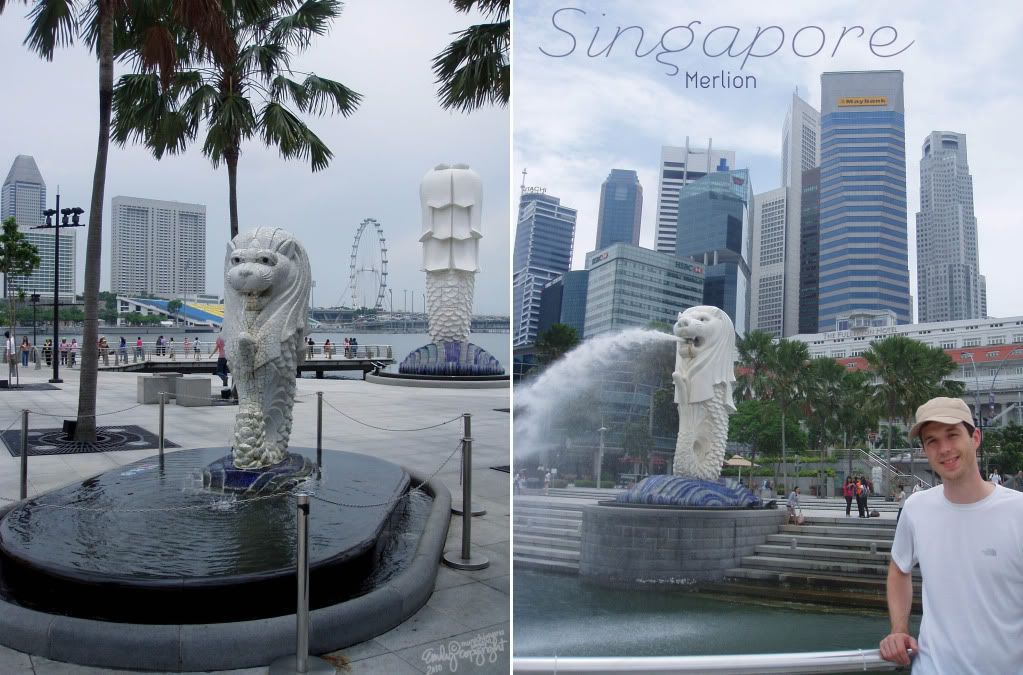 - It is one of the wealthiest and most densely populated countries in the world. After visiting the Embassy area we could certainly believe it. I've never seen larger homes in my life. Amazingly we were told to buy a car there is a 100% import tax and people must bid for a license that allows them 10 years to buy one, which can cost $30,000 or more before even purchasing the car. I didn't really get any photos of the homes or the Orchard Avenue area, but there are definitely places to drop buckets of cash. There was one great boutique called L'zzie - I could have done some damage there if I had more baggage space, but I did buy a few things there. It was so nice to feel feminine again.



- Going to Sentosa (the southernmost point of continental Asia according to the sign) is an easy and inexpensive way to visit beaches - and of course more attractions.


- Sentosa intends to become Asia's premier adventure and amusement area, which again doesn't surprise me since Singapore really seems to thrive in that department even if a lot of it feels contrived.



- There is a distinct contrast from the city with a lot of nature, including peacocks in the trees and I saw some kind of giant lizard wandering about.


- Somehow I had forgotten that I read about pink dolphins that they have and was excited when we learned we could see them and even pet one! Evidently they older they get the more they have a pink hue (ours was 30).


- The aquarium had jelly fish, a manatee cousin, and an enormous tank of sting rays. It was quite different from the one we saw in KL.


- The aquarium also had this small opening in one of the tanks where I assume people could feed the fish, but kids could put their hands in. It was somewhat strange, but the fish were beautiful.


- I'd be very intrigued to visit again and especially when the Sentosa amusement area and casinos are finished being built. It was a lot of fun to visit the small beach and see another aspect of what makes Singapore such a popular place.


- I get the feeling living in Singapore could feel a bit like college, because there is a young international crowd and going out is easy and inexpensive.


- The Changi Airport really is fantastic. We should have probably skipped on staying in our hotel and waking up before 5am on that last night. People were sleeping everywhere, but they also had free internet and other luxuries.

Next stop - Siem Reap, Cambodia!