(This post is a follow up from our trip around the world. I will be writing a recap for each place we visited during our 4 month trip. Prior to Cambodia we also visited India, Nepal, Thailand, Malaysia and Singapore).

Let me preface this by saying I absolutely loved Cambodia and Siem Reap in particular. There are places you travel that simply resonate instantly and for me they include Iceland, Cambodia, and Hawaii. Natural beauty, geological diversity, laid back style, and kind people are what win me over.


- Our arrival to Siem Reap wasn't very pleasant actually. It was pouring and Cambodia had been majorly flooded. We weren't even sure if we were going to be able to visit or if our plans would be completely rearranged. This would have proved to be difficult because in addition to our Around the World flight ticket we also needed to book several side flights, including this one.


- My name was misspelled on my visa, which was fixed with a bit of whiteout and then I noticed my passport number was incorrectly written as well.

- We managed to get the pre-paid taxi driver who was a bit of a renegade. He wanted to offer us his services as tour guide / driver. We told him we'd consider it and asked if we could contact him once we got some sleep. That wasn't good enough. He began the pressure sales and then came the emotional blackmail on supporting him and his family if we traveled to his country. It started to get borderline hostile. He claimed to not know where our hotel was and wanted to drop us at another one. Then he said he was wasting his time and wanted to drop us at the side of the road in the torrential rain. We told him when we paid at the airport they knew where it was, so we would call them or the hotel if it was an issue. As he drove to the center of the city I spotted our hotel and we quickly got out (stepping into a monstrous puddle) and were welcomed to our fantastic hotel - the Soria Moria, which I can't recommend highly enough.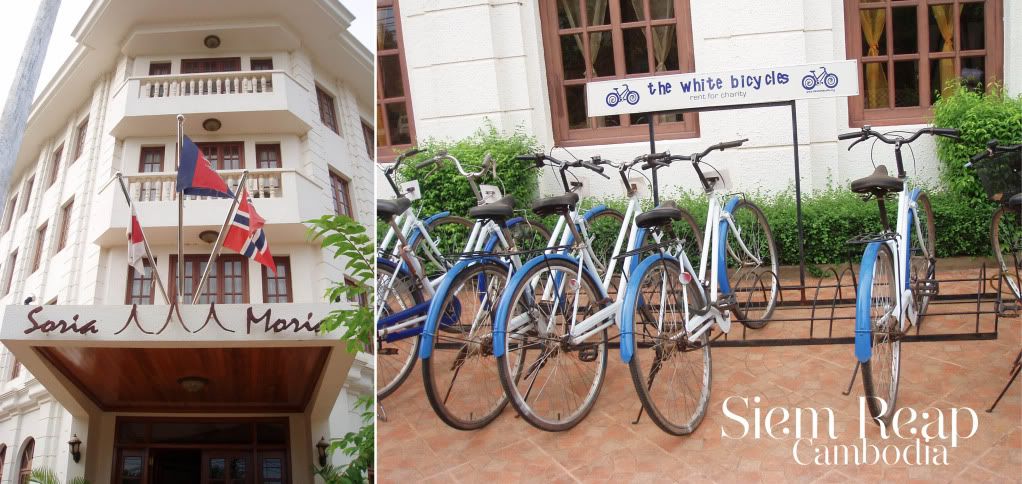 - One heartbreaking fact is that the sex tourism industry is alive in Cambodia and between 14,000 and 24,000 street children live there. It was nice to see our hotel confronted this and had information on making choices that can benefit the locals. In each room they had a small card that fit in a wallet explaining ways to help or what to do if street children approached us selling things and ways to help, which was sponsored by ChildSafe International. The Soria Moria was a very socially aware place and it was evident they did what they could to be involved with programs to help the community including selling love-cards artwork as well as programs in conjunction with the Sangkheum Center for Children. More can be read about how they engage the community here.


- Every visitor to the Angkor Wat temples must have an 'Angkor Pass', which costs $20 for one day, $40 for 3, or $60 for a week. They had to be used on consecutive days and they take a digital photo when printing the pass, so they are not transferable.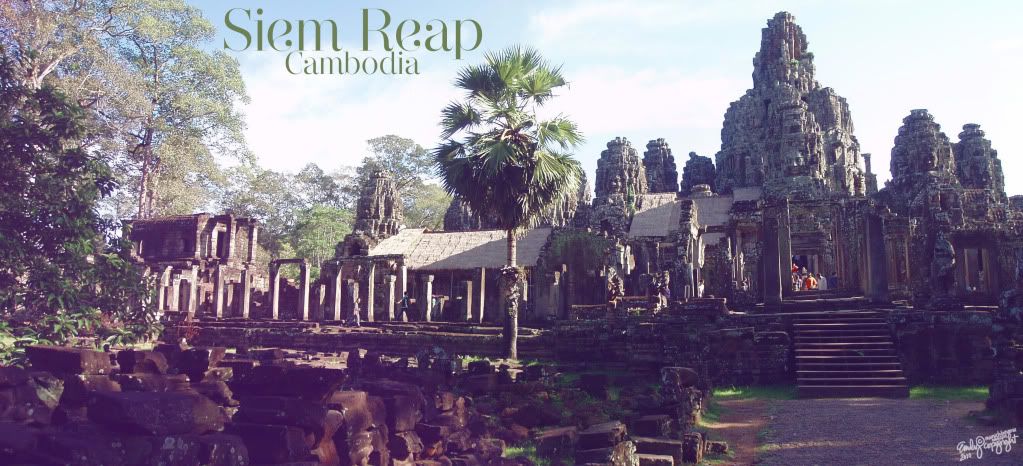 - Despite arriving very early and setting out for the temples before it got sweltering we really didn't have enough time to see everything we wanted. I didn't panic, because it's a place we will likely return in the future.


- We took a tuktuk from our hotel and started with a visit to Angkor Thom and the Banyon area before heading to Ta Prohm, Phnom Bakheng, and Angkor Wat. At times we felt like we were alone as we wandered around, because it wasn't high tourist season.

- The ride through the jungle was a lot of fun. Our tuktuk had the constant buzz of a lawn mower and there was plenty to see along the beautiful journey. One of the funniest sights was monkeys chasing children.


- At Angkor Thom we climbed through the ruins and were in awe of how spectacular things were. Considering the ruins were from the late 12th century it was very impressive.


- Many of the ruins had people selling things nearby and particularly children. At Ta Prohm we were confronted with some characters wanting to sell water or other merchandise. It's really difficult to see little ones selling things they probably don't even get to enjoy. It makes me sad to see so many lost childhoods and the struggle to live. There's a thin line between helping and actually perpetuating the problem.

- Some of the things we heard: "Lady, you buy from me. I give you good price". I declined, which resulted in "You come back tomorrow, ok?" Stefan bought a t-shirt from a road side stand and a young girl wanted to sell him the identical shirt he had just bought. He told her he only had one body and only needed one shirt. Her response was, 'if you lie to me you die!'

- Ta Prohm is widely recognized from the Tomb Raider movies. The trees seem to melt over the ruins and seeing how human architecture is taken over by nature is so powerful. We explored the site and followed several paths that always seemed to lead to another room that held another amazing site. We were almost by ourselves again, which gave us enough time to take in the scenery and take a lot of beautiful photos. It is such a majestic place that words really cannot describe.



- Our driver Mr. Roth took us to Phnom Bakheng, a little hill, which is a great lookout point at sunset. The temple was very steep and some of the steps are only a few inches wide. We walked up the narrow steps to the temple, but didn't stay too long since we wanted to see Angkor Wat, which would be shortly closing.


- We arrived at Angkor Wat as it was closing and were able to get a few photos, however we didn't want to spend another $20 to go back the next day, so it's instead on our list of places to return to. The sheer size of Angkor Wat is impressive, but we both preferred the jungle temple at Ta Prohm.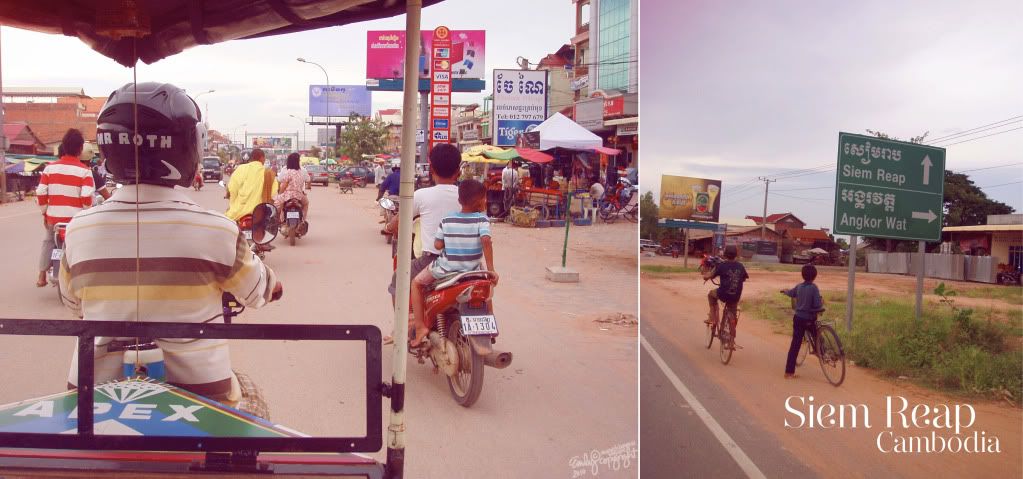 The next day in Siem Reap we got out of the city to explore the countryside and a fascinating water village in the Tonlé Sap lake, which deserves more than a quick mention.