Last night was an evening of knödels and cards with Uli (my brother in law) and his girlfriend Verena. They even cooked dinner for us, which was sweet.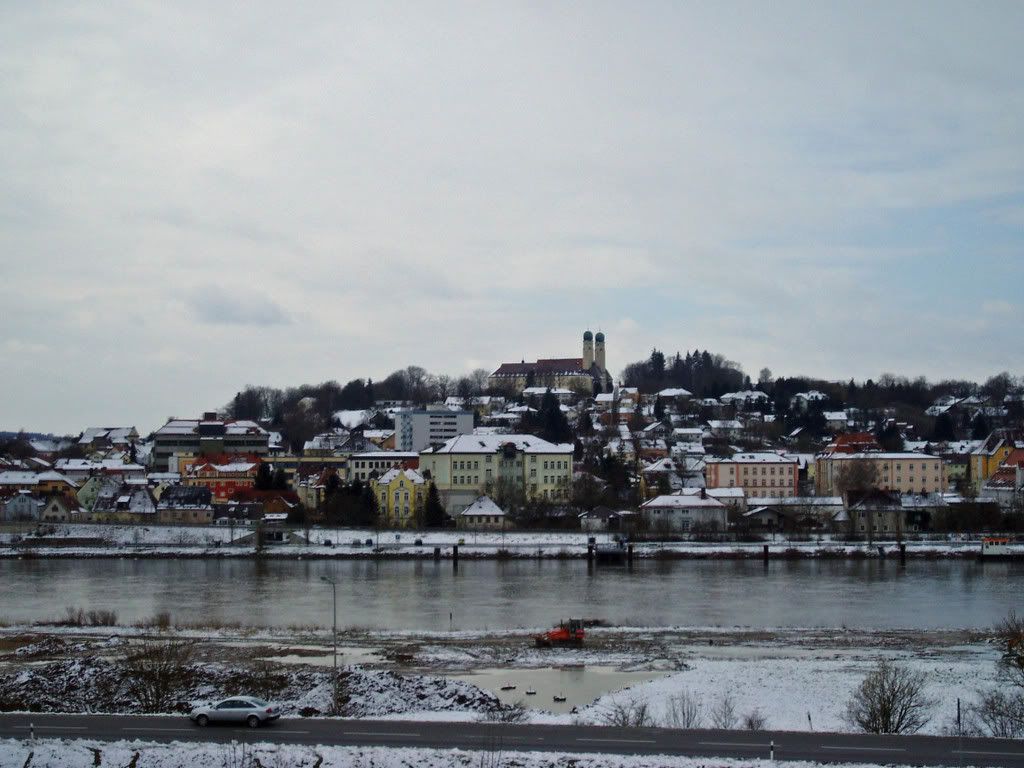 Today we all drove to Passau / Vilshofen early in the morning to celebrate Oma's birthday. She turned 85 yesterday. I adore Oma and really wish that we saw her more often. She always brings a smile to my face and has words of wisdom that can only come from someone her age. Today she made me laugh when I told her my German is getting better but I am still slowly learning and she said, 'You can't cut a tree with one whack.' Between her Niederbayern accent and my attempts at German it still never fails that I leave her house sad to go. Despite our differences in language I can tell what a strong woman she is.
Oma is always genuine, caring, and all around happy. Her husband was a POW shortly after she was married and he was sent to Nebraska and Kansas. I can't imagine what they went through, but they said the Americans treated him well and he went to work on a farm. From the first time she warmly welcomed me into the family and even surprised me at Christmas with a beautiful angel candle holder.
Something I will never quite understand about German birthday celebrations is that the person celebrating their birthday pays for it. They pay for their own drinks or meal and everyone else's that they invited along. I hate having Oma pay for us, but I'm always told 'that's the way it is.' I was happy to see how many bouquets of flowers and other gifts she received because she is very humble.
For her birthday lunch we arrived at the home of Ulrike + Stefan Schmid, a sommelier and a chef. I wasn't sure what to expect. It turns out this family has started their own restaurant called the Schwarzbauer Stub'n. It's very quaint and beyond delicious. Most everyone ordered the 'Menu' which consisted of a goose liver pate (Stefan ate mine), a salad with butterfly shrimp and raspberries, bärlauch soup, a passion fruit sorbet with a cappuccino foam, the entreé -mine was fish, and for dessert we had Bavarian cream and stawberries with ice cream that was rolled in pistachio... and then there were four cakes to celebrate the birthday. The food was one of the best meals I've had in recent times and was very reasonably priced. It would have easily costed triple if we had something similar in Munich.
I tried to resist taking loads of photos, but when dessert came around I couldn't help myself. The presentation of everything was excellent and the taste was equally great.
While in the area, we stopped to visit Stefan's newly married cousin Andi and his wife Steffi. Despite getting married last December, they are having their church wedding this summer and I am anxiously awaiting my first German wedding.
During our visit we had a red berry sparkling wine drink they had made with their '
Vorwerk Thermomix
' (sort of a food processor and blender that also cooks). Evidently this is the new rage in Germany and I am the last one to know about it. It's pretty much like a Tupperwear thing, where you can only buy it through 'parties' or door to door style sales (Stefan says Vorwerk was originally a vacuum company). The Thermomix slices, dices, and cooks your food - for the low price of 1,000€. However, everyone that has one raves about it, or so I hear. The cookbook that is sold with it apparently makes everyone a chef. I doubt it can compete with the Schwarzbauer Stub'n though!