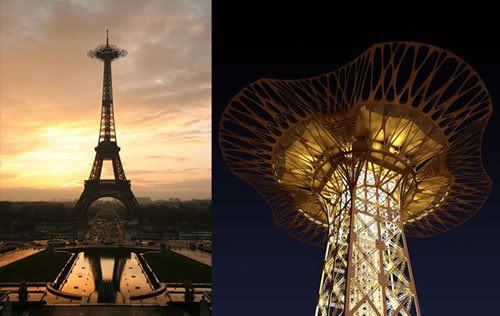 My aunt sent me some information about the updating the Eiffel Tower will undergo next year to celebrate it's 120 years of existence. The third floor will have an extended viewing deck created by Serero Architects. I'm not sure what to think about the inner galactic appearance. However, this is only a temporary thing.


Last time we visited, we didn't go all the way to the top, so perhaps we will when the viewing deck is finished. Fortunately the TGV now travels between Munich and Paris and takes roughly 6 hours, so I can see more weekend trips to Paris in our future. Train tickets are extremely affordable and start at 29€ - that coupled with an overnight train sound like the perfect way to spend a weekend... who knew
Pylones
and
Dalloyau
were so close! - This could be dangerous.