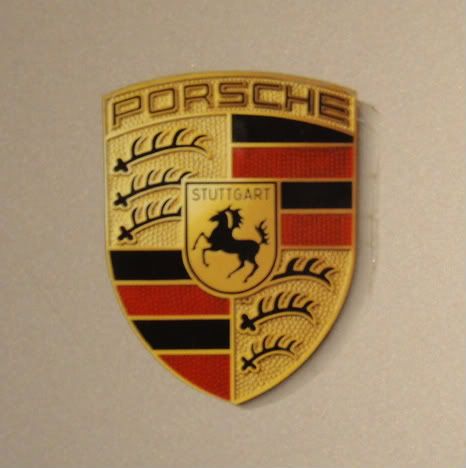 My Dad is a Porsche enthusiast. He adores them. It was so nice to to have a special invitation to visit the factory and watch pieces go together of the 162 Porsches that are produced each day in Stuttgart. Only 162 are made daily, because their facilities are blocked in on all sides limiting their production. The factory is quite small and includes three floors through which the cars pass, as opposed to one enormous factory such as BMW's, that works on a direct line. The only other Porsche factories are in Finland and Leipzig, Germany.


I felt as if I was on a Sesame Street episode of 'how it's made', and in case there is anyone else that is interested I will try to give the tour justice. The workers spend 4 minutes 40 seconds at each of the 89 stations, the ninetieth station is a 1.5 million euro machine that lifts windshields to save worker's backs. I was surprised to only see a few woman in the entire plant.
Each car is custom made and there are different 'kits' that go with each car, designating all of the small options. One red dashboard was being made was for someone in Saudi Arabia, the next was tan for someone in Spain. He had even ordered leather vent louvers for his ventilation system. Each kit is able to be scanned and small things also designate where the car is headed. We were also told that in the US the dealers often order cars since Americans like immediate gratification.
There are also 1.6 billion variations including different leather colors and threads. What impressed me the most was the fact that 70% of Porsches ever made are still functioning. That's quite a comparison when the average in other brands, according to our guide, is 12%. They also custom make each and every single one on the same line. We saw Carrera's next to race cars and they are produced as the orders arrive, so they are mixed along the lines. That's quite impressive.
In the US, all cars must have yellow or orange reflectors on the sides behind the headlights. Our guide said that most people prefer the white and end up changing theirs after getting it registered. He also said the trendy colors are white and the new 'macadamia' (the chocolate brown above). We weren't able to take photos inside the plant and the only thing that we didn't see, was the painting, due to the fumes. The factory is spotless and the workers were enjoying the radio.
| | |
| --- | --- |
| | |
Loving color I was particularly drawn to those details. For example, when yellow is visible by the tires it has the most sophisticated ceramic calipers used in race cars. The red steel calipers are more common in the US, probably due to costs. The machines inside the factory are particularly sophisticated. One machine would transport parts by following a black line on the floor. If something was in it's way it would sense that and stop, which could in effect stop the factory line. Even being 5 minutes off will cost them 100,000€, however our guide assured us that the workers worked under conditions that were as stress free as possible. The lines did seem to move slowly, but I was on the spectator side.
One of my other favorite details was the leather cutter. A machine maps where the leather has flaws - even down to mosquito bite scars and then figures out how to lay out the items to be cut while creating the least amount of waste possible. What's more is that the leather is cut with water. They said this machine could easily cut off your fingers with 3,000 bars of pressure, compared to 100 bars of pressure at your typical car wash. The scraps they joked are then sent to the competitors. In actuality, the scraps are bought by wallet and small leather good manufacturers.
I'd say the highlights of their show room were the Speedster that looked really cute and vintage, and of course the Carrera GT. That will sent you back roughly 400,000€. Stefan's mom said she could see me in the Speedster and I would look like Audrey Hepburn with a little scarf around my head. I can dream.
My only complaint was that their museum is not so wonderful, however they are in the process of building something similar to BMW's, which I am sure will be more like a gallery. The new museum will be completed sometime in 2009, so I will pencil my Dad in for a visit around that time. By the looks of the construction, it will be quite a show room.
Our trip didn't end in Stuttgart. We were also happy to stop in Augsburg, and visit some of our familiar places. Especially Stefan's old apartment and a delicious little Italian restaurant called Il Porchino. It was slightly strange being back, but it was so nice that some things haven't changed such as Martkauf having the best ciabatta and Il Porchino serving up wonderful gnocci norma's (eggplant and mozzarella).
The history of Augsburg is really interesting since it was a major trade route. The ciabatta is a testament of that. I think the ingredients come straight from Italy.