It just so happens that Stefan and I were the first guests to stay in the new Citizen M hotel. We were told as we checked out that they had pushed back their opening date one week after we won free rooms, so we had the entire hotel to ourselves. We didn't initially realize this since there were meetings going on, which I presume were actually workers or investors. Now I have to laugh as they probably wondered who we were as we checked things out.



The Citizen M concept reminds me of what Target is in America in a hotel style - good design that is affordable. Since I really love beautifully designed things, I was happy to see chairs designed by Eames (as a side note the US post office now has Eames stamps!!), Vitra chairs, coat racks, and even my Algue pieces that we'll soon be purchasing.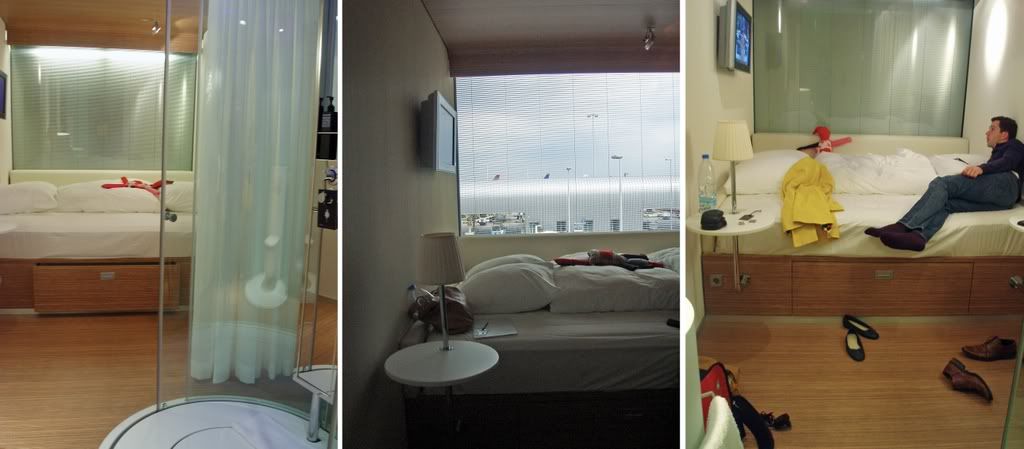 We stayed in different rooms both nights - one facing the runway and the other facing the highway. They were nearly identical except for a couple small things - one had a vitra chair and a hair dryer and the other didn't. It was small, however beautifully designed and very comfortable. The bed was enormous and very comfortable, which was nice when we came back.


The highlight for Stefan was the Philips touch screen preference menu that allowed us to control the lights, temperature, music, free movies - (recent releases too), and welcomed us with our name on it. Check in was very simple and self explanatory. There were computers set up with baskets of cards next to them and we simply had to put our code / last name in, choose a room, and hold a key up to a sensor. The key also doubles as a luggage tag after the stay, which is a nice way to recycle (and good marketing to spread their name).


The bathroom was comprised of small pods that had rolling doors. There was also a curtain between the sleeping area and restroom for more privacy.

When we initially told Martina we were staying near the airport she was asking us if we were sure we wanted to do that. She lives in the middle of the city right on the beautiful Keisergracht so I am sure she wondered why we wouldn't just stay with her.

It really wasn't a big deal because the train into town took 15 minutes and cost 7€. I'm really happy we were able to stay at the Citizen M and I can't wait to learn where they will be putting their next hotels.