Amsterdam is everything Munich isn't. There's a large difference between the two cities. Amsterdam is young, very liberal, and there are virtually no dogs or children around. Noticing the contrasts was very interesting and at times slightly disheartening.
We arrived in Amsterdam on Saturday afternoon and I was instantly reminded of one of my favorite American TV shows - The Amazing Race. I remember one season when they had to find specially marked bikes amidst the large bike racks next to the station. I still don't really know how people figure out where they parked their bike.
After we met up with our friend Martina, who lives along the Keizersgracht, I was also reminded of the same show where they had to move furniture through the large windows using pulleys. Her apartment is really spectacular, but the staircases are very narrow. She was telling us how difficult it is to bring luggage down or to bring groceries up. I don't envy that. She even had a special 'torture wheel' as she called it, which looked like a torture device, but was really used to help with moving things through the windows.
Since Amsterdam is such a bike city that is how we chose to experience it. The bikes are very cheaply made, which Martina said was because they are often stolen. She said that on average people go through two bikes a year! I could not get over how thick the chains were - even for a rusty piece of junk. If it functioned it was apt to be stolen.
Martina guided us around town and we stopped at most of the stores I wanted to visit and then stopped to rent a bike for me. It wasn't as smooth of a ride as my cute bike at home, but it served its purpose. I also started to feel that I may want a bigger lock for my Munich bike since I would be devastated if someone stole it.

Kitsch Kitchen
had my oil cloth for our biergarten. They had tons of variety, but I liked the blue polka dots. The shop was filled with interesting objects from around the world, but typically from Asia + Mexico.
Egg Mercantile
is a place I could probably go bankrupt in. I absolutely love their spoons. Now I just need to have some friends over for a tea so we can use this sugar spoon! [Egg Mercantile isn't open any longer, but
the Otherist
is and they have similar products.]

During our ride I was surprised to see so much orange in preparation for the soccer game. I even saw inventive bike bells fashioned after a cleat kicking a ball. Later in the evening we'd soon see the pride and spirit that is even in the oldest Dutch person. I could not get over the variations of orange that people came up with. Even though it's not always the most flattering of colors everyone was dressed to support their team. Unfortunately many people went home grumpy since the Netherlands wasn't able to defend it's World Cup title. Thankfully Germany is still in the European championship.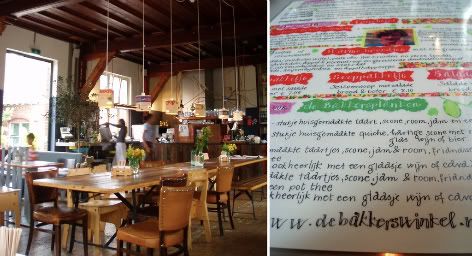 Some of the restaurants we visited were the
Bakkerswinkel
, a cute little cafe with pretty mixed decor that was designed by Piet Hein Eek.
And also
Tempo Doeloe
, which had the Indonesian rice tables. We ordered the medium spiced dishes, which weren't very spicy. There were 25 small dishes filled with various Indonesian foods. I'm glad that we tried it and I liked the concept, however I'm not sure I would go back. The food was just OK.
No trip for me is complete without checking out the new and interesting confections. We stopped at
Papabubble
, a candy shop where they make the candies on the premise. The candies also reminded me of old time things that my Grandma used to have at her house. They had a more modern twist with interesting flavors such as mojito and mango. The colors are just beautiful and the candies almost look like little beads.
Another stop was at
Puccini chocolates
. We shared a box with interesting flavors such as tea, plum, honey, mint, and apple.
The city's architecture is something that I also found myself enjoying. A lot of the houses had interesting colors, such as a slate gray. Many of them also have a slight (and some not so slight) lean since they were built on each other for stability. The canals add to the beauty.
At night I occasionally felt a deja vu moment as I recalled having been places before. The last time I visited it was at night due to a rerouted flight. Since we were there during the summer solstice it was light until about 10:30PM, so I wasn't completely able to retrace my steps from my previous visit, but I did recognize things when it got dark.
On Sunday, we met up with Martina to visit the Bloemenmarkt, take a walk through 'De Wallen' (better known as the Red Light District), the neighboring China Town, and then to a coffee shop.
De Wallen was interesting to me because I just don't get it. I know it's complex and I understand what happens there, however after walking through I felt as though I only had more questions. I must say it felt strange even walking through this area. Many of the women were quite young and I just wondered how they got into this predicament. It was also strange to see a Christian youth hostel on the same street as several red lit windows.
I was surprised that there are several red light districts, which can be a surprise when walking past and not expecting to see a lady in the window on a seemingly residential street. Martina told us the following that she has heard - there are areas specializing in various ages, ethnicities, you name it. If there is a blue light (we didn't see one) it was a transvestite. The ladies in the higher windows are more expensive. We also went to this strange crack in the wall that opened into a huge area of men standing around. Some I presume were looking to purchase, while others were probably body guards or pimps. Some ladies sat and sent text messages while others attempted to draw men in by dancing and tapping on the glass. It was very odd.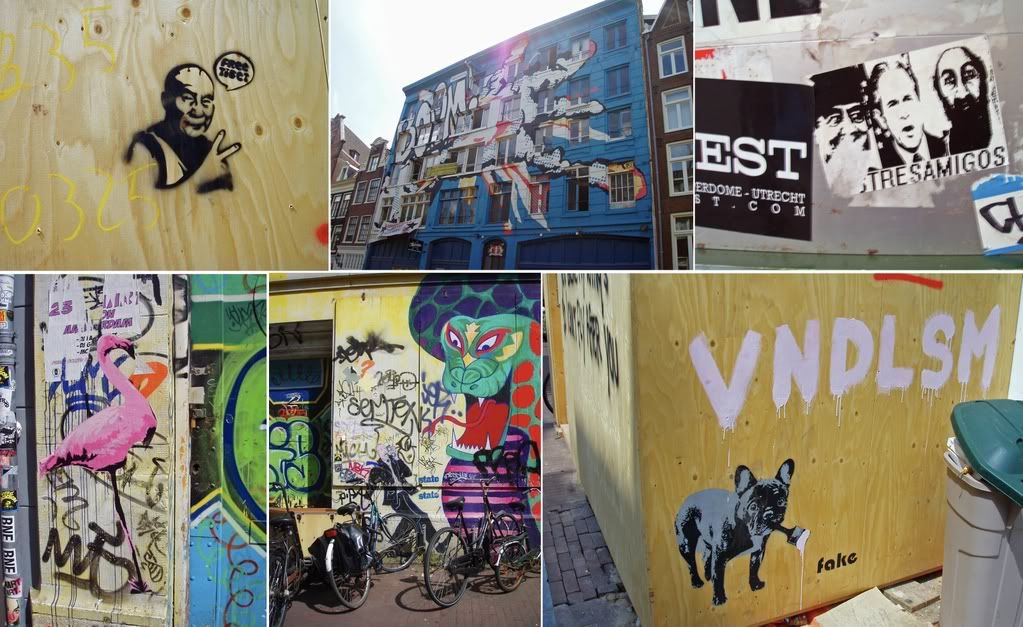 Amsterdam also had much less graffiti for a city it's size - except for the squatter houses. According to Martina, if a building is unoccupied for 6 months people are free to inhabit it. I always pay attention to graffiti and find it fascinating. I also look for politically charged imagery because so much of it is extreme and controversial. I am curious how people view things.
At night we went to the 'I amsterdam' sign. Martina guided us to the
Rijksmuseum
so we could make a visit the next day.

We also went to the
Van Gogh museum
, both were very interesting and informative - thanks to the headset guided tour.
It was great to visit Martina and finally see the city in day light. Now it's time to eat stroopwafels and learn the answers to all of my unanswered questions about the city.