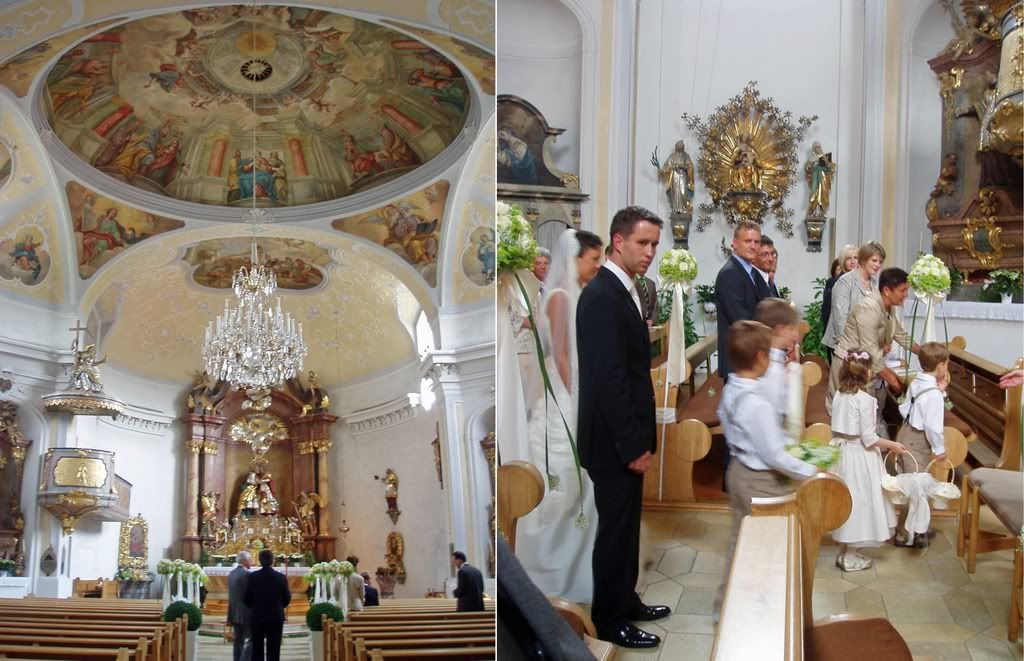 Despite the difficult and surreal start to the day we carried on with the second part. The church ceremony was very similar to a Catholic wedding ceremony in America. It opened with 'Oh Happy Day' sung by a gospel choir which helped to set the mood of being thankful for each and every day. Everyone did their best to concentrate on the joy and positive aspects.



Steffi had always wanted a dove release, which was a nice touch. I was happy to see her smile so much and of course to welcome her to the family. She's such a beautiful person - both inside and out.


All of the little boys were matching and the flower girl told me she was a princess. The children really completed the day - especially for me because they are so forgiving if I don't speak perfectly. Sometimes I like to speak English to them just to see their reactions. They usually don't say anything about it but the younger ones seem to pay more attention.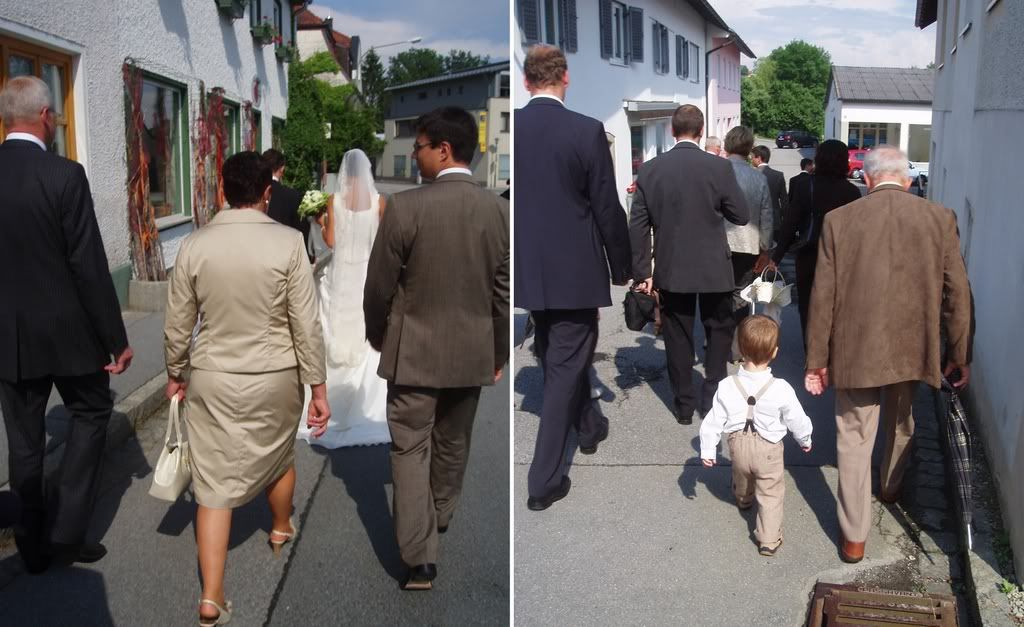 After the ceremony we walked to the reception site and began the celebration. I cringed as Steffi's dress got dirty and I heard several rips from the little ones accidently stepping on it.


Village school children also greeted guests and prepared several surprises for Andi + Steffi, who are both teachers. As we left the church they held up various math tools and rulers for the guests to walk under (Andi teaches Math). They later did the traditional rope raising, where guests must pay the children to enter the reception. During the cocktail hour they sang a song they had written to the newlyweds and then presented them with flowers and gifts.



The courtyard was beautiful and we enjoyed cava and conversations. I met Andi's aunt on his father's side who had spent a lot of time in the US. She was trying to get her twin grandchildren, who are in kindergarten, to speak English to me. The little boy ran up and screamed 'I love you'. Everyone turned to look, which made me laugh.


An interesting detail was that they served 'krapfen' (donuts) after the wedding. My mother in law said this was typical. I wasn't too interested in eating one, however my father in law has a sweet tooth and asked if I would please eat half of one with him. It reminded me of a donut without sugar.


Just as the rain was about to begin we took the celebration inside. Andi and Steffi had been taking dance lessons and much of the evening revolved around dancing. My father in law even asked me to dance, which was sweet. Their first dance was to 'Que Será Será', which seemed tailored to the day.

As the evening carried on I waited for Stefan to call. His mom wanted to break the news to him about his Oma before he arrived. It was smart not to tell him before his test, however I didn't want him driving while he was upset either. There wasn't a good time to tell him. 

Once Stefan arrived he was able to see that people were enjoying themselves despite the circumstances. We shared a few dances and chatted with family. It was almost a blessing to have a family celebration rather than sit somewhere with everyone grieving.



Andi + Steffi's coworkers also joined in on the fun and made the guests 'students' with Andi and Steffi while they made jokes and sang songs they had written.


The food was all delicious and I could not believe how impressive the dessert buffet was. They even had personalized the menus with random photos from our past. Every detail was meticulously planned.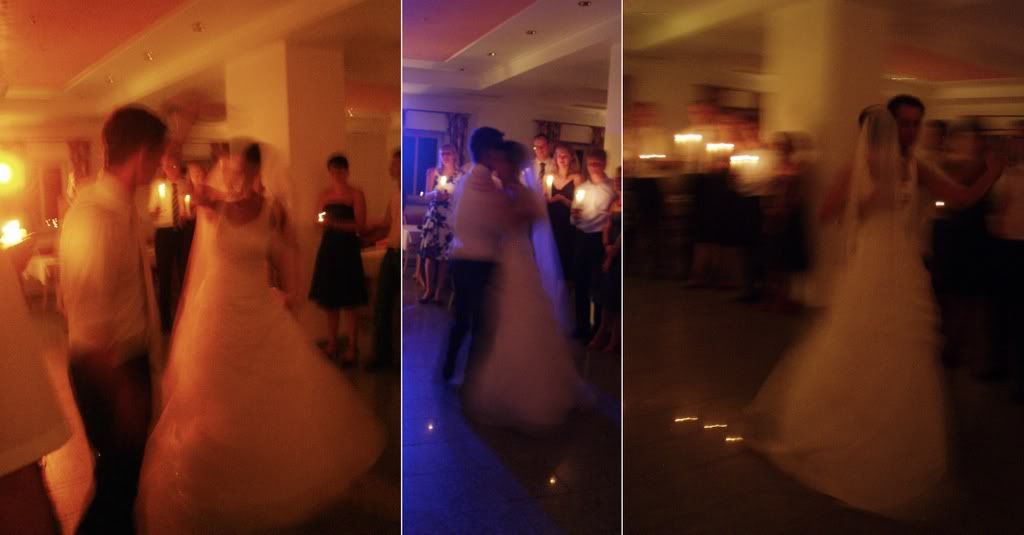 The final songs made me cry tears of joy for having Stefan with me safe and sound and to see what a beautiful day Andi and Steffi had. Everyone stood in a circle holding candles while they danced and it was touching.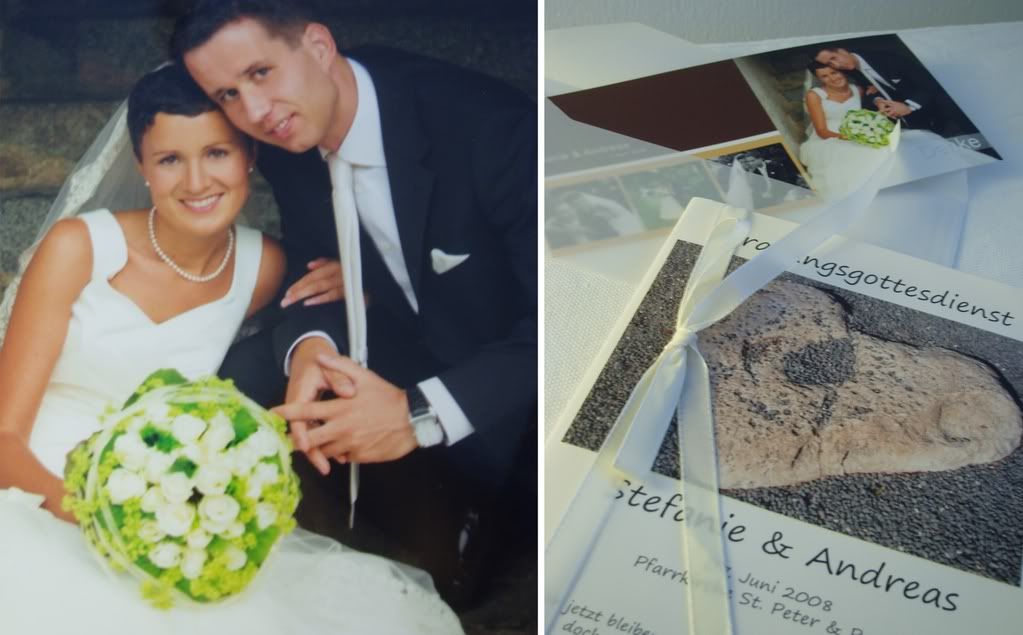 Another sweet touch was as we were leaving they handed us photos taken that very morning with a 'Danke'. I don't know how they got them printed so quickly, but they are very beautiful.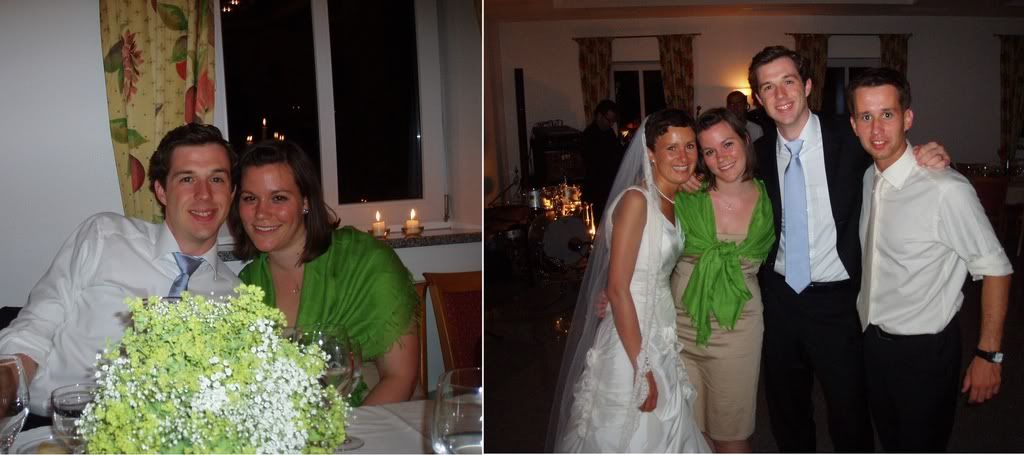 Stefan and I wish Andi and Steffi lived closer. They are big travelers, so perhaps we'll plan a trip together sometime soon. They are such a great couple.


This morning we had brunch at Steffi's parents' house. They still had mountains of cakes and other confections when we left. It was a wonderful way to tie up the festivities and end the emotional roller coaster weekend on a nice note.