Since there isn't too much excitement lately, besides all of my doctor's appointments, which I will spare you the details of, I was thinking about my favorite things here in Munich.

There are the obvious - beer gardens, Viktualienmarkt, Englischer Garten, and the view from Alte Peter for example. And then there are my little hidden secret places such as chocolate shops, cafés, restaurants, and what makes Munich home for me. Since I am so kind, generous, and giving, I will let everyone in on my favorite places around town. Perhaps if you visit you'll want to stop at a few of them and feel like a local yourself... or if you visit me I will drag you around to the various places. These chocolate shop owners should really start paying me a commission!

These are listed in no particular order...



Gärtnerplatz
As my gay friends say, this is 'boys town'... and while you will see the rainbows flying by random store fronts, there are many great little cafes and restaurants - however, I come here for the gorgeous flowers. In the spring they put so much attention and care into the flowers, then several months later they will replant things for summer. Just riding the bus through always begs me to get off and sit on one of the benches under the sun and read a book. I usually give in. And as a bonus, there is the occasional straggler with a few beers to watch for entertainment... these are the kinds of people I share my day with.


| | |
| --- | --- |
| | |
Viktualienmarkt
Ok, so this is an obvious, but the market is great particularly when the weather is warming up. They always have a great selection and I often buy berries there, which are seriously inexpensive. But be sure to shop around... the prices vary greatly. Also check out the honey shop - you have never seen so much variety... avocado honey, lavender honey... it goes on and on. This is also the place to go for flowers, various oils, and fresh truffles.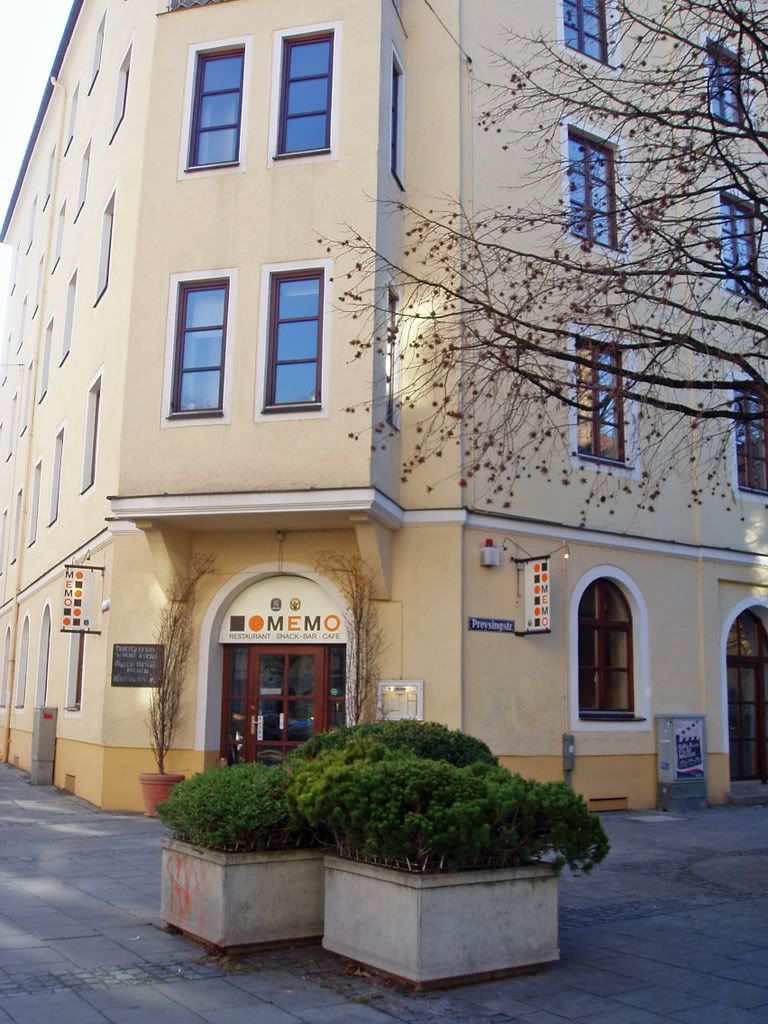 Memo
Once again, I particularly love it when the outdoor seating area is open, but that calls for warmer weather. I believe this was the first restaurant I went to where I was not disappointed. The food is just terrific. The menu is quite varied, but every single thing I have had there is delicious. Brunch is also great. In late summer and early spring they even put blankets out on the chairs, which is a great little touch. Nearly every visitor we've had ends up making a trip to Memo.
Stancsics
This is my personal gem of a chocolate shop. I still recall walking past during my first visit to Munich and seeing a woman with white gloves meticulously putting chocolates in the display case. Stefan and I walked back to peer into the windows. Low and behold, when we got engaged Stefan used this chocolate shop in combination with our '
circle journey journal
' to propose... he had scratched 'Will you Marry Me?' into the back of a chocolate bar. Obviously that was kismet! They have a tremendous variety and great samples.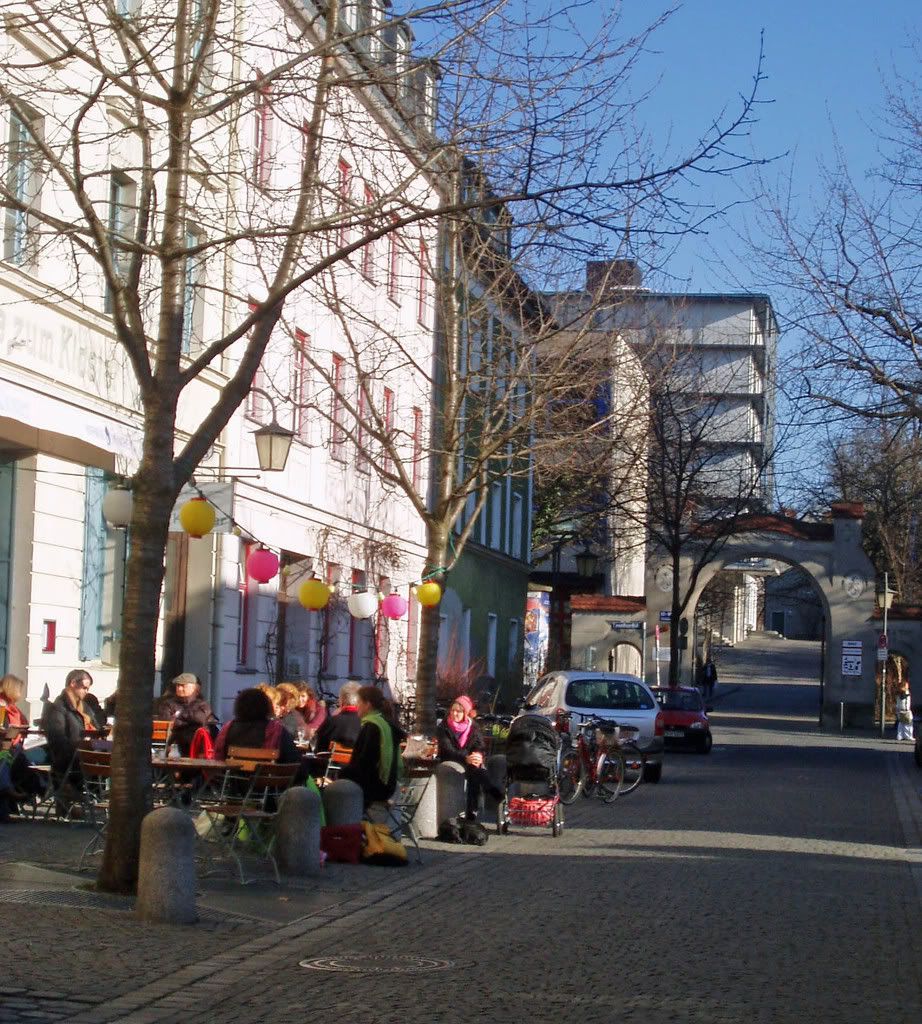 Preysingstraße + Garten
This is one of the sweetest streets in all of Munich (at least in my experience). It has an old town feel, but it's in the middle of Haidhausen. I'm always a sucker for old world charm like that. The Preysing Garten restaurant at the end of the street also has a delightful outdoor area.
The Isar 'beach'
This is a bit bizarre, but people hang out down by the river. The smooth stones and glistening water are great on a warm day. I love coming to watch the ducks waddle past and the dogs frolic about or play fetch with their owners. I should give the word of caution, you may also come upon the random nude sunbather (insert here about how they are always the last person you'd like to see nude).
Bernard + Bernard
When I am in the mood for something French this is where I go. It's so cosy and perfect for a romantic rendez vous or night out with girlfriends, which Stephanie and Michelle can attest to. We had a wonderful evening chatting with the bartender, who kept the wine filled all night long. If you'd rather have the beer garden experience you can still enjoy their crepes at the
Hofbräukeller Biergarten
, where they usually have a stand.
Delgado Chocolate shop at Max Weber Platz
If you need a hot chocolate or brownie this is the place. Last time I had the coconut hot chocolate and the brownie was the best I've ever had. I think it had fine sea salt on the top, but it is ridiculously good. They also sell chocolates, fresh truffles, and coffee or tea, as well as a huge assortment of hot chocolates.
Stolberg Schokolade

n
What this shop lacks in sleekness, it makes up for in variety, and tourist locale. Walking down the cobbled street from the infamous Hofbräuhaus towards Tal / Isar Tor is this great chocolate shop. If you are interested in a picking up an exotic bar of chocolate this is the place... shiitake + white truffle chocolate, red pepper chocolate, or another interesting variety. (photo courtesy of Stolberg)
Fünf Höfe
Ok, so this is our downtown mall, but it's really a beautiful place and has great shops to top it off. My mother in law and I went to the art gallery, which is on top of the mall, to see the Rodin exhibit a while back. They have a cute café above the mall as well. The name literally means 'five courtyards' and it contains some wonderful shops and restaurants including Muji, Alessi, Camper, Butlers, Hugendubel books, Vapiano, and Kaimug Thai restaurant to name a few. Be sure to walk around a bit if you appreciate architecture. Each entrance is a bit different.
Vapiano
As listed above... it's fresh made to order Italian food. This is a German chain that's reaching out to the US. Weather permitting check out the courtyard -it's really beautiful. I also love that they have fresh herbs on the table that you can simply pull off and use on your salad, pasta, or pizza.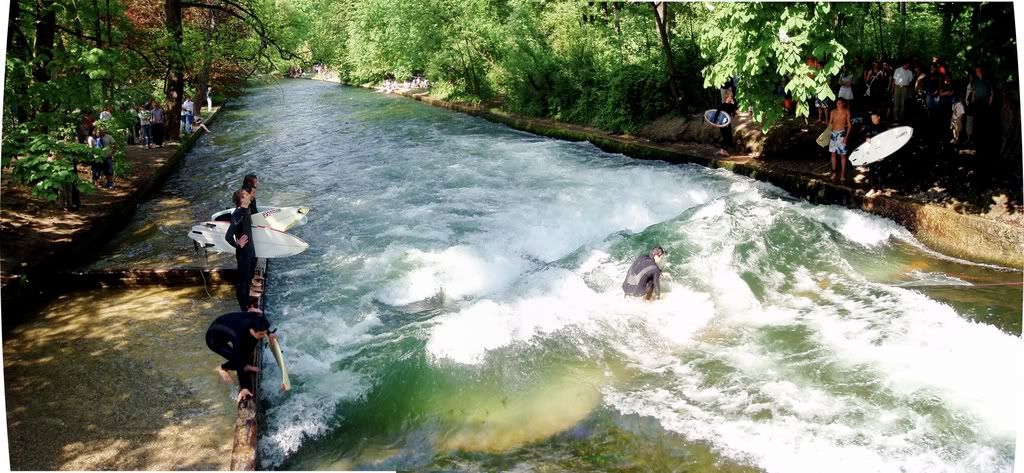 Surfers at Eisbach
If you are ever riding the subway and notice someone in a wet suit or with a surf board they are probably heading to the Eisbach wave. We are blessed to have an interesting wave that leads into the English Garden. Surfers gather and entertain spectators, although I am sure they go for their own enjoyment.
Zerwirk
This is a Vegan restaurant, which ironically is housed in an old butcher's shop. During a visit there was a little dog scampering around which made it feel like you were having dinner at a friend's place. The food does not make a carnivore miss meat. It was very elegantly prepared and delicious. There is also a cafe and small grocery underneath the restaurant.
Paulaner am Nockherberg
You may be the only tourist here, but don't let that discourage you from coming. It's a great place that is nicely shaded and we love riding our bikes over. We were unexpectedly there when the 'Abendszeitung' (evening newspaper) awarded them with favorite beer garden of Munich... so we aren't the only ones that love this place!
Kunstareal / Königsplatz
This is the area with all of the art museums. I really enjoyed the
Neue Pinakothek
and the
Pinakothek der Moderne
, because I am more into modern art... but there is something for every patron of the arts in these wonderful collections.

Schuhbeck's Eissalon
Schuhbeck is a famed German chef and he definitely keeps patrons of his ice cream shop guessing with flavors like chocolate chili, lychee pepper pistachio, and rose petal. They also have the generic sorts, but try something exotic! Definitely check out the photos on the wall too... they are rather interesting. You can stop here after walking past the Hofbräuhaus in the Platz'l.
Tea House
Because this is one area Germany doesn't lack variety it's a great gift to bring home. You can buy nearly any flavor of loose tea you can imagine... blueberry muffin, apple strudel, blood orange... again the list is endless.
Ganesha
I have written about this great Indian restaurant
before
. I've tried many, but this is still my favorite. The food is delicious, the workers are amazing, and the lunches are incredibly inexpensive.
Servus Heimat
This is the place to go for modern tourist wear or interesting Bavarian goods, such as rubber ducks in lederhosen. You can click
here
for a video tour of the shop.
I'll post photos for the remaining locations in the near future!