Stefan is going to spend the weekend finalizing a project he's been working on for the past 6 months... which means I'll spend time planning future travel and finding ways to entertain myself.

I was thinking about the things that I always take along when I travel, or use to plan, and figured I would write about that for entertainment. There are some tried and true things that are packed regardless of where we are going, others are newer additions that have found their way into my adventures.


Books - research + information
I'm a big fan of the following books from Lonely Planet: The Travel Book, The Cities Book, The Asia Book, and The Africa Book (which I still need to purchase).

These are invaluable for finding offbeat places and unique and beautiful little cities that you would never know existed. I always like to research and learn about where we are going, from odd facts to current history. I love to know small details that make places unique. These books also have beautiful photos. Doing a little bit of research really helps to make the trip enjoyable.

Language
In addition to researching the place that we are going, I also try to learn some of the local language. Saying 'Thank You' and being able to order things on my own, makes locals appreciate my efforts and gives me a sense of pride similar to a kindergartner learning to tie their shoes. It's simple, but I am happy. Even when I mess things up it lightens the mood and provides some laughter.

Toiletries
I always have an extra set of cosmetics and toiletries that are packed in a make up case, as well as a 1 litre ziplock for the gels and liquids. Then I just have to throw it in my bag rather than gathering things up and worrying if I forgot something. I also make sure I bring familiar medications so I'm covered in a worst case scenario.


Passport
My passport is always an essential, particularly now that I live outside the US and need to have some form of ID. Plus, we are always traveling internationally since countries are so close to one another. I also like my leather case because it protects it and makes it easy to spot in my bag.




Bags
I've complained about my North Face bags, due to losing things , but I'm still partial to the functionality of them. And it's nice that they aren't overly feminine so Stefan will carry it as well. I also bring a nicer bag, although one with some space in it, so I can pack a scarf, sweater, sunglasses, camera, snacks, guide book... you get the idea.
The typical things a lady keeps in her bag.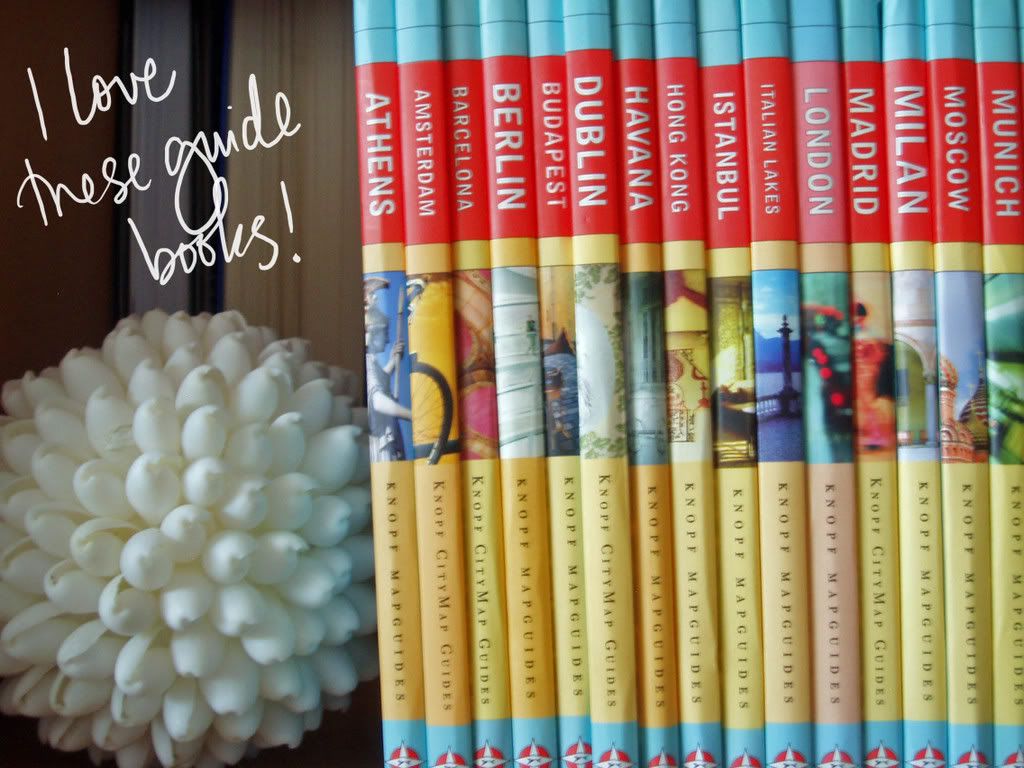 Guide Books
We love these books from Knopf . They are not obnoxiously large and they fold out to reveal larger maps depending on the neighborhood you are in. It's not information overload, and they are very informative. My only complaint is that we have so many and they are occasionally a little out of date (prices have changed or restaurants no longer exist). And they nicely decorate my shelf, when they aren't on the road. We also stop at the Tourist information to check out tours and maps.


Camera
I love my camera. This is the camera I used to take every single photo on this blog and in the last 3 years. Well the same model... I had the same camera before, and it started to act up. This model has since been discontinued, which made the batteries insanely cheap, so I always travel with 5 or 6 extras. I carry this not only when we travel, but every day when I'm out and about. I love the size and the sleekness of it. We also purchased an underwater case, that enabled us to take a lot of beautiful photos while snorkeling in the Maldives.


Utensils
These have become invaluable. Whenever we are out it's crazy just how often we used to fall into the situation of needing a fork or spoon... I love that these are a combination of a knife, fork, and spoon. They are also very durable and portable. Now stopping at a grocery enables us to buy anything that looks delicious, or to share a pastry in a park.


Clothes + Jewelry
I'm a pretty no frills person, however I like the versatility of being able to change shoes or add some simple accessories to dress up an outfit. I also love to wear dresses whenever possible. They take up less space since they are an entire outfit and they are easy to layer with. That overflows into my daily life too.

As Leonardo di Vinci said, "Simplicity is the ultimate sophistication".



Books, Pens, + Notebook
I always bring a book to read on the plane, or when we have down time. I also bring a notebook, where I can write down random things that I observe or think about. And pens are essential for postcard writing.

So... that's the story of how I prepare for a trip. Happy Travels!

If you are family + friends-- Come visit! If you are a creepy person that likes to read blogs of people you don't know, say hi if you see me while I'm traveling, then you won't be a creepy person anymore.

A few of my favorite travel sites are:
Kayak - I love the multi city function and how it retains searches.
Easy Jet in flight magazine - surprisingly helpful for restaurants + facts.
New York Times Travel - suggested places to visit + personal reviews.
Gadling- news related to all things travel.
Walki-Talki - the idea I wish I'd had... ipod downloads for self guided tours.
Zagat - restaurant reviews.
Home + Abroad - free personalized guides based on your preferences.
What's on When - events happening around the globe.
Book Store Guide - english book stores around the world.
Choco Map - find chocolate shops around the world. Very necessary.