We took the train (an hours ride) from Brussels yesterday. The ride was a nice time, particularly because we enjoyed my birthday cake on the way. It was a rich chocolate mousse and with a hazelnut crust on the bottom.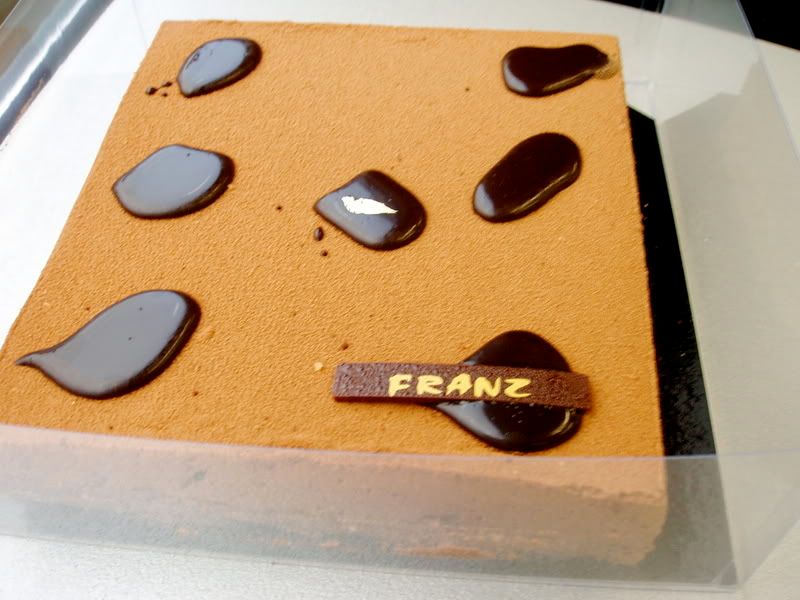 Once we got to Bruges, we were struck by the old-world charm. It's such a spectacular little place. There are horse carriages, old bricks and architecture, as well as the sweetest little bridges. Again I was sensing that the UK/ Ireland had a love child with France, and this was the product. We checked into our hotel, which was located directly behind the Belfort Tower. We had a short walk to the Markt, where we stopped to try some of the famed 'frites'. If you call them fries, I have heard Belgians get offended. We had them with sauce 'Americain', which was a somewhat spicy tasting sundried tomato mayo sauce.
| | |
| --- | --- |
| | |
Around the corner from our hotel was a cute little tea shop where I saw the most beautiful white tea pot, which Stefan bought me for my birthday. Tea reminds me of such a European thing to do, and the longer I am here the more I enjoy it. Stefan is just about as excited as I am to break it in for a proper tea. I also bought our Belgian children's book, with beautiful forms and colors at a shop in the 'Markt'.
After walking around town and around the beautiful waterways, we decided to visit the windmills on the North East edge of the city.
It was a drizzly evening, so we wandered back through town and eventually to a cute little Michelin-starred restaurant. Stefan wanted mussels, and I opted for some shrimp and salmon. Later, we shared our peach beer, which smelled similarly to baby food. It was very fragrant and flavorful. Definitely unique.
Today we woke up at a normal time and decided to climb the Belfort Tower. The day was perfect and clear. We were able to see a lot of the city from over head, which I always love.
We roamed through town, until we made our way to the Snow and Ice Festival, that we intended to visit. It was about -5ºC or 20ºF to preserve the sculptures, which were indoor. There were quite a few visitors, but the beauty was still very apparent. I loved the glowing lights and all of the intricate details.
There was a stunning wall of flowers, a hedge hog, a rabbit, a lot of death themed sculptures, and the end had an ice bar.
One of my favorite touches, which I didn't partake in, was the ice slide. The poor children had to be freezing, but it was fun for them nonetheless.
Belgium has been really good to us. I think it's is due to the fact that we came not knowing what all to expect, so every turn had some kind of surprise. Also it was the perfect birthday weekend.
This week I need to work on getting our photos on the computer, which is easier said than done due to the
saga of 10,000 photos
. I guess I should say 10,500 after this trip!