The train ride in was pretty uneventful, which I was happy about. I even had my own compartment for most of the time. It was a bit foggy, but I was still able to enjoy the view through the mountains and next to the river once we hit Slovenia.



The Sava river was startlingly clear with a blue green hue. It was beautiful. I was also surprised that the train announcements stopped in Slovenia. I knew we were there because I suddenly saw flags, which struck me how uncommon it is to see them in Germany, because of the WWII history and the fear of having too much pride.


There were several things that I noticed as I walked to my B & B. The architecture and oldness of many buildings was striking. There is a large open air market across from the B & B that I stayed in, so there were still plenty of people humming about despite the rain. The indoor market was not as exciting. I was surprised to see people selling animal hides, which I would expect to see at a souk. There were also people selling clothes and other wearable items, similar to the market in Vienna.


I got settled and explained to the man who gave me my key that I was traveling alone and asked how safe the city was. He asked where I was from and then said 'Compared to Ohio? Yes, it's safe.' He then gave me his business card in case I had any troubles I could call him. I had a cute little room complete with a balcony and tiny kitchenette. I also loved the bathroom floor tiles.


I set out into the old town, which was right around the corner from where I was staying. I couldn't have picked a better location. The streets surrounding the area were very charming and the famed 'Tromosovje' three way bridge was just past the markets leading to the Old Town.



The Ljubljanica river is also there surrounded by cafes and eateries. The social atmosphere is thriving- not so much when you are traveling on your own, but it still gives a nice feeling of community. Traveling alone was sort of strange. I definitely like talking to people more than I was able to and I'd find myself eavsdropping on coversations of other English speakers. Surpringly I even heard several Americans in the mix.


As I was orienting myself I found a book shop and picked up my Slovenian children's book, which happy enough comes from Ljubljana. I am going to have to get it translated, but the pictures are adorable and it looks as though a little girl takes her dog to school in her book bag, however he doesn't like staying in there all day and causes trouble when he seeks her attention.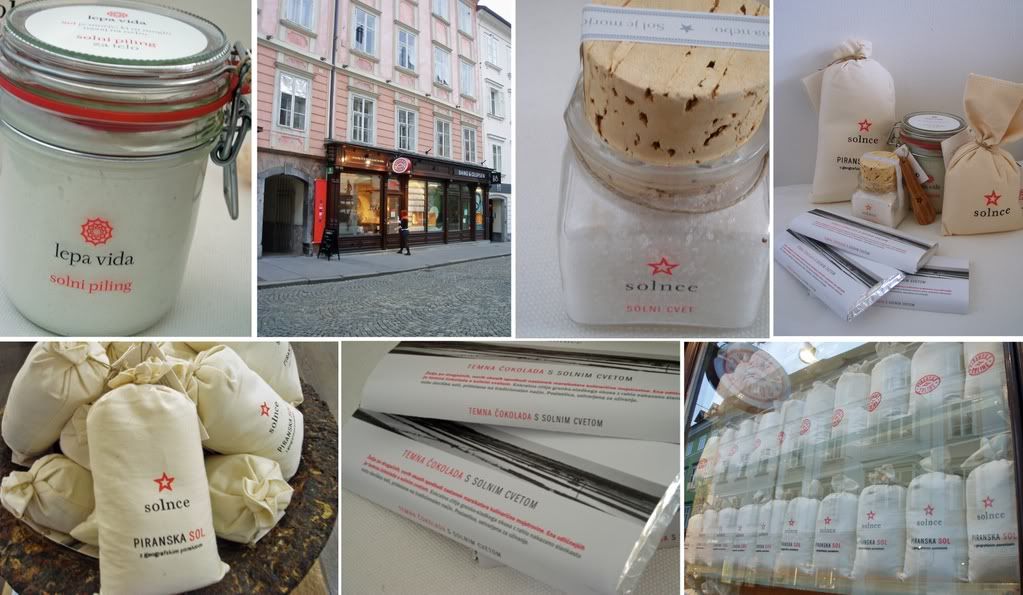 Right down the street from the book store was the Piranske Soline shop and it was every bit as great as I imagined. I bought salt in many forms - sea salt, salt flower, salt chocolate, and a facial salt. I'm hoping it gives me that fresh glow that comes from swimming in the ocean.

The sales woman at the shop was very helpful ...I'm attributing that to her being kind and not on the amount of products I purchased. I cannot wait for Stefan to come home so we can cook something up with it. I'll also be using it for my cookies.

Another woman who looked to be on a private tour came waltzing in and complained about everything. She said she passed up going to the salt marshes 'because it's not beautiful' and then said that she had tried some of their salt and it was 'saltier than other salt'. I just wondered what gives? She snapped a few photos and bought something small and then she was off to complain about something else.


Andrea recommended that I try the pizza, which I did and was very happy with - so much so that I ate it every day. It was delicious. I found a little pizzeria that served by the slice so I didn't have to sit somewhere and feel lonely. On my last day, when I ordered it again I was so proud of myself for using Slovenian and for the young man to respond in Slovenian. Granted I only said 'one' and 'thank you', but it's a start.


After pizza I went to a pastry and ice cream shop called Zvezda. It was one of the best ice creams I have ever had, which is saying a lot considering that I love ice cream and also worked at Ben + Jerry's. I chose chocolate and blueberry.

The city is filled with art in many shapes, forms, and with different media.


The graffiti is sprinkled around the city. Once again I saw the stencil graffiti, however I was also happy to see some graffiti from more skilled artists. The little monster figures were very cute. It appears the city isn't too enthusiastic about it, as I saw several workers preparing a new canvas for it's under ground artists as it was being painted over.


The large Baroque churches are everywhere and they are distinctly different from one another. Most of Ljubljana is Catholic and I found it interesting that among the churches in the city there were a variety of religious orders. It's not that large of a place.



Art Nouveau definitely caught on in Ljubljana as well. The 'Zmajski Most' (Dragon Bridge) is a prime example of this movement. There were also lights and buildings through the city that echoed this early 1900's period of art.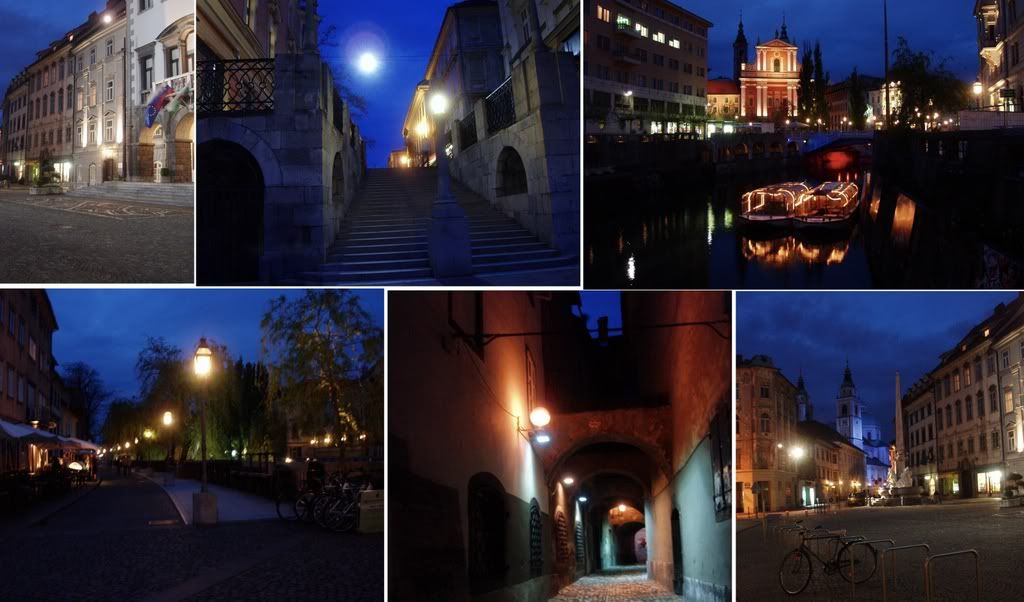 At night I wanted to be safe and not head to a bar, so I decided to stop at a near by grocery and get some Slovenian wine for the evening. I was happy that I ventured out at dusk because the glowing lights were so beautiful.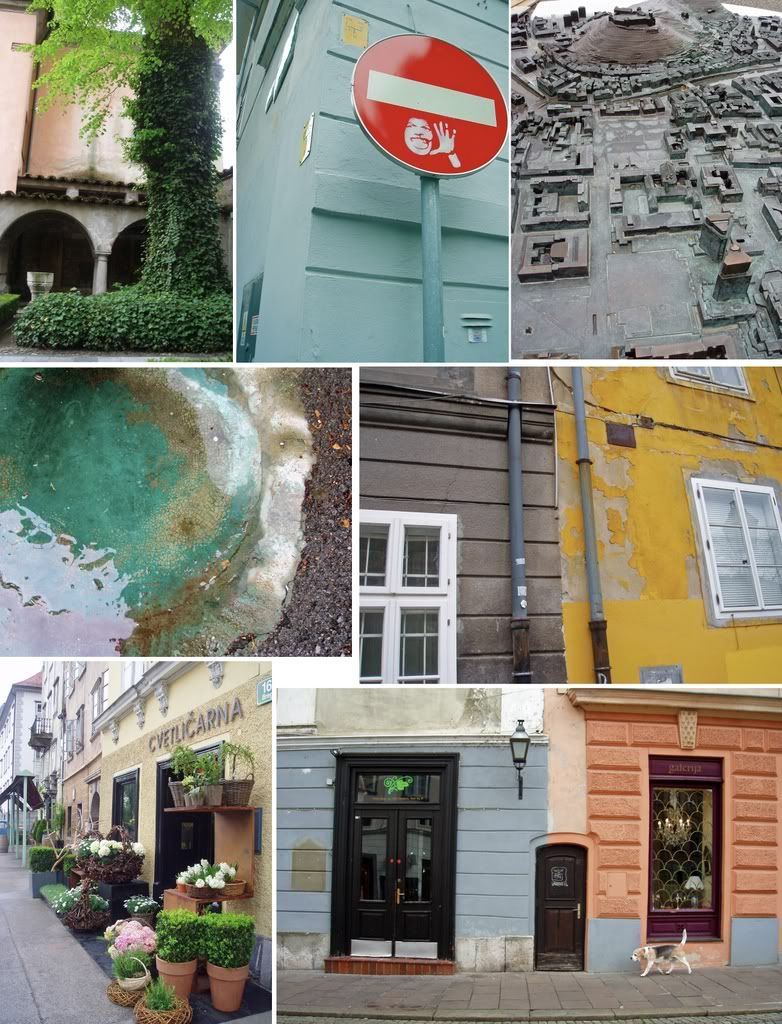 I was struck by the tiny details that were just inspiring. Among them were the court yard of the Ljubljana festival headquarters, the bronze city map, a glazed area matching the Sava river underneath a drainage pipe, the colored buildings, the sweet and elegant flower shop, and of course a puppy taking himself on a stroll through town. There are so many interesting elements that I had plenty of time to observe.


While waiting for my train I decided to stop by the Celica hostel, which is a former prison and supposed to be super nice by hostel standards. I don't really have a comparison, although it looks well designed and clean.

The hostel offers a tour daily at 2pm and I was happy to see some of the former prison cells. Each cell was decorated by an artist who was given 500 euros. The results are very interesting. On the tour I also learned that the demolition crew was already at the site and put two holes in the building, which were then incorporated into the architecture. The artists some how were able to get them to stop and over 10 years it was transformed into what Lonely Planet calls 'The hippest hostel'. My favorite room that we saw was 116, because it was very circular, including the bed. There is a dining area, a small prayer room, and the building remains true to compositional directions with the east and west sides of the building taking on the respective aesthetics. Surprisingly, when this was used as a prison there were 14 people in each cell.


It's in an area called Metelkova city, which has a lot of old military barracks and graffiti. Before I came I read that it was compared to Christianshavn in Copenhagen, so I wasn't sure what to expect. I think they only the that could be similar is the graffiti... there wasn't blatant drug use and the people were friendly.



The trip home was slightly more of an adventure than I would have cared for. Rather than taking the direct train to Munich we were rerouted due to a suicide. I heard the conductor blow his whistle twice and the carriage ahead of mine felt the accident. I later learned that Slovenia has one of the highest suicide rates and it's becoming more common place. According to the conductor it was a young man. There is an area close to the train station that crosses a highway and it seems there is a bushy area where people hide and jump out. We sat and waited on the train for close to an hour before they had us get off and then wait for a bus.

I could not believe just how many people walked to the front of the train to take a look. Even worse was parents let their young children walk up and look. The underside of the train was dripping with body matter and I stood there in disbelief.



I am a big fan of street wisdom - those tiny tidbits of information that someone felt was worthy enough to share with the world. They sometimes come in the most unlikely of places, yet give me a sense of commonality and a connection to other people. Maybe it's my state of mind when I stumble upon them, but they resonate with me, especially these that I saw in Ljubljana in light of the trip home.

The only positive thing about all of this was meeting Eva and Sandra, who were also alone and traveling from Croatia and Slovenia. We chatted for the journey home about life, traveling, and America. Sandra kept saying how important it was to live life, which she realized she had cancer in her early twenties. Eva talked about her breaking up with her boyfriend of nine years who then married her best friend two weeks ago. It was nice to have traveler's tales and have ladies my age to travel with. We exchanged emails and Sandra said she wanted to make the trip back to Salzburg this summer so I could give her a tour.

Our voyage took us by bus transfer to Vižmarje, where we then took a train to Jesenice, where once again we had to disembark for a train to Villach, Austria, and get on another train to Salzburg. If we had waited for the train to Munich it would have been another three hours. Eva's boyfriend who lives in Munich was kind enough to pick us up in Salzburg. Poor Sandra still had to go to Berlin. She had missed her connecting train and therefore had to leave at 4:30am.

It was interesting to me how traveling to a country where I really don't speak the language helped me realize just how much German I know. I was forever grateful when I asked the conductor if he spoke 'Angleško', and he said 'Deutsch'.