While I was at class today and Stefan was procrastinating, he decided to get our biergarten ready for the summer season. I almost had to put one of my dirndl's on to celebrate... almost.

Not only did he surprise me with that - he also went to get Indian food at Ganesha for lunch. I love surprises like that!

We enjoyed breaking in the biergarten for the 2008 season and sharing radlers as we discussed how much we love how quiet things are, despite living so close to the city center. Evenings like this make me really appreciate our little home and cosy balcony.


Our biergarten has a fair amount of history - the table and benches were bought right after the world cup for 30€ total and our custom made bronze sign was a bridal shower gift from my parents. We even have our own half litre mugs bought at the lovely Tourist Information office at the Hauptbahnhof. I wish I had bought one from Oktoberfest 2006. I still have to look near the tourist alley by Hofbräuhaus and hope I find one.

The table set came from Fünf Höfe and I decided we had to have it. It was a smaller set so it would fit nicely on our balcony without taking up all of the space. Unfortunately it was a Saturday and Sunday the stores would be closed.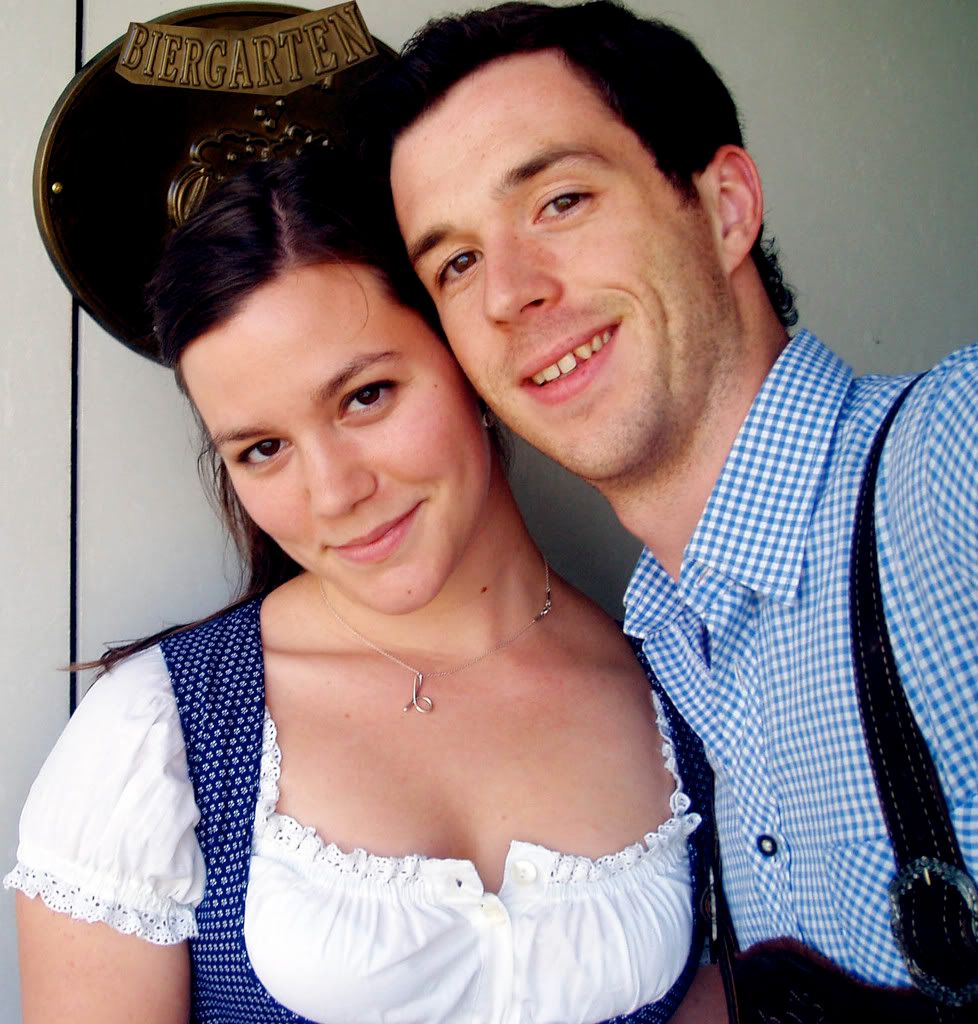 We went to another store on the outskirts of town to see if they had one that we could easily transport. I'm not sure what persuaded Stefan, but I'm guessing it was a combination of promises of beers and cookouts with Bavarian flair. He may have also added a little something about not wanting to hear me whine all of Sunday. They didn't have it and I was devastated. Sunday he probably heard about my disappointment some more and then we went as soon as the store opened the next day. (Yes, I know this is a very American thing of me to do).

The only problem was he believed taking our car was not an option, since there wouldn't be anywhere to park. We decided if they had it we would have to carry it on the UBahn. While moving things on the public transport is frowned upon, we didn't have a choice - this table had to come to our balcony.

I was impressed that Stefan honestly believed a small little lady like myself would be able to carry this thing even with his assistance. However, that was short lived - it continued to get heavier and heavier and he continued to offer more support about my great strength. Suddenly my hands were feeling the pain. As soon as we reached our subway stop we caught glares from people as we navigated the escalator. I was happy that we were almost home. That's when my strength stopped and I requested he go get the car. And there I sat with our table and benches waiting for him to come back.

Now the rest is history and we can enjoy our very own 'Stammtisch'. The biergarten sign is much nicer than it looks... I covered up our last name so we wouldn't have stragglers inviting themselves over. Hopefully I will get more pictures up once it's complete and filled with friends!

Aren't summer evenings with loved ones wonderful?