Every year I ask Stefan what he wants to do for his birthday. This year I offered up suggestions such as day trips, doing the Olympia park roof climb, or something else that is unique and special.


Ever since we've lived in Munich he always responds with 'why don't we go to the zoo?'

We started the day celebrating the same way he did as a kid - opening gifts at breakfast and enjoying some cake. I love watching how anxious and excited he gets. I also love all of the pictures of him as a child when he looks like he just woke up and he's surrounded by gifts. Today was no different. Aren't family traditions great?

After repeatedly asking if I should skip class today, where I was continually met with 'Emily you'll be out late afternoon, we can go after that'. I went to class. I wanted to make sure he was happy with his day and able to do whatever he decided.

The zoo was a better visit than the last time. One thing I appreciate about the Munich zoo, is that it's shaded and right next to the river, which adds a nice nature feel. What I don't like about the Munich zoo, is that things seem over grown and not entirely kept. I also hate seeing many of the animals in their small habitats (especially the polar bears that always look like they are sweltering).


Munich hasn't reaped the financial gain from polar bears, however they are hoping to have a birth like Berlin's Knut and Nürnberg's Flocke. I was curious why the penguins get a block of ice and the polar bears don't.

Last year when Stefan also opted to go to the zoo it was a much warmer day and it didn't seem like there were as many animals out. This time there were plenty of babies in nearly every habitat.


Sometimes I get tired of going to the zoo and seeing animals cooped up with the occasional person deciding it's smart to bang on the glass or feed animals. For some reason I don't feel like I see that as much in the US, although I'm sure it happens.


Some of my favorite animals are the seals, which always seem to put on a show and attempt to splash the visiting children. They are definitely smart!


My other favorites are the Orangutans. I could sit and watch them for hours. I really have to remind myself that they are people, but they make me wish people were more compassionate towards animals. When I look into their eyes they express so much without saying a word. They also seem so bored.



The details of the animals are always so beautiful. This mischievous alligator could have come from the pages of a children's book.



Last time we visited they also had art made by the elephants where they are given a paint brush and paint using their trunks. They are another one of my favorite animals - they are so majestic.



Besides the zoo animals, something I find fascinating is that you can bring your dog along. It's rather strange for me to think about these house pets watching other animals - I even recalled a woman holding her dog up to look at the monkeys and he whimpered when she put him down. The cutest dog of the day had to be a Golden Retriever puppy sitting in a wagon with three kids. Seriously adorable.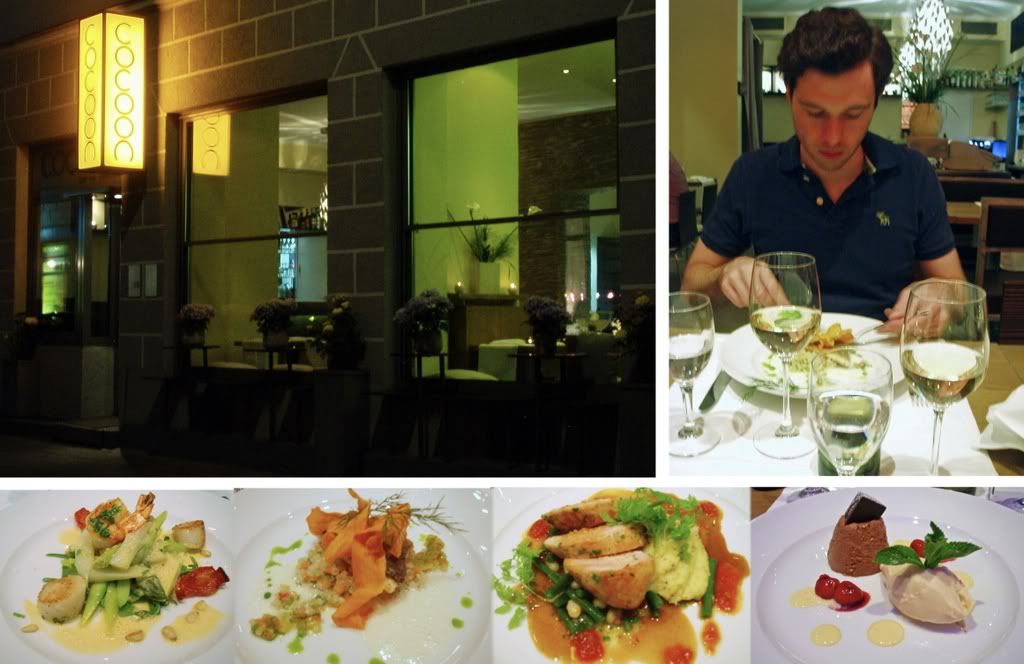 After gazing at the animals we made our way home to prepare for dinner at Cocoon. We opted for the four course menu with wine paring. The food and wine were both wonderful, but of course the company was the highlight. It's always nice to have time together and although we were still interrupted by several phone calls, I knew Stefan's co-worker's hadn't forgotten him.

We ended the evening saying that we both wished birthday's came around more often. It was a terrific day for me and Stefan.

I also smile when I think this is just the beginning of growing old together.