I've complained before about the lack of 'plus one' invitations to German after work functions. Thankfully partners and spouses were included in this event.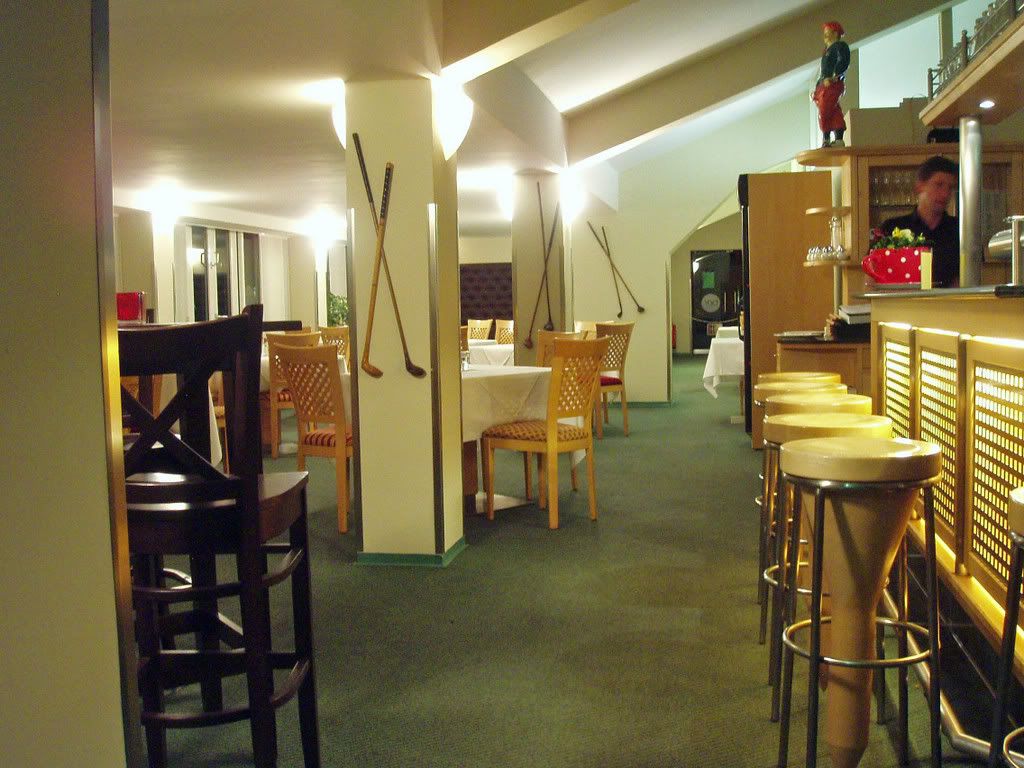 We went to a golf course where we had dinner and were instructed on how to create cocktails of our own by the Skyy Flair Boot Camp. It was a unique event and a great time to socialize with Stefan's co-workers. The golf club was a bit different than the ones in the US. It was a combination of golf course and horse track. I also loved that their bar stools were golf tees.

At the workshop we were taught how to make variations of the beloved Caipirinha, as well as other saccharine drinks.


They also told us Pitu Cachaça isn't very good compared to what is in Brazil, but it's well marketed. Instead they suggested a brand called Don Diego if you don't want a hang over.
I must say I didn't wake up with a hang over, but I wasn't drinking much, which led some of the new fathers to speculate why. One even mixed me a non-alcoholic drink. I had to laugh. I'm just not into sweet drink mixes. If they would have had real margaritas the night may have ended differently.
It was fun watching the secretary get into it and I was beginning to wonder if she was going to quit her day job to join the Skyy team. In addition to mixing drinks they also were teaching us how to make exotic drink decor, like the banana dolphin. It was a fun evening and great to get together with everyone.

It's also always interesting when there are new employees that don't know me. One was visiting from Hanover and didn't know I was American, while another introduced herself and said that I'm known around the office for making baked goods and she was happy to finally meet me. One of the mixologist instructors thought I was Dutch. It's always slightly strange to meet people that know more about me than I know about them.
It was a great evening, but don't expect me to quit tours to Salzburg for bar tending.