Whenever we travel we always pick up a beautiful children's book. Sometimes they are in English, while other times we'll find something in the native language of the place we're visiting. I was walking down the street the other day and stumbled upon these two books and was drawn to them for different reasons.


'Mouk' is about a little character that travels around the world sending postcards back to his friends and family. I just love the illustrations by Frenchman Marc Boutavant. I'm always drawn to the maps and information about other cultures, even for tiny readers. His illustrations remind me of the Richard Scarry 'Tiny Town' books that I read as a child, except his have a Japanese feel to them. The busy pages are sure to garner attention and curiosity. Unfortunately this book is not available in the US, which is more the reason to buy it here.
'Noch eins' is a board book that is for smaller children and focuses on counting. It includes the work of Wayne Thiebaud and combines his paintings of cakes and confections with numbers, which is terrific. I've always been a fan of his work which delights my inner desire to be a pastry chef. Besides, what child wouldn't be enamored with images of sweets while learning to count? His paintings are so pretty.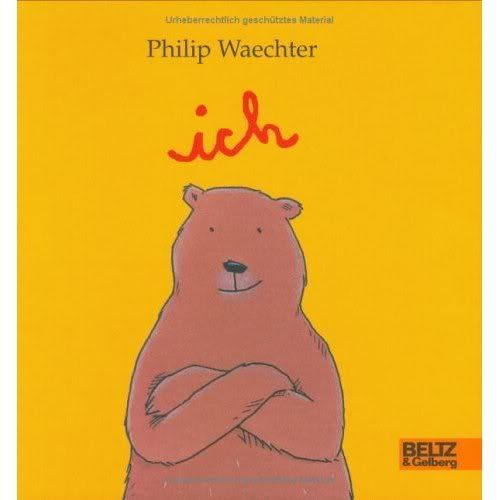 My all time favorite German children's book is one I purchased on one of my first visits. It's called 'Ich' by Philip Waechter. I've not read the English version, however the German version is so delightful. It's the simple tale of a brown bear who tells the reader how beautiful, smart, brave, and special he is although sometimes he feels small and lonely. At the end he says how he runs and runs into his loved ones arms and feels safe. The illustrations are sweet and the story is really charming.
Reading these children's books even helps me improve my German.