We arrived last night and decided to make it an early evening. Our hotel lobby was booming, due to the ice bar that is also located here. We got a bite to eat in the bar and then planned for today.

It still takes some getting used to with the lack of real day light. It gets dark here around 3:30pm and it makes my body feel as if it's 8pm. I also noticed how fast the escalators move and a strange smell in the air that was similar to elmer's school glue. I know that's strange, but that's what it smelled like, and I have no idea why. Another funny thing is that Stefan's mom tells me that I look like Princess Victoria of Sweden. No one has been confused yet, and I hope I don't have that square of a face.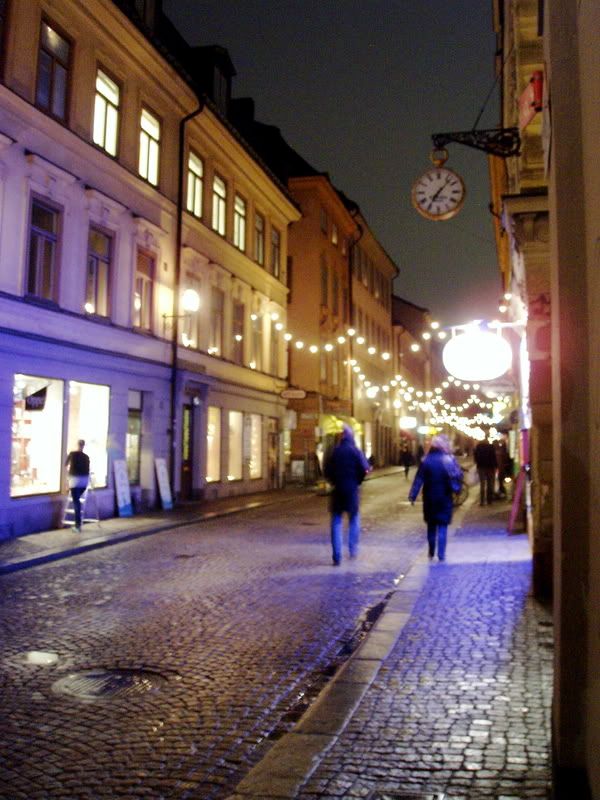 Stockholm is very charming - there are plenty of tiny cobbled streets (particularly in Gamla Stan or 'old town'). We spent a large part of the day shopping, simply because things we weren't sure if things were going to be closed in the following days. We've gotten mixed responses as to what is open and for how long. I think the stretch between Christmas and New Years is a bit difficult for people to gauge.

I've heard Stockholm is compared to the Venice of the North, and I am assuming the older buildings, combination of islands, and the cobbled roads are where those references come from. I think the history with the Nobel Peace prize is nice. I like a city that recognizes positive things that people do. Again, there is a lot of color and vibrant buildings. The architecture is also very regal and stunning.


I found a beautiful book to purchase for our 'around the world library'. It's called 'Min Atlas Jorden Runt' and is has beautiful illustrations. I can decipher some of the Swedish. I felt the same about Danish... they both seem to be on the verge of being understood, but they are slightly off.

The design shops are also wonderful. I've been able to see so many things that I've seen previously online. I think I could spend an entire day (or pay check) in many of these stores. A great one is called Design Torget. I purchased a beautiful trivet, and some great sporks from a company called Light My Fire. These are great for traveling, because it's a fork, spoon, and serrated knife all in one. There are so many times (especially when I am on a tour) where I will want to stop at a grocery, then there is the dilemma of needing utensils... not any more! Here are pictures of the spork + design torget at Sergelstorg.


| | |
| --- | --- |
| | |
I loved wandering around town and since Stefan was here previously on business he had some idea of where to find things, such as Saluhall. I love places like this - tons of foods in one area. We decided to try wraps from a place called Planet Food. While the name isn't much, the food was great. It reminded me of Chipotle with an edge. We first got the Bombay wrap (chicken, rice, vegetables, mango chutney) and then decided to buy the Malibu (avocado, lettuce, vegetables, and a little feta) + Santorini (chicken, feta, + veggies) for dinner. It was also nice because they were only about 6€ each.
Another shock to me was constantly seeing the Seven Eleven chain around Scandinavia. We stopped in to buy some drinks (water flavored with cactus and blueberry?!). We had a hell of a time finding Swedish fish. All of the groceries carried a candy brand called Malmo (like the city in South Sweden across from Copenhagen). I recognized the brand from IKEA (where we buy our Swedish fish), however there were no Swedish fish to be found. That was a disappointment.
Something else that surprised me was a vending machine in the train station that sold books as opposed to food. I got a good laugh out of that.
The weather was a little drizzly today, but we managed to stay warm and dry. The hardest part is convincing our bodies that it is still early and we should stay out. I think we did a fair job today... plus coming back to our hotel and having dinner ready, as well as English TV is wonderful.
I can't believe New Year's is right around the corner. Tomorrow we are going to be going to the ice bar, which will be fun.
spork photo:
Light My Fire