We spent a lot of our day shopping and enjoying the great design stores - particularly Illums, which loves to tout that the Queen shops there. We spent plenty of time walking around and enjoying all of the colorful buildings.

Last night we had a really great meal at a Vietnamese restaurant down the street from our hotel called Lê Lë Nhà Hang. It is a modern take on street food with really fresh and delicious ingredients. It's a great place.

I started keeping a small list of things I noticed during our visit to Copenhagen...

Beautiful design - but it's the same price as home, just all condensed into shops.

The 80's is back in full force... tight pants / pants tucked into socks (no thanks).

Bright pants - even shiny spandex bright leggings (eek!) - I just kept thinking Richard Simons sweating to the oldies!

The slim fit pants are worn with low converse or vans in a variety of colors and patterns.

Expensive food - dinner is going to set you back at least 50€ or about $75, for a no frills meal.

Dividing by 7 for the price... at least things aren't deceiving - you know it's expensive when it says 700 DKK.

Christmas came and went during our visit - all the decorations were taken down so quickly.

Nyhavn is one of the most picturesque little areas with a great nautical flair. Everyone knows how much I wish my life was a musical and this could very well make a great set... but it's real life!

The grocery had alligator, spring bok, kangaroo, and ostrich meats in the freezer!

Christiania - the independent community, is dilapidated and spray painted. I like graffiti -I'm a big fan of Banksy, but this was pushing the limits for me... it was more of a squatter community than hippie area.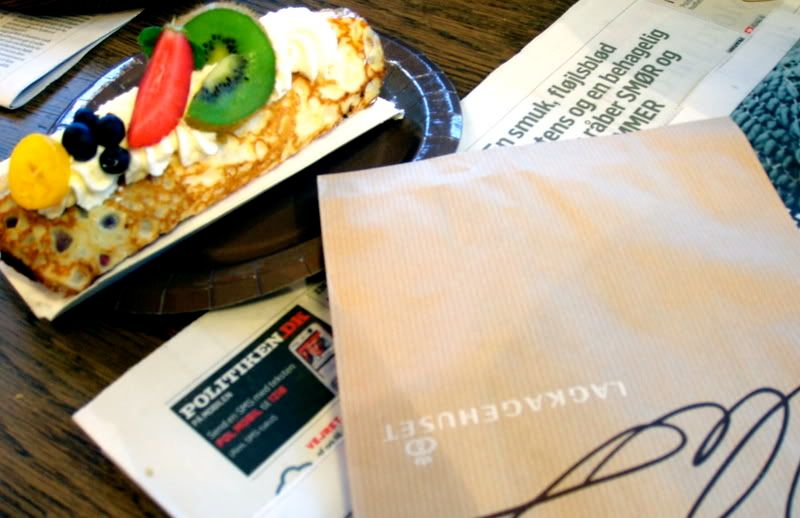 The best meals were at Lê Lë Nhà Hang + Lagkagehuset (a bakery in Christianshavn and across from Tivoli). I am still thinking about this blintz.

English TV with Danish subtitles - this is why all the Scandinavian people speak English so well.

Today we had a hard time finding a children's book. Typically we buy one written in English or with a lot of great pictures, however it was not as easy to find one. We settled on a pretty little animal lexicon with the danish word for the animal written underneath it.

Our next stop was the Rundetårn or round tower, where we walked up for a decent view of the city. It was a bit foggy so things weren't very visible. After that we went to Christianshavn for a quick lunch and then the the 'Freetown Christiania', which was a big let down.

It seemed more like a ramshackle area than one that I envisioned to be like Yellow Springs back home. The dirt streets smelled of marijuana and run down 'homes' were lucky to still be standing. From all that I have read, the people that live there have fought tooth and nail to keep their subculture alive, which I have to respect. It's just difficult for me to think highly of their abode when they don't seem to care what it looks like - the spray painting is one thing, but the trash littering the area is something else.