My Dad recently read that tour guiding is the worst job to have. I am not sure of the reasoning. Probably because it's so unpredictable. There was a tourist that had a heart attack and died at Neuschwanstein this year (not with our groups)... and a co-worker told me about a woman this week, that took the horse carriage up and there is a last bit that people must walk. At this point she decided to tell her that she only had one lung and a brain tumor, so she didn't think it was best for her to go in. Yes, there are quite a few steps in the castle and some serious altitude with bone chilling air. Perhaps we should put a precautionary measure on the brochure.



My last tour group was an American family living in Venezuela for 15 years, a group of 4 young girls from the UK, and a chatty Texan couple that had a lot of pride. It was a nice day and I wished I had brought my camera along. I've already got it packed for tomorrow, which probably means the tour won't go. I am also hoping that it's not so cold. I literally stopped in the middle of one of the Christmas markets and purchased some felt insoles. At the end of the day the man from Texas asked me what exactly I did for the three hours of their free time. A lady never reveals her secrets... I think I do know every chocolate shop in the city, as well as where to get some divine pastries. Not Paris divine, but they will suffice. I also spend a fair amount of time at interio, a fun and affordable design shop. I'm also anxious to try out Carpe Diem, partially owned by Salzburg's own Dietrich Mateschitz... also known as Mr. Red Bull Billionaire.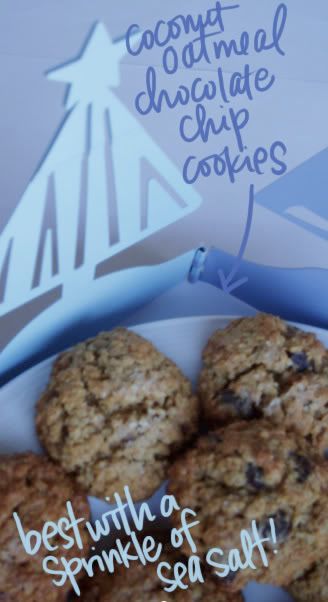 I'm still a bit behind on my cookie baking. My new favorites are oatmeal coconut chocolate chip cookies sprinkled with sea salt.

That will be my job for Friday. I am also depressed over the discontinuation of one of the best chocolates - the Domori latte sal (sea salt chocolate).

That is part of my sea salt oatmeal inspired cookies. I am still hoping that's just a rumor, although I am having the urge to start stocking up now!