Christmas this year seemed to pass so quick. We went to Stefan's parents to celebrate 'German Christmas' (as he calls it) on the 24th.

We had a wonderful fondue and they gave us a great gift - we are all going to the thermal spa in late January. It was a great evening, and we ended it with church. I was shocked to hear that Catholic churches don't have bathrooms or heating (how could I forget the heat from last year?). I didn't forget the incense though. I think the alter girl shaking the container probably smells of that for weeks.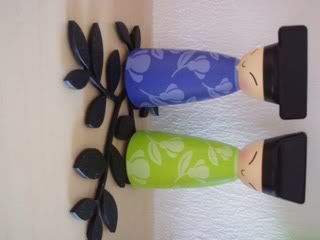 We got home mid-afternoon to celebrate over the web cam with my family. They had sent us so many wonderful gifts. Unfortunately I didn't have time to watch the Charlie Brown Christmas DVD they sent, but I will be doing that when we are home from our trip. We also received the gift of 'Elf on the Shelf' from the Williams', which is a great new holiday tradition. I can see that mischievous elf providing a lot of fun at the holidays. Stefan gave me the Alessi King and Queen Chin salt and pepper grinders that I loved.

Stefan's backpack was a hit and it was nice to see I was able to surprise him. He also surprised me with two upcoming dinners - one is a completely dark meal. I had heard of a restaurant in Berlin, called unsicht bar(invisible bar), where the waiters and waitresses are blind and the restaurant is entirely dark. The one in Munich is called Essen im Dunkel (literally eating in the dark). The other meal is for molecular tapas. It's really fascinating and inventive. It's a scientific take on flavor, which was started at the Mandarin Tokyo. (We will be enjoying this in Munich). I can't wait to try the various foods and experiences. There are a lot of pipettes and syringes to create the food that is then mixed for interesting combinations.