Stefan and I arrived this morning in Copenhagen... I should also mention that we left at 5am!

It was a great start because we were able to use Stefan's Senator status and check in with first class and enjoy the nice lounge and delicious breakfast.

Our flight left at 6am and was in to Copenhagen by 8am. Fortunately we were able to check into our hotel right away and we promptly took a nap and then began our day around 11am. I couldn't get over just how dark it was - even at 9am things looked really dusky. The nap was just what we needed after waking up at 4am.

Our first stop was to the tourist info office (this is always my first stop now after learning of the great maps they have). Then we headed across the street to Tivoli Park. It was a kitschy take on international destinations such as Morocco, Asia, and India. There were a lot of carney rides and some beautiful lighted areas.

We continued walking into town and it was quite a hike! We walked past the Råthus (townhall) and down some of the shopping streets - most of which were closed due to the holiday. I saw plenty of beautiful design shops that I am sure we are going to stop at tomorrow.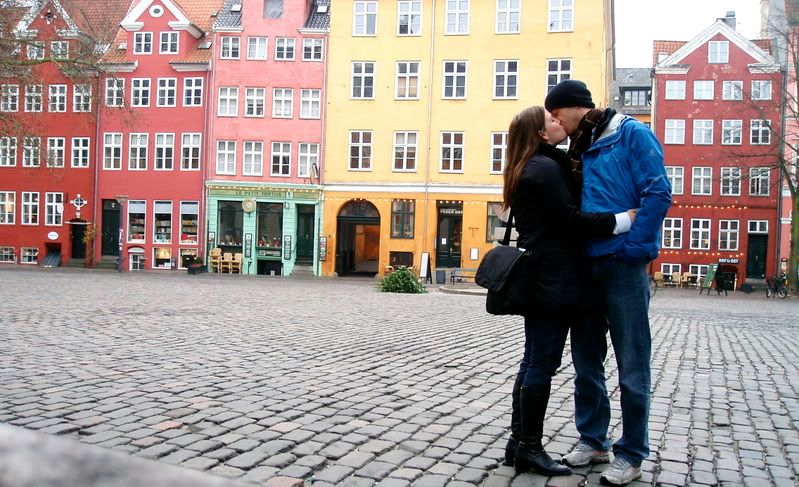 After wandering about town (and being guided mainly by beautiful colored buildings) we stopped at Gråbrødretorv - a picturesque square where we were alone to enjoy it (photo was taken with the self timer). I couldn't get enough of the colors. We walked past Nikolaj church and towards Børse (the stock exchange) on our way to Nyhavn. I loved walking along the water way and stumbling upon the most serene seascapes. I also loved all of the boats and contrasting colors.



Once we arrived at Nyhavn I was in heaven. It has a lot of row homes and businesses with boats in the canals. Since it is so warm many of the cafes are still open with outdoor seating. We stopped at a beautiful little nautical themed restaurant for a mug of gløgg (similar to Munich's glühwein with almonds bits and raisins in the bottom). I don't think I could take enough photos, but it was really nice to see the sun shining on the beautiful row houses after a relatively gray day.

We walked quite far - all the way past the Royal palace (Amalienborg) and to see the Little Mermaid statue in honor of Hans Christian Andersen's story. Tomorrow we will head to a book shop to hopefully find a beautifully designed children's book based on some of his tales.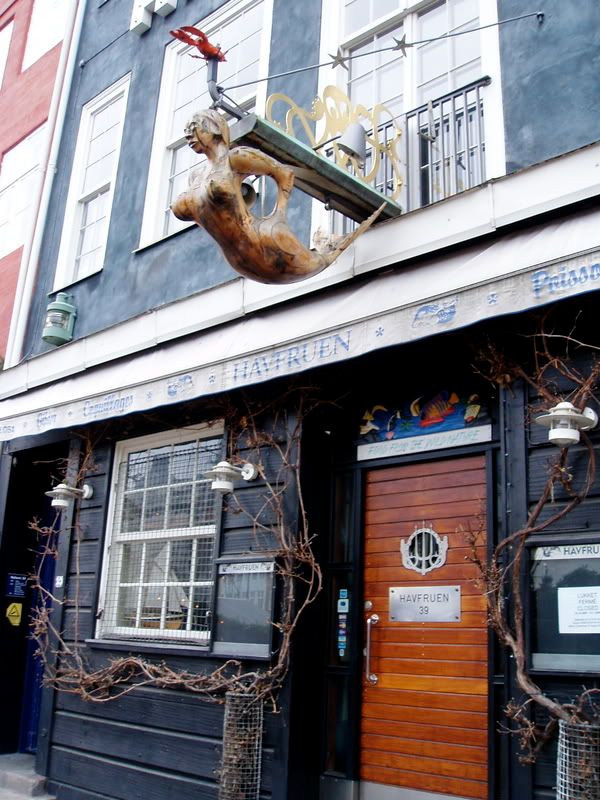 I love Scandinavia because of the proximity to water, the cleanliness, and the striking design. Stefan kept telling me that he is happy that I like beautiful things and it makes him happy to buy them for me. Then he snuck in the comments about he appreciates them too and that's why he married me. We love to say overly saccharine things to each other, but as dorky as it is we always have fun making each other laugh with things like that.

We walked all around town for about 5 hours and I was so happy to see the 'S bahn' and come back to our hotel. It also gets dark quite early so around 5pm my body is telling me it's closer to 9pm. I can already tell I'm going to sleep like a baby tonight!