When I'm home one of my favorite things to do is stock up on books. Ohio is fortunate enough to have a store called Half Price Books, which are always a mix of old and new, exotic, and somewhat commonplace, but there are plenty of treasures to be found. I'm always drawn to the Travel section (for obvious reasons), the non-fiction memoirs, and the pop culture books that tie into everyday life's seemingly mundane things.


Caitlin reminded me of a book that I picked up in college about off beat travel places in the US. It includes all of those small towns that are named after more international counterparts. It also contains many well known landmarks and art works that have been replicated, so people don't have to leave the US to experience all of the wonders the world has to offer. (Such as 'Touch down Jesus' as he is affectionately called - located between Cincinnati and Dayton, Ohio.)

During college, Roger, my art history professor that I adored, shared my interest in provential art and ways that art came up in the news. He photocopied a map from my book that depicted these offbeat locations, and had it on his office door for the rest of the year. He also made sure everyone in the class had a copy. Pyramids, Stonehenge made of cars, and more... all can be found in good old America.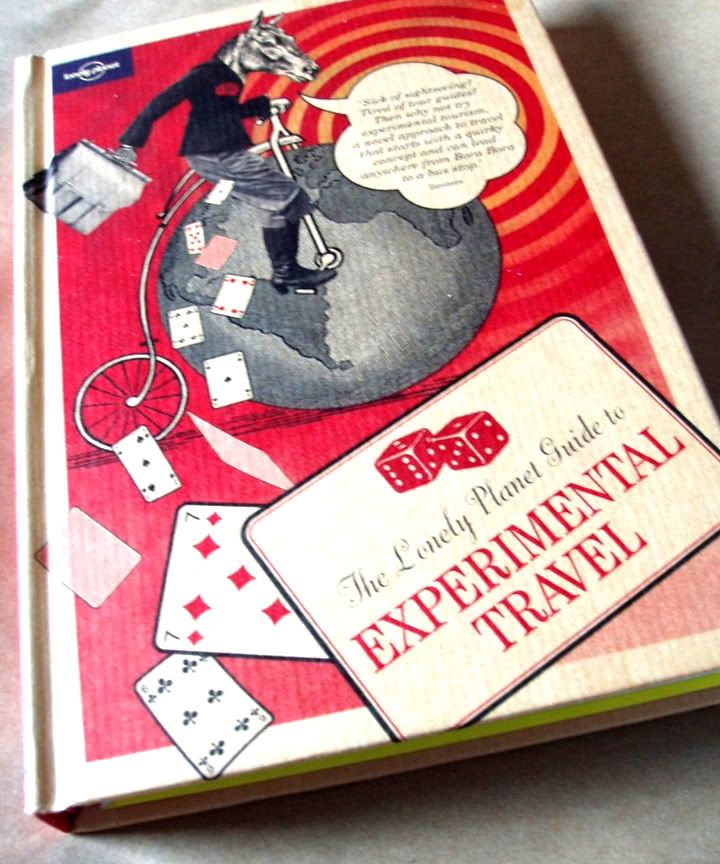 During my trip home, I picked up another odd travel themed book that has 'experiments' and travel ideas to be the antithesis of tourist. Among the suggestions are back packing your hometown and staying at a hostel where you can meet other people that are actual tourists, or going to a city and staying up all night investigating things to do until dawn.

Another idea was the yellow arrow project, which is a global public art project that enables people that find the yellow arrows to obtain messages from the people that left them and draw attention to details that people commonly overlook. The website looks like it is going under some changes, but you can still look up your hometown or many other cities. Innsbruck, Austria - once again has something that is beckoning me with over 400 arrows. Stefan and I are considering a trip this coming weekend.

I really enjoy things that are happened upon and suggested by others, so this fits perfectly. Finding willing counterparts to accompany me may be more of an obstacle.

Here are a few really interesting websites for strange destinations: 
And in Germany, there is
Pullman City
- a knock off wild west. 
Let me know about your offbeat destinations!