Whenever I read about Lisbon there were words like bohemian, laid-back, romantic, and beautiful thrown into the mix and finally it stated it simply couldn't be put into words.


- Our first view of the city came from our flight. It's really incredible just how close to the city center the airplanes fly. It's a stunning birds eye look onto the red tiled roof tops, over the Tagus river and the 25 de Abril bridge.


- The Moorish architecture and bright colors always drew me in and I knew when I finally made it to Portugal that I'd really want to see Lisbon. It certainly didn't disappoint. There are beautiful shapes and patterns everywhere.


- Immediately this city conjures up a feeling for me of European San Francisco. The two cities have loads in common... their bridges were made by the same company (the Oakland bridge - not Golden Gate), they both have had issues with earthquakes and fires, they both were built on seven very steep hills, have laid back people, strong liberal and political cultures, proximity to water and of course the trolleys.


- While we should have had plenty of time to plan for this trip, since we bought flights months ago, the truth is it kind of crept up quickly. I was so thankful to read what locals recommended. We took their tips to heart and visited many of their favorite shops and restaurants including the Cape Verdean Association for lunch and one of the most beautiful stores called A Vida Portuguesa with everything being made in Portugal.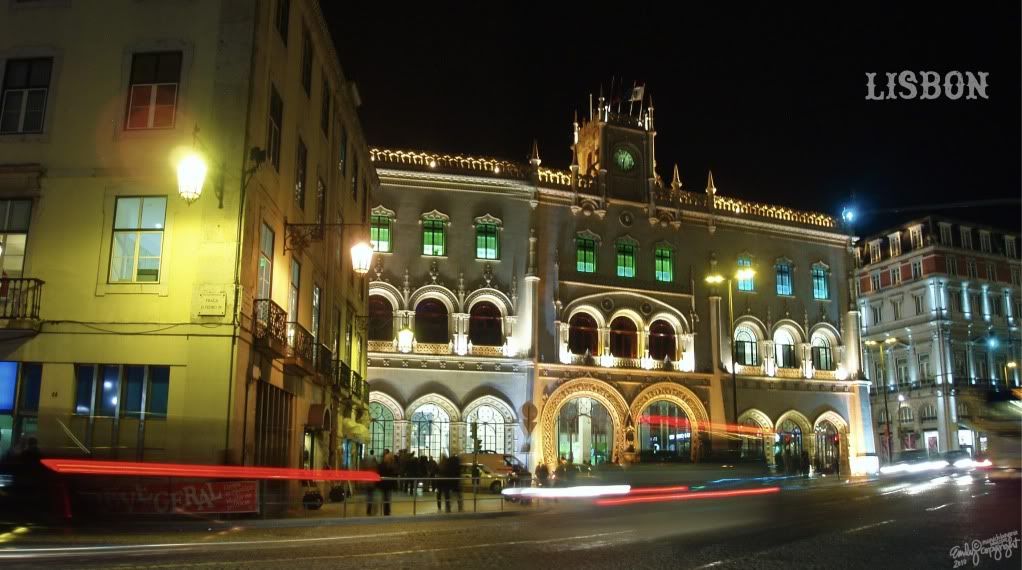 - One big surprise is that this is such an inexpensive place. There are tons of apartment rentals, upscale hostels, and of course design oriented hotels. Food and shopping are also very inexpensive.



- We stayed in the Baixa neighborhood, which is very central and easy to navigate. The NATO summit on November 19th was right before our visit, so we saw quite a bit of signage in protest.


- Lisbon also appeared to be one of the most diverse cities I've been to in Europe. We were visiting during down season, so I get the feeling many of the people we have seen are natives. It's nice to finally see some cultural mixing around here. Munich is just so homogenous and one thing I miss most is diversity.

- There's a strong artistic presence. Many of the delapidated buildings have been painted with large and beautiful murals. There are bright colored facades around every corner and tons of colored tiles with unique patterns. I'll write about the street art and tiles separately.

- Mornings start a bit later, although everyone seems to love breakfast and makes time to stop at one of the cafes. There are lots of shoe shiners polishing people up and people seem genuinely happy.



- I've always been intrigued by trade routes and it's clear navigating waterways has long been something the Portugese are renouned for. The cuisine exemplifies this. Much of it is meat heavy and relatively carb heavy as well. During one meal I was given french fries, rice, and bread.



- Walking all of the hills helped us feel slightly less guilty for eating our fair share of fried foods. We had cod cakes and paid a visit to Bonjardim Rei De Frangos 'King of Chickens', which was recommended by everyone. I'm not a big meat eater, but when I do eat meat it's chicken. This was really phenomenal and lived up to the hype. Our waiter was very comical and was a tad over generous with the fries.



- One of the most impressive sites we visited was the ruins of the Carmo church from 1423. We were there right before dusk when the light just seems to glow. The church was destroyed in an earthquake in 1755 and later a fire that took much of the city out. The archways have stood the testament of time and weather.


- Buildings everywhere are covered with azulejo (tiles) in a variety of patterns, colors, and shapes. The Bairro Alto and Alfalma neighborhoods seemed to have the most.


- A gamut of things is available the Feira da Ladra Market (Thieves Market). Clearly the market got its name from being able to sell things quickly. There were several police officers around, although we did see one man with a lap top and iphone. The old cameras, tiles, and coins were the most interesting things I saw.

There are several great view points around the city. Here are two we enjoyed most:




Santa Justa Elevator

Castelo de São Jorge
- The city was gearing up for Advent and had lights, music, and chestnuts in the Praça do Rossio.

- There was also wax ice skating, which was a new one. Rather than having an ice rink it was made of some kind of waxy substance.
- We made a trip to Belém for the famed pastéis de nata at
Confeitaria de Belém
. They were the first pastéis that we sampled. These little tarts are filled with a warm custard and sprinkled with cinnamon and confectionary sugar. After trying some in the airport lounge on the way home we quickly understood how they were different. I'd definitely recommend jumping on the tram to Belém to try them.
- Initially I wondered if we would have time to visit Fatima. I really wanted to buy some wax body part as an offering. Alas there's too much to do within Lisbon, so we'll have to save that for another trip.
Next up I'll write about Lisbon's street art, tiles, and our past trip to Macau.