Since we went on a boat trip right after we arrived we weren't able to experience Tasiilaq until the next morning. Morning came quite early. It probably didn't help too much that I woke up several times through the night hoping to catch the aurora borealis. Then came the early sunrise and the whine of the sledge dogs. I was happy to have brought a sleep mask.


The breakfast room of our hotel was filled with interesting characters. There was a loud know it all professor type, who of course came from America. It reminded me that off beat destinations do seem to attract pompous characters.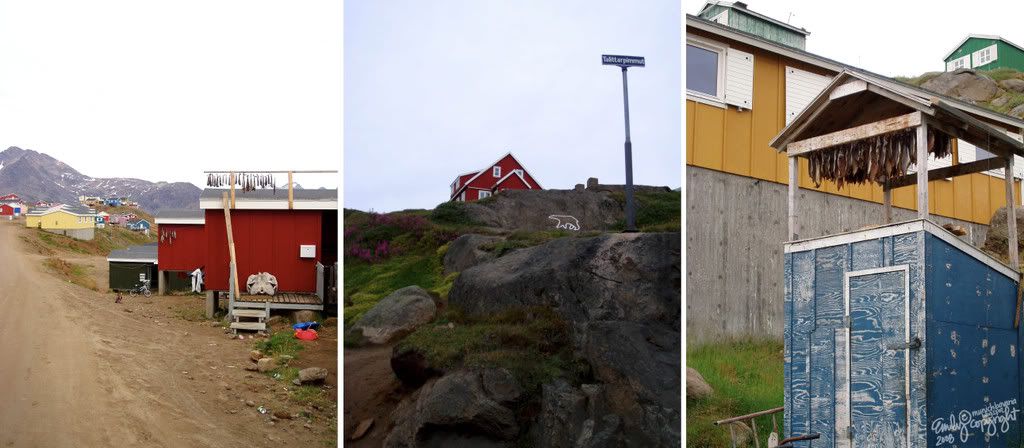 At breakfast we saw a man we met on our iceberg cruise named Ching. He was from Singapore, but now lives in Qatar. The night before, after our visit to Ikateq, he had a whale dinner at The Red House, another hotel in town. He was excited to sample whale because it would be illegal in his country, although he didn't sound so excited when he compared the look and taste to beef. Neither Stefan nor I had much of an interest in eating exotic animals, although we probably should have sampled the dried fish.



Ching invited us to visit in Qatar, where it sounds like they are trying to buy a culture. Now that they have made riches off of oil, it's the land of excessive wealth, but without much of a culture. (Coincidentally enough I am reading a book called the Geography of Bliss and it has chapters of Qatar and Iceland, which seemed so fitting.) It's nice that living there affords him to take vacations over a month long - his next stop was Europe.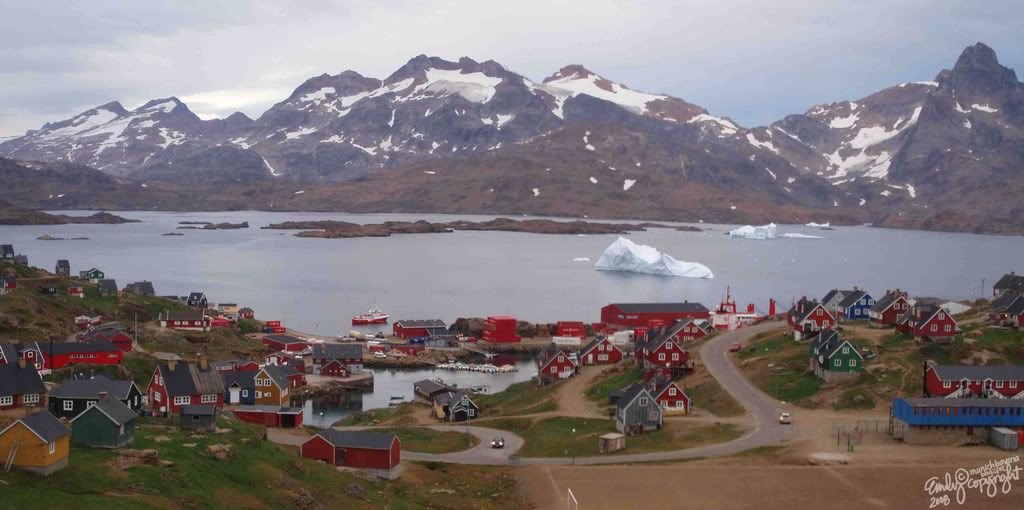 After saying goodbye we set off to walk around town and through the Valley of Flowers. That's when the bugs started. We were swarmed with little gnats that were just annoying enough to distract us from the views. The bug spray we had brought along was jammed, so we decided to purchase some in town, which lead us to the new grocery.


Seeing the loads of shipping containers didn't prepare us for how modern this grocery is. It had conveyor belts, many products that we recognized, and a large hunting department. Upstairs was a department store that even sold things like flat screen televisions. We were quite surprised. We purchased bug repellant and went back to the Valley of Flowers.


At the laundry and bathing facilities, for those that do not have them in their home, there were two adorable little boys rolling down the hill and having a great time.



As we walked further we passed the sledge dogs that undoubtedly were the ones causing a ruckus in the morning. It looked as though the valley was filled with dogs. There were also a few puppies that I tried to beckon over. You have to look very close because they blend in with the rocks.


After walking past the dogs we came to the cemetery. It was slightly different than in Kulusuk, because people were buried in one area. There were several Danish names, typically with nicer headstones, and all of the graves were decorated with plastic flowers. There was one grave in particular that caught my attention because it had so many flowers that they had constructed a cage around them. The young girl was only 14. I was curious what happened to her, although I will never know.


We really weren't prepared for all of the beauty and mystery of the Valley of Flowers. The bright colors seemed to carpet the hills and I was fascinated to see small flowers growing out of dirt and rocks. We continued on the path, which followed the stream and then saw a larger lake and small waterfall. We stood in awe of everything around us and the fact that we were completely alone. There were no sounds made by people and everywhere we turned it was something new and beautiful.

It was a lot to take in. For lack of better explaining we really felt rejuvenated and just complete reverence for nature. It was truly unforgettable and very inspiring.


We spent the greater part of the day climbing the mountains and wandering around the area. It was quite devoid of life besides the occasional small bird or the plants that would soon vanish with the summer.



Along our walk we followed the stream and quickly learned why Tasiilaq means 'Like a Lake'. We spotted a small waterfall and stood in awe. After coming to another, even more beautiful waterfall we climbed to the top of the highest mountain that was near to us.


The views were spectacular. The trail seemed to be reclaimed by nature, so we decided to go back into town.



Unfortunately these images really don't do the area justice. Being enveloped in mountains with the sounds of blowing winds and trickling water really awakens your senses.


Tasiilaq sat in the background very quietly and was only visible from the very highest peaks. For typically taking city trips Stefan and I agreed that we should visit natural places more often as well. Both Greenland and Iceland have nature at it's finest.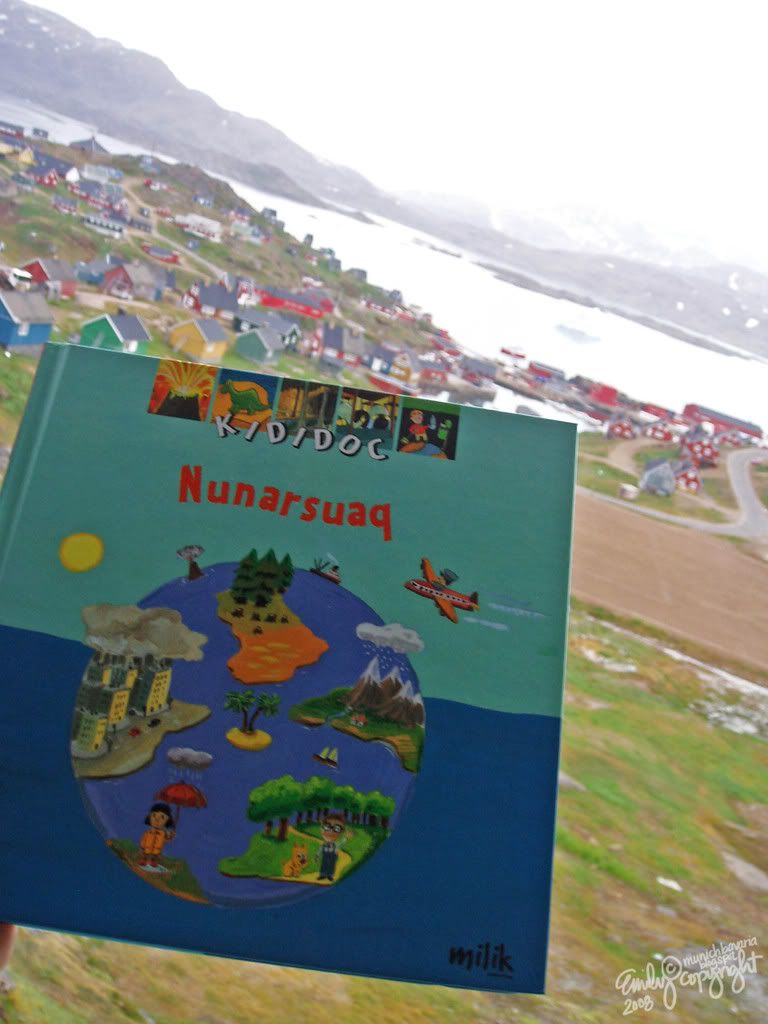 Even remote little East Greenland wasn't remote enough not to have a bookstore.

From what I have read, Neriusaaq (Greenlandic name for 'rainbow') is the furthest North bookstore in the world. I was delighted to find a children's book for my ever expanding collection. It is even written in Tunumiit oraasiat - also called Tunu (the dialect of East Greenland). The bookstore was located inside a convenience store that sells ice cream and newspapers.

It is, like most other things in this area, very small. I learned from this article a bit more about the transgender Danish man that runs the shop.

Tasiilaq, which is the big city of the East, also has a hospital, public library, internet café, two kindergartens, a primary school, and Princess Margrethe orphanage.



It really kind of broke my heart that there was an orphanage there, considering the community is so small as it is and living in harsh conditions is already a struggle.


It appears that drinking is a serious issue. We were there on pay day when the streets were filled with people drinking. As we went to the combination bank post office, to mail postcards, I noticed a young mother drinking a beer while she gave her baby a bottle. I'm also not sure how much Westerners are really helping the culture. Many of the jobs seemed to be given to Danish people, including all of the police that we saw. One of their biggest employers is Filatelia, which produces stamps, but unemployment is high.


Close to the post office / bank is Skæen and the Tourist Information office. Here they rent equipment and sell seal skin clothing, which is traditional to the area. They had some beautiful jewelry, but since it was made of bones we were not able to bring it back.

Also near by is Brættet, where the sealers, whalers, and fishermen sell their catch of the day. There is an oily smell in the air in this area.



We roamed through town and past the school, which happened to be at recess. There were a couple children with blonde hair that stuck out and were undeniably Danish.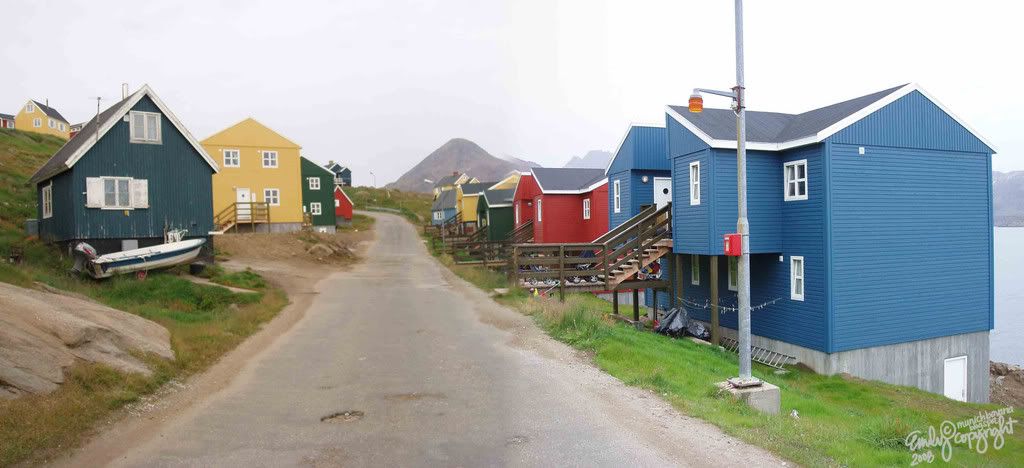 There were also some newer and very nice homes at the back of the bay, which we assumed belonged to the Danish police.


At night we were given a slight sunset, while the rest was blocked by the mountains. I found the pink glow on the mountain tops quite neat.


On our last day before our helicopter took us back to Kulusuk we decided to go down the harbor and say goodbye to the beautiful iceberg that we'll be dreaming about.


There was more whimpering from the dogs, who I imagine will have a long winter ahead of them.



We really had a hard time leaving. We had no idea what Tasiilaq and Greenland had in store for us, but it's definitely been a monumental experience thus far in my life. I realize there aren't very many places with such an abundance of untouched nature.

As always, I left with a lot of questions. I'm curious about the transition periods, when the people of these communities were first learning about the Western world. I really hope they are able to retain a lot of semblance to their past.

Then it's back to Kulusuk before we explore more of Iceland.