As I mentioned before, we were fortunate enough to be in Reykjavik when the silver medal handball team came home. It was really nice to be part of the festivities and celebration. It felt as though a large majority of the Icelandic people were there, considering so many people showed up.



While we were walking through town we saw their plane fly into the city airport escorted by two helicopters and we knew it would be a large event. I especially loved seeing the children waving their flags and having their faces painted. The store fronts were decorated and the streets were lined with flags and barriers.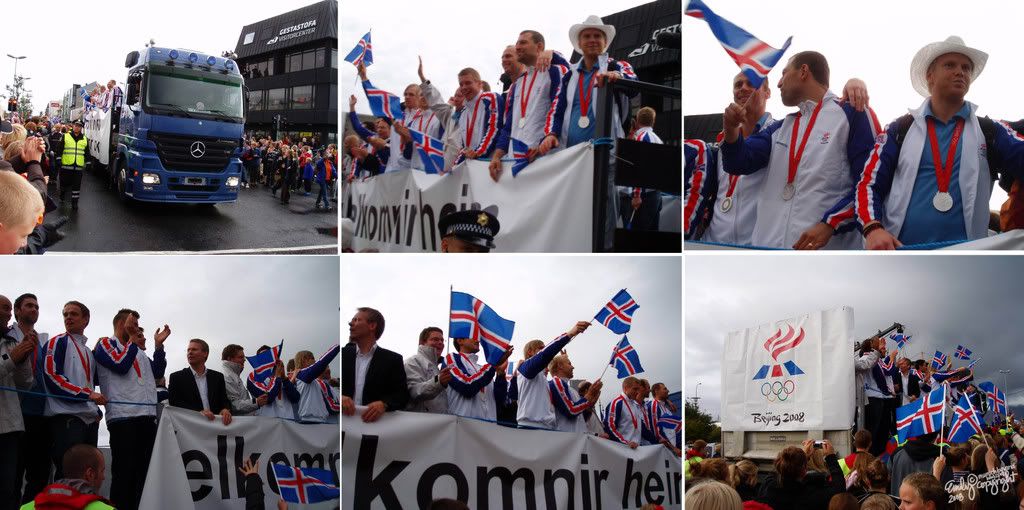 After watching the team arrive we went to dinner at Domo, a modern restaurant with the captain of the Icelandic national culinary team as the head chef. They are also known for mojitos, so I tried a blueberry one, while Stefan stuck with the classic. My delicious dinner consisted of Panga fish in a wasabi crust, 'fish & chips' Parsley root, almond potatoes, and a lobster béarnaise sauce. Stefan again stuck with the classic sushi.



Dessert was equally fantastic. We shared the cardimon and lemon grass créme brulée with banana-tamarind ice cream and a passion fruit - banana foam. It was as delicious as it sounds. I really should be a pastry chef.

I'd highly recommend Domo if you are in Reykjavik and want food that isn't lamb based. We soon understood why there was so much lamb once we left the city.