We hit a bit of a hang up a day before we left to Greenland. In my infinite wisdom I didn't realize that our flight would be leaving out of the city airport as opposed to Keflavik (the international airport). We took a cab and all wasn't lost - Thankfully!


The Reykjavik airport is tiny. Very small. Not as small as the airports in Kulusuk and Tasiilaq, but close.

I was intrigued to see what kinds of people would be heading to Greenland. There was a tour group visiting Kulusuk for a day trip, with a spattering of Russians, Polish, and a few Americans. We also met a guy who was about our age who came from Barcelona. He was staying with a family in Kulusuk.

Some men looked rugged and outfitted in the best outdoor equipment, while others nervously paced around the small waiting room so much that it was making me anxious. I had to laugh at the Russian woman who arrived in high heels. Unbelievable.


We were very happy that our bags were checked all the way through to Tasiilaq, so we were able to explore Kulusuk without worrying about dragging things along.

Once the clouds parted and we dropped in elevation we were mesmerized by the view. Looking out the plane windows left us shaking our heads and realizing we really had something amazing ahead of us.


We weaved through the mountains, above the glaciers and icebergs and finally landed on a small dirt runway. It felt surreal and we were instantly speechless and in awe.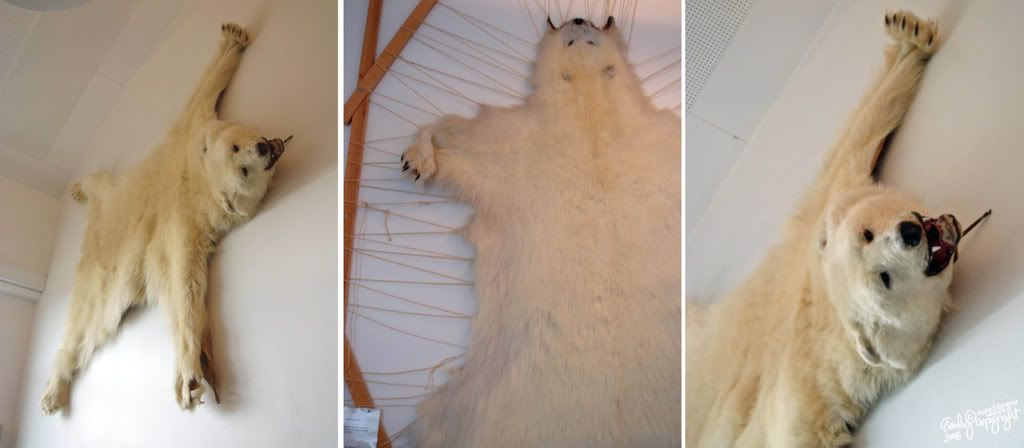 There were two polar bear skins at the airport, from when they visited in 1994 and sadly didn't survive. I constantly had struggles through this trip with life in general. The people and animals in this area fight so hard just to live... and this was summer, when living is less harsh. I hate that the polar bears are facing such struggles. It would have been nicer to see them alive, but I realize I would never be so close to them and able to touch their fur. I was surprised that it felt similar to my dog's, only a bit more corse.



The walk into town was long, but I am sure it seemed longer because we had so much anticipation and because we continually stopped to admire the view. There was silence like I have never heard and a crisp cool breeze that reminded me I was so far north.

There was a small ice shelf that we passed and it had a light pink hue to it. I assume it's from some kind of mineral, but I really don't know exactly what. These are some of the oldest rocks in the world and really demonstrated just how wonderful Mother Nature truly is.


Once we arrived in Kulusuk village we first saw a sled dog sitting near a cross. We soon realized people were buried wherever there seemed to be space.


Next, we saw how industrialized things have become. Considering these small communities have only been known about for a little over 100 years I am sure their ancestors wouldn't recognize their home.


It made me think about what people have to do to survive. I'm not a major hunting advocate and I don't eat meat if I can help it, but I realize not everyone has that option. According to information we received while we were there, the Inuit people migrated and died out various times through history due to a variety or combination of climate, disease, low catch, feuds, and famine. They were successful in survival due to their sophisticated hunting culture, which continues to sustain them.

The Ammassalik district (consisting of Kulusuk, Sermiligaaq, Kuummiut, Tiniteqilaaq, and Isortoq) now has roughly 3,000 inhabitants.


With the help of the Danish in the late 1800's the people of East Greenland were able to reestablish their health and nutrition which increased the population from the 294 original occupants at the time of their discovery.

In their words, a hunter can purchase all the modern equipment he can imagine, but if he cannot read the signs of nature, he will arrive home empty handed.


They are good at using the entire animal - bones are made into sculptures and jewelry, while skins are used for clothing and keeping warm. The sledge dogs are fed seals and fish as well. It's hard to spend money within the community since many of the items can't be taken back due to import laws.


It really makes you think how strong the fight to survive must be and how easy life is with so much that we take for granted. Our visit intrigued me to say the least. I wondered how they responded to outsiders when they were first discovered, how their language was learned and translated - and given a latin alphabet. Seeing children drinking cokes and adults drinking beers showed us that the Western culture has definitely sunk into their deep history.


Kulusuk is a dying community. Their fish population is drastically dwindling and they will soon go the way of Ikateq, a community that we visited on our iceberg cruise. I really feel for the people - I can't imagine being uprooted from home, even if the surroundings look similar. Each community functions as a separate entity. There are small roads within the community, but nothing to connect it to the area. The modes of transportation are helicopter and boat, although both Kulusuk and Tasiilaq have cars, they are lacking the infrastructure to use them between communities.

We came at the perfect time - the weather was beautiful and we were able to see the communities gearing up for winter with drying fish and boats in the harbor bring supplies.


We hiked up a few glacial ridges on different sides of town for spectacular views. I felt very foreign, although the people were very welcoming. There was a precious little girl who was peering out the window and watching us. Her family's dogs had an interesting whine and I was surprised to see all of the dogs chained up, which is mandatory after they reach 6 months. The dogs are not treated as pets, and work hard through the winter.


On the opposing side of town we were approached by a man who wanted to tell us about his travels around the world playing music. He also said that he built his house, with his own hands, in 1986. His backyard had a large stack of green and black cans, which he said he spent his days with his beers.

In the small amount of literature that I could find, it stated if you were approached by someone under the influence, which was usually around pay day or on the weekends simply smile and walk on if you don't want to carry on a conversation in broken English.



We had to catch a helicopter to go to Tasiilaq. As we were walking back we saw one of the only wild animals during our trip - a little arctic fox, who was quite brave. He was fun to watch as he would curl up in the rocks and watch us.


The beauty through this entire trip was just astounding and I simply don't have words for it. Seeing the icebergs from above was amazing. Along the way we met a man who was working with a university in Luxembourg to purchase a piece of equipment that measured the weight of glaciers to see how much ice they were losing.

There will be more about Kulusuk after our return from Ikateq and Tasiilaq.