After a quiet morning in Tasiilaq, Stefan and I prepared to head back to Kulusuk. I was happy that we chose a later helicopter because the time tables got changed and we ended up leaving earlier. It still worked out nicely.


There really wasn't too much time that we had to wait between getting to the airport and taking our helicopter back.



Once again, the views were stunning and something I will never forget.


It was nice to see Kulusuk from overhead again and all of the icebergs floating in the ocean. The bright colored homes really seemed to glow against their rigid little island.


And before we knew it we were back in Kulusuk at the tiny airport. New visitors were arriving from Iceland and I can't help but think about all of the great experiences they had ahead of them.



Once we arrived we decided not to spend any more time than we need to in the small waiting area. I saw some striking icebergs close to the mountains, when we first arrived in Greenland, and we decided to walk down to see them. It was slightly deceiving because they appeared to be much closer, but it proved to be very well worth it.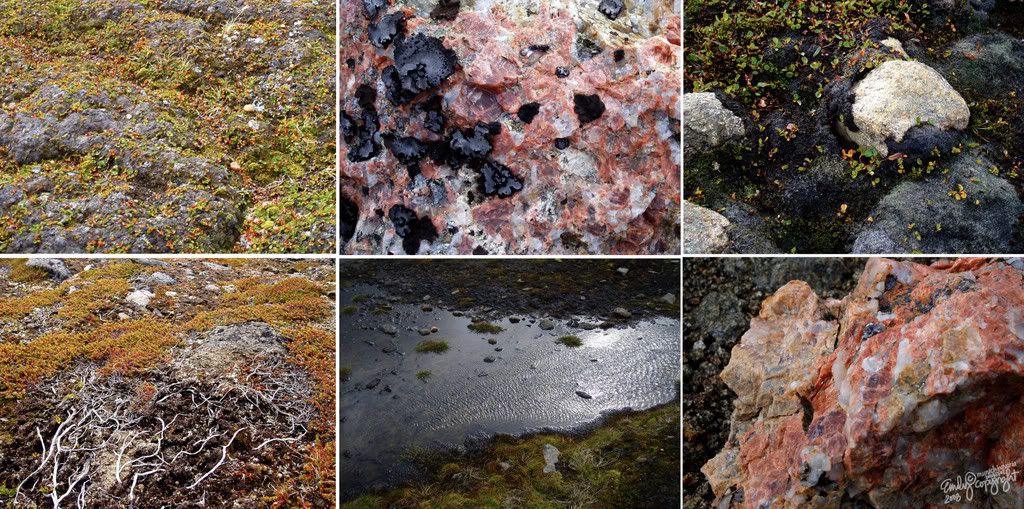 Again we were completely alone, with the occasional plane flying overhead. The ground covering was so interesting. It felt like spongy carpet underneath our feet.



The icebergs were very striking. There were a few pieces that had washed up and we admired the grooves and detail up close. I'm sure many people think ice is ice, but it was amazing to see the carving of nature up close.


The ice was so fascinating and I really wonder just how old it is. Many of the pieces that had washed ashore were melting, while the water had both very small and enormous chunks of ice floating around.


We even tasted this ancient frozen water, which was very pure and of course, very cold. It made me wonder what the man we met on the trip to Tasiilaq discovered with his glacier and iceberg measuring tool.


It's really quite amazing how powerful water can be, and how buoyant the icebergs are. Seeing the large chunks of ice that had washed up in combination with the ridges the ice had made into the rock is just amazing.



The walk up to the airport was sad. We continually stopped to take the surroundings in and admire the small details that we walked past. There was a heavy wind that made the water ripple, and there were beautiful little rocks. Some were covered in moss, while others had a slight sparkle to them.

Back at the airport we saw Michael, the guy that we met from Barcelona. He stayed with a family - the woman is a native performance dancer and her husband that is a Danish fisherman.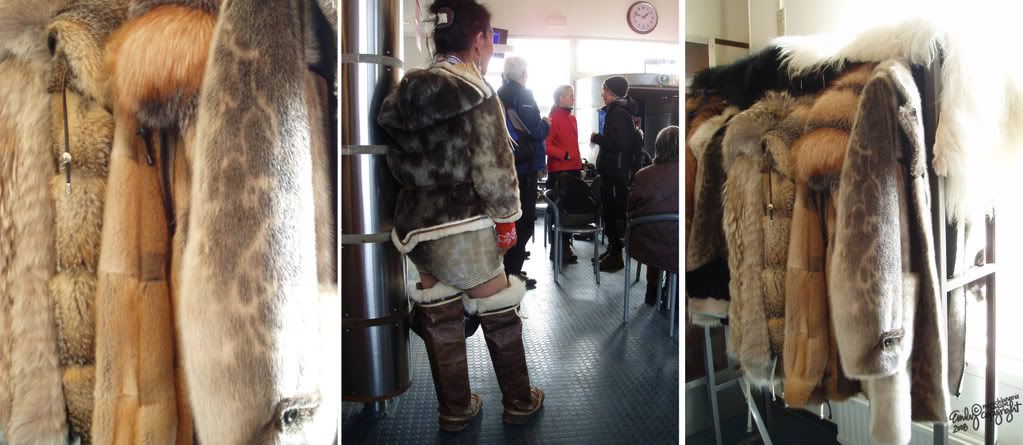 We later saw the woman on promotional material for Iceland Air. Michael had similar experiences with many people that were intoxicated on the streets, but he also really got to know most of Kulusuk. He knew all of the airport workers, which shows just how small the community is.

The two hour flight was short, but we had to go through an hour time change. I was generously fed because we were in the last row and I asked for a vegetarian meal.



The flight attendant didn't have any left so she brought me the captain's meal and one from an earlier flight. I didn't really want to take his food, but she said to. I had a lot of choice. Isn't it amazing European airlines give you food for a two hour flight?