Here are some things we learned from, our free city tour guide, Jonas Torstenson. He was delightful, although not always politically correct - saying to the Dutch couple 'Oh you come from the land of pot, hashish, marijuana' and telling an Asian girl that 'Asians were taking over the world'.

Everyone complains that Iceland is terribly expensive, which I think is a bit of an exaggeration. It can be expensive, but it really doesn't have to be. Our guide's rational for this was that the Vikings are known for raping and pillaging, and since raping has become uncouth, except for several men in town, pillaging is the only way they can hold on to their viking roots. That pillaging is now called tourism. Some Icelandic fish is even more expensive in Iceland than in parts of Europe!

Their high taxes must account for something, since they have free health care and education. Iceland is consistently rated as one of the places with the happiest people. He attributed that to their equally high suicide rate since all of the unhappy people he said kill themselves.



Torstenson was quite an interesting guy and said if he didn't know the answer to any of our questions he would call his mother, who is 73. It really felt as if we were on a tour with a friend. His tour isn't sponsored because he is a man that likes to speak his mind about all things - including the government, issues facing Iceland, and it's pagan roots. It was interesting to hear what he thought.

We were lead around the city past many unmarked historical sites, including sites from his haunted walk. He said he hired several people that claim to see ghosts from different countries and took them along a path figuring if they truly did they would see the same things along the way. The people had no knowledge that minutes before someone else had been taken along to report the things they had seen. He was quite surprised that they reported, in detail, that they saw the same things.

We didn't only learn about bits from his haunted tour, but more concrete facts as well.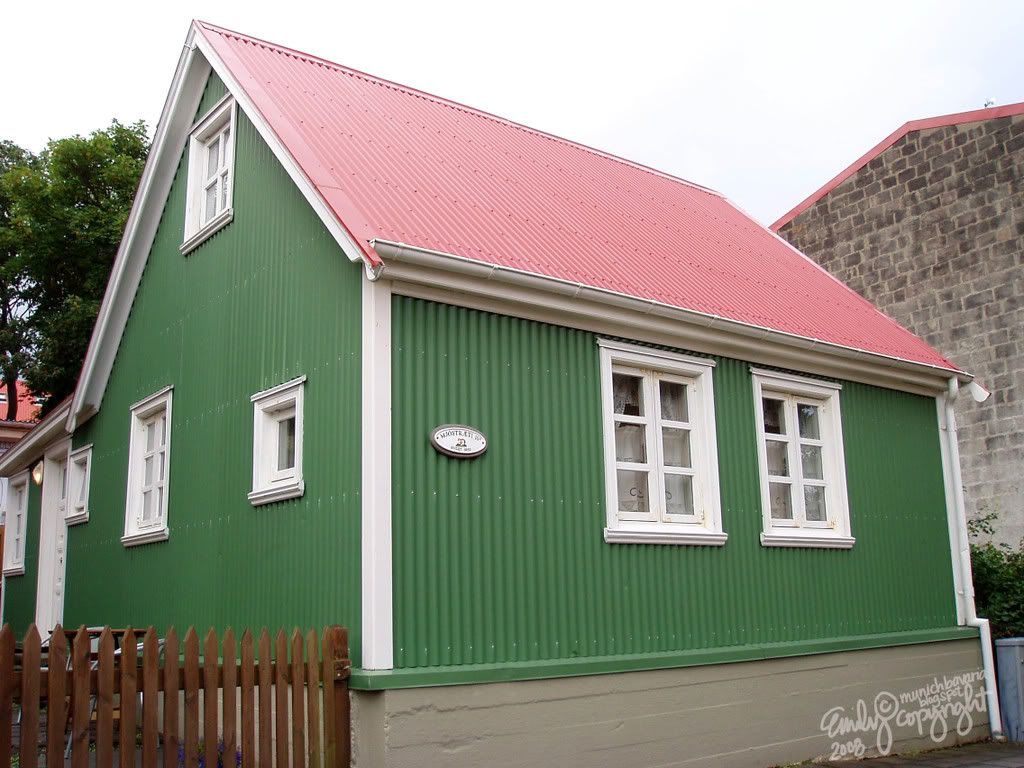 The corrugated iron sided homes are quite unique to this country. And as he said, 'They last a lifetime, just like my Grandfather's hammer, sometimes you have to replace the handle, sometimes you have to replace the head, but it lasts forever." So some of the homes had patches and layers of iron on the sides. The sounds within these homes become part of the landscape - the rain and noises outside are amplified, so it does feel as though you are living with nature.

Many of the homes were only one room. He said his grandfather had 17 children and when he asked how that was possible with so many children around his grandfather said he 'threw raisins on the floor for the children to pick up, or if he wanted to really keep them busy he put mittens on them before he threw the raisins.'


In earlier times many people lived in turf houses, which some said made them appear to 'live like hobbits'. As the roofs would sink they would simply dig deeper into the earth to cure the problem. We saw a few of these homes along our drive around South Iceland. They also had cave home similar to this one called Rutshellir.

Icelandic people have been 100% literate since the 1800's, which is really quite phenomenal. They also have their president's phone number in their phonebook. I love that.

After WWI common people were able to make money thanks to the British. Beforehand, they had to be appointed by Denmark for money making positions. Then, after WWII Iceland made a lot of money with the help of the US. (Our guide inserted a joke here about WWIII and Bush.)

The arts are alive and growing in Iceland. They are currently building 4 music entertainment centers, and it has a thriving art community.

We were slightly dissuaded from visiting the zoo. Two polar bears came to town a couple years ago on an iceberg and they were killed. He said they don't even have polar bears in their zoo.



Here are some of his recommendations:
Restaurants
Tapas barinn. Vesturgata 3b - a good place to sample the local delicacies.
Þrír frakkar (Three jackets) - neighborhood fish restaurant
Saegreifinn (for lobster soup) - coincidentally almost closed until NY Times reported they had the best soup. They also serve whale, which is called 'Moby Dick on a Stick'.
Bæjarins Beztu Pylsur - the famed hot dog stand, which are made of lamb. Our guide told us Bill Clinton ate them nearly everyday he was in Iceland and had a heart attack 40 days later.

Groceries
Bonus - budget type grocery. A good place to buy things to take home.



Clothing
Icelandic sweaters - Red Cross second hand store on Laugavegur
66º North - (Icelandic answer to The North Face) outlet outside of Reykjavik
Cintamani - Another outdoor apparel shop.

Music
12 Tónar - listen before you buy

Books
Independent People (Halldór Laxness)
Dreamland: A Self-Help Manual for a Frightened Nation (Andri Snær Magnason)

Whale watching
Elding

I noticed is that Iceland is quite good at creating their own version of products. For example, they have a fast food restaurant called Serrano instead of Chipotle.



They also have the 66º North rather than The North Face, and 10-11 as opposed to 7-11.