Friday, October 3rd is reunion day in Germany. I still recall sitting in school and watching scenes from the Berlin wall coming down. I also remember stores selling pieces of the wall and a friend bringing hers into school. I cannot believe how fast the time has passed and that next year will mark the 20th anniversary of the fall of the Berlin wall.


Reunion day also means a day off of work. Seeing as though we haven't had too many long weekends lately, Stefan decided that we should go to Prague. I was hesitant because flight prices were absolutely ridiculous. We paid more to fly to Prague than we have to much further European destinations, but that's the price of having more time to enjoy the city.


Stefan came home from a business trip on Thursday night and I returned home from Salzburg. We then had to pack our bags and wake early to catch our 7am flight. It was rather exhausting, but we were very pleased to check into our hotel and take a nap before exploring the city.


When we got into town we quickly saw one of Prague's biggest sites - the Astronomical Clock. It's complexities and engineering are something I know that I will never understand, but I still appreciated it. There was a couple having wedding photos taken and I am sure they turned out beautifully. It was nice we could see it on Friday morning before the influx of tourists through the weekend.


Nearly everyone I know that has been to Prague has raved about it. Whenever I encounter a place that people go crazy about I get nervous. I don't want to set high expectations that it has no chance to live up to, but I also don't want to be pessimistic about why they would feel so passionate about this city.


After several discussions about why this would be the case, Stefan and I concluded that it's because it is romantic, has plenty of beautiful old and varied architecture, and because it's inexpensive. After major cities like Paris, London, and Rome, it seems Americans always go to Prague, Venice, and somewhere in Germany for the quintessential beer.



Typically when we travel I have a system that I follow. We book our flights, I book our hotel (which is always unique or design oriented), and then I read up a lot. We don't follow an itinerary, but we get an idea of things that would interest us and what is available in the area. Since we booked this trip only a couple weeks before we were going, and we had a visitor, I wasn't able to do that. I had a list of suggested restaurants, however I didn't even bring a computer or the addresses, so that didn't help.

There were several other things that really struck me that Stefan and I had conversations about: subways, food, and architecture.


The subway system is very clean and modern. I appreciated that there were clocks counting from the time the last subway came, so you would know how long you had to wait. I also appreciated the extra fast escalators, although it was a little daunting at first. It was amazing how inexpensive subway tickets were, and the rest of daily expenses for that matter. In Prague, there are a lot of warnings against pick pockets, which didn't worry me too much because it wasn't high tourist season and because we are always very cautious.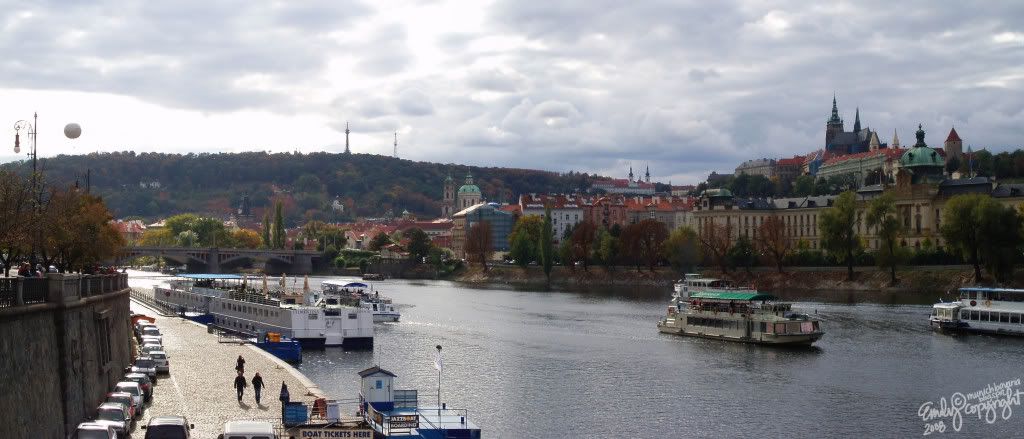 Czech food isn't really special. It's a lot of meat heavy dishes, goulashes, and potatoes. For lunch we opted to check out the grocery and grab a few things that we could take with us that were less carb loaded while we walked around town. Near our hotel was a Tesco, which I recognized from a trip to the UK. I recalled they had decent food when I was in college and hoped for the same in Prague. I was taken aback at the open bread bins, especially when I saw a filthy man reaching into them without tongs or any hygienic precautions. Food kind of went down hill from there.

I was really surprised to see so many German brands, even though Germany is so close to Prague. It also amazed me that they had food that was even more bland than Germany's. It was such a disappointment that one evening we opted to have sushi, which is just about as non-authentic as it could be.


The architecture is widely ranging - it really has something for everyone. One of my favorites was the Tančící dům or 'Dancing House'. It was designed by Vlado Milunić and Frank Gehry, who I really admire.



All of the old churches and synagogues seemed perfectly placed and steeped in history. Inside St. Vitus we even saw William Dafoe, from the movie Spiderman. I never would have recognized or noticed him, however someone asked him for an autograph and Stefan knew who he was.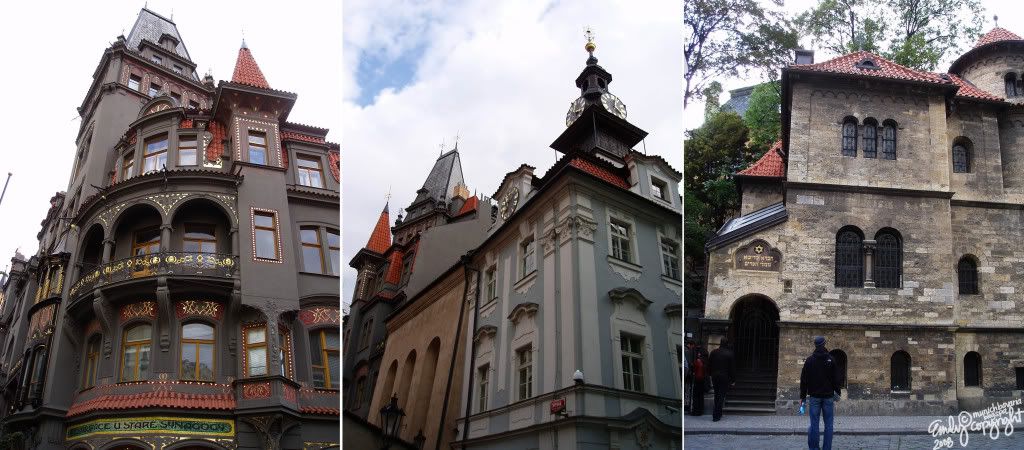 The Jewish Quarter was very peaceful and special. The oldest active synagogue (the Old-New) in all of Europe is located there.



Oddly, one of my favorite places in Prague is slightly morbid - it was the Vyšehradský hřbitov, a graveyard near the Peter and Paul church. The headstones and statuary were just striking and very unique.


It also happens to be the resting place to many famous people from the area. Unfortunately I'm not up on Czech composers and literature, but it is definitely a beautiful place to be buried.



I had never seen headstones marked with a person's signature, which I really liked. The people somehow seemed more real. I don't know if that was reserved for famous people or if it was more common.



The mosaics were serious works of art and so beautiful. I really appreciated all of the attention to detail and the vibrant colors.



The streets of Prague are really interesting. Dust and cobwebs cover many of the statues and building façades. I can't recall a place where I have seen buildings that are covered like that. I would think the elements and weather would have cleaned the surface, but apparently not.


Prague certainly appreciates it's memorials, which were also everywhere. We saw many on the sides of buildings and also at Wenceslas Square, where protests are often held.



One area that seemed to be more pristine was a beautiful neighborhood near the castle which housed all of the consulates and embassies. I loved the winding cobblestone streets and colored buildings. It seemed much more quiet than the bustling tourist centers, like the Charles Bridge, which was even more crowded due to construction.



The castle gardens were very striking, but I did find it odd that you couldn't take photos there. I don't know how strict they are about that because we didn't go all the way in, but we could see a lot of it through the beautiful garden at the Polish embassy.


We didn't always avoid the tourist hot spots. I loved looking at the shop windows, which were typically filled with tacky t-shirts with phrases like 'Czech me out', crystal in all shapes and sizes, bottles of green glowing absinth, and nesting dolls.


If I get back to Prague I would really like to check out the museum of communism and the chocolate museum. Prague lives up to its bohemian reputation. They had street exhibits and beautiful photography. One exhibit was aptly called 'Alive' and it really did bring life and color to the area.



And of course there was plenty of graffiti, which always intrigues me. The skill of the graffiti artists is lacking a bit, but I did see a few interesting things through town. I think a lot of the urban edginess can tell a lot about the area.



One of Stefan's coworkers recommended the Letenské sady park. It is a great area to see the city from above and to see some interesting street art. There were many skateboarders enjoying their afternoon as well.


I loved walking through the park on a perfect autumn afternoon with the most beautiful golden leaves falling around us. It was quiet and romantic. The dogs were enjoying themselves and kicked leaves up as they ran.


Finally were my purchases. I could have bought nearly everything at the small Marks and Spencers grocery. I loved all of their simple, but beautiful packaging. I also loved that they have American brown sugar.

The children's book that I chose for this trip is about a small boy who finds a key and then thinks of all the possibility and wonderful things that could become of it. The book ends with him losing it on his way to school and another boy finding it beginning the imagination cycle once more.