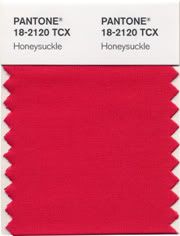 What do you think of Pantone's color of 2011 - Honeysuckle?

It's certainly vivacious and bright!

It reminds me of lipstick, a sunset, my sister, and of course flowers.

Having such an energizing color will definitely help people's moods, although it's probably best in small doses for clothing.

We saw this beautiful flower somewhere along Highway One in California last Winter. I'm not sure what kind of flower it is, but the shade is very similar to Pantone's Honeysuckle.