Merging traditions is especially important around the holidays. It's difficult to be away from family and not be able to enjoy the festive foods, great company, and different ways of celebrating.

Since moving to Germany I've learned Christmas isn't complete without glühwein, lebkuchen, spiced nuts, Christmas markets, a fondue, and advent calendars.

My friend Emily and I are working on creating a great glühwein spice mix to send home to family. I have my Mother in law's fantastic lebkuchen recipe (Vielen Dank!) - my mom even used it last year and they turned out quite nice. The spiced nuts I make whenever it's even remotely chilly out, and the Christmas markets, well, they can't exactly be recreated. It's magical to stand under the glowing lights with the snow falling and a warm mug of glühwein.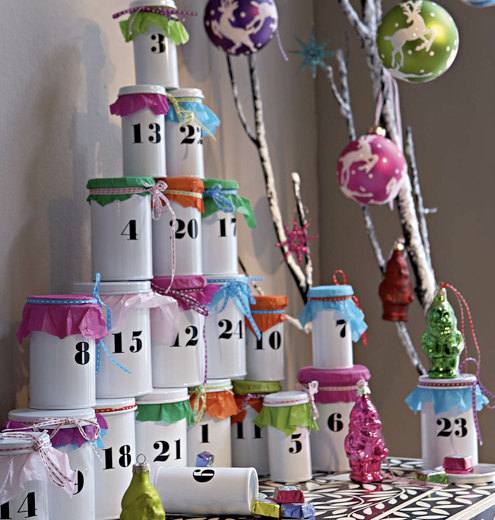 Last, but not least, is the advent calendar.

Germans adore their advent calendars. It's a fun way to add some daily excitement to the Christmas season. I've seen plenty of calendars available, however this one takes the cake... it's so simple, pretty, and modern. The simple typography is stunning. Plus, you can easily reuse the tins year after year and for birthdays.

Stefan has since developed a fondness for American Christmas tunes, my Mom's cookies, my Grandma's baklava, having a Christmas stocking, and blinged out trees with an array of ornaments from our travels. He also appreciates the fact he gets to celebrate twice, since German Christmas is actually celebrated on Christmas Eve.

I'm already thinking of the fun things I'll be filling these tins with, which incidentally begins one month from today!