Here are some statistics from this year's Oktoberfest:

6.4 million visitors (I went 5 times)
7 million Maß (7 liters were mine)
100,000+ hendl chickens
117 oxen (we saw Hubert)
62 fights with Maß krugs
140 bodily harm offenses

Lost and Found:
1450 pieces of clothing
770 passports
420 wallets
420 mobile phones
366 keys
90 cameras
37 children
1 pug
1 rabbit
1 tennis racket
1 leather whip
1 tuba
1 hearing aid
... and a pair of dentures.

Oddly it seems as though it's turning into a costume free-for-all with people dressing in ridiculous outfits. Outside of the Winzerer Fähndl tent we overheard security telling a man, 'This is not a carnival'... and he 'would not be allowed to enter dressed like that'. I was surprised, but happy to hear that.

Here are a few of my favorite things throughout:



kitschy München lights, obatzda, the 50m ferris wheel (I rode it twice!)
lots of brewery horses
wooden kegs, an Augustiner Maß, + Käfer's Brotzeit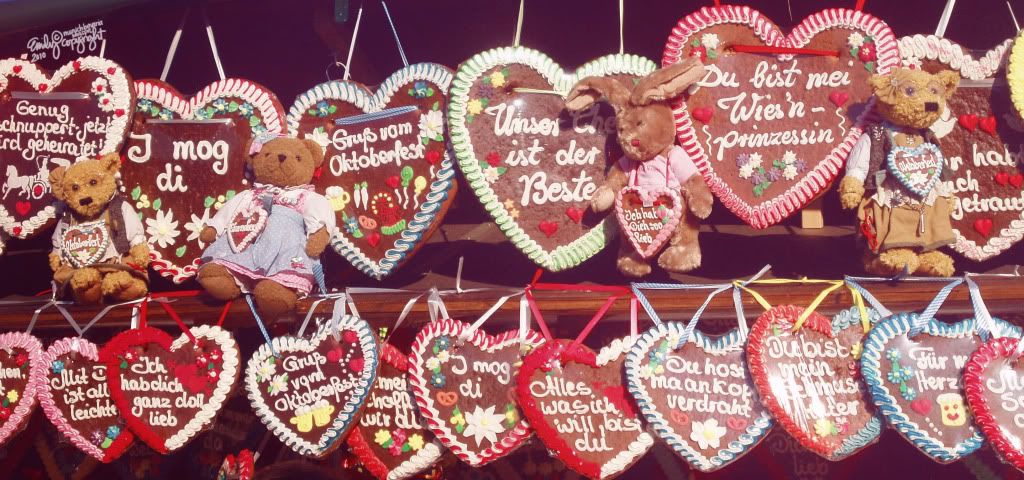 lebkuchen hearts...
while edible and wonderful smelling, the taste is a disappointment
special postmark + the memorial to the 1980 attack victims
over partied guys
We had such a great time with so many friends coming to see us. Hopefully we'll have just as many next year! Thanks to my friend Cait, who joined me on the ferris wheel where I was able to take the beautiful photo at the top on Friday evening.