The last of Stefan's 'big' surprises was a stop at the Ô Chateau wine tasting. My parents got in on the surprises and this was one of their 'toasts' to him.


What's funny is that the couple next to us at Nomiya was chatting about it, so Stefan was aware that it existed, but he didn't know we too would be checking it out later that evening.


Once we made our way to the courtyard Stefan was absolutely clueless. It was so much fun to see how puzzled he was. The cellar was down a few steps and then it opened up into a really great space for the tasting with probably about 30 people from all over the world.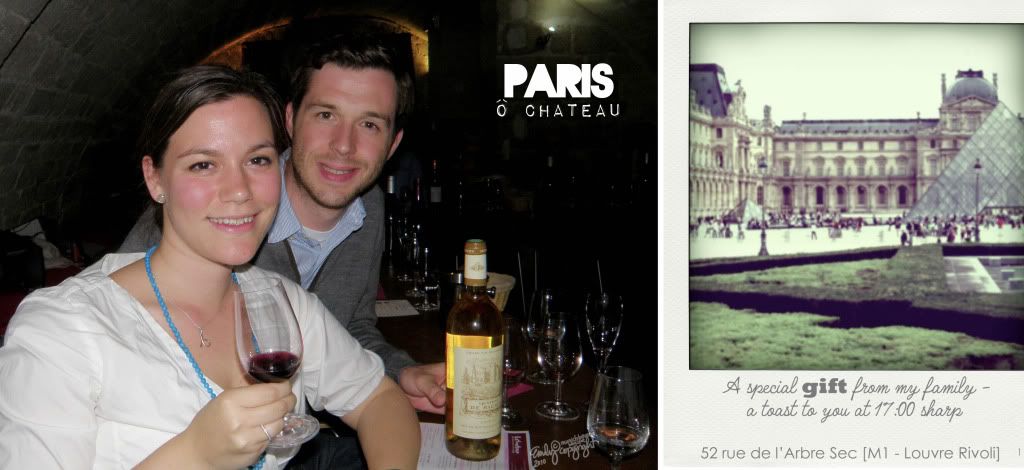 Our sommelier for the evening was Lionel, who was fantastic. We learned all kinds of things to look for when tasting various wines, so it was a fun and educational evening... not to mention a slightly tipsy evening - which might explain why we're both so rosy cheeked.


There are so many beautiful and interesting treasures to find around cities, which makes me that much more of a city person.


These are some of the interesting things that we enjoyed along the way... beautiful colors, interesting street art, and of course fantastic chocolates and candies.


We're already looking forward to making a trip back to Paris to see what other fun things we can discover.