I absolutely love the holidays... it's great to get together with friends, family, and of course eat insane amounts of delicious foods.

Some people aren't as enthused about the holiday shopping, so I decided to compose a bit of a gift guide for some of my favorite areas. Today's is about cooking and food related products that have caught my eye and would suit a variety of people.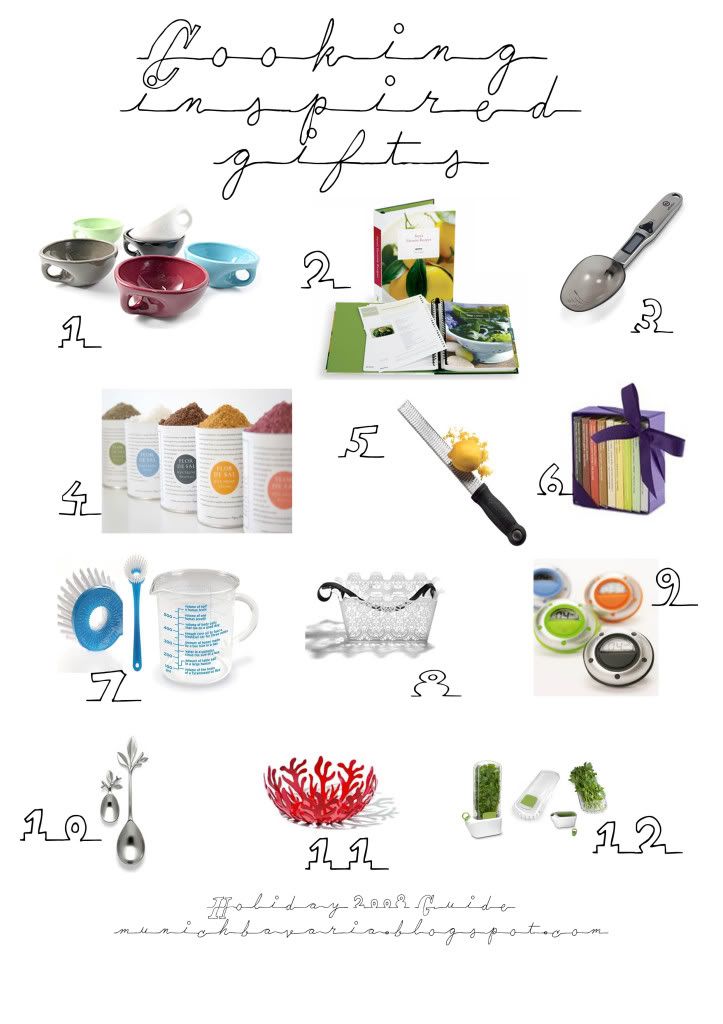 I continue to do a lot of my shopping in the US, simply because I can mail things directly to people there and not deal with wondering if Deutsche Post is going to lose something again. (I apologize in advance to international readers, however some of these companies may ship internationally.)
1.
Buddha Bowls
- I think it is fantastic for versatility - for soup, cereal, and drinks, with an ergonomic fit with the added function of your hands. Also comes in a smaller 'baby' version. (image flavour design)
2.
Tastebook
- this is a really inventive and fun way to present heirloom recipes. It would be especially fitting for a bridal shower. What I also love about being able to put your own recipes in, is that you can also put your own photos in too. (image tastebook)
3.
Precision Spoon Scale
- while I am not a chef, I can see a myriad of ways this could come in hand in the kitchen. Not only that, it also switches between grams and ounces, which is so helpful if you're using a variety of recipes or live internationally. (image thinkgeek)
4.
Flor de Sal d'es Trenc
- I realize if you even remotely read this blog you might realize I have a salt obsession. Contrary to popular belief, all salts are not equal. What I love about these is that they come in a variety of enhanced flavors and it's not something people typically purchase for themselves. (image flor de sal d'es trenc)
5.
Microplane graters
- These are a major life saver if you are grating anything. You won't know how you lived without it. I use mine for cheeses, chocolates, and zests from limes or other citrus fruits. (image microplane)
6.
Vosges chocolates
(and cookies!) - These are fantastic for people who are adventurous with chocolate. The combination of flavors is never dull or lacking variety. I've also had the cookies (which I love) and the drinking chocolate (which is very rich). (image vosges)
7.
Bubble scrubber & Equal measure measuring cup
- Totally frivolous, but it helps to make cleanup and cooking a bit more fun. The measuring cup has equivalents to random measures, such as the volume of half a human brain. (image world wide fred)
8.
Design House Stockholm carrie basket
- This little basket definitely makes grocery shopping more fun and you can use it in place of plastic bags - everyone wins! It comes in white (my favorite), black, and green. There is also a bike basket in the same style. (image design house stockholm)
9.
Days ago digital day counter
- This seems like such a basic idea, but it's so easy to forget how long things have been open in the refrigerator this makes everything easier. (image how many days ago)
10.
Blue leaves flatware
- designed by Jean Pradelle. These are available at one of my favorites in Amsterdam -
Egg Mercantile
or stateside at
Tabula Tua
(image blue leaves)
11.
Alessi Mediterraneo Fruit Bowl
- I obviously have a thing for red (hence my red refrigerator), but this bowl is just so simple and beautiful. (image alessi)
12.
Herb Savor
- a great product that allows you to keep herbs fresh longer. (image herb savor)
Other great sites for food and cooking related gifts:
Sur La Table
Le Sanctuaire
Williams Sonoma
Cooking.com
Chefs Catalog
Check back in the coming days and I will have more of my favorite gifts for the year.