I love art and being creative. These are a few things I've seen, that enable those who believe they aren't artistically inclined, to see the art in daily life and find some inspiration.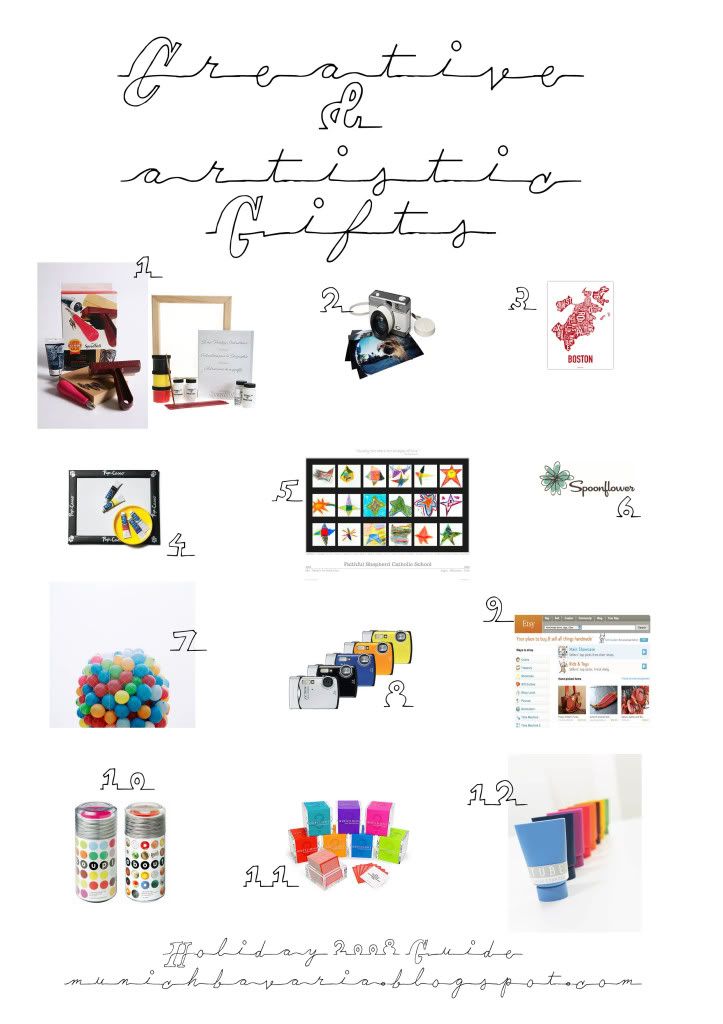 1. Speedball printing kits (screen printing + block printing) - A nice way to decorate or create printed textiles. (images urban outfitters)

2. Lomo- Unique cameras that automatically create interesting effects. (image lomo)

3. Ork Designs- Typography lovers, designers, or people with cities close to their hearts will appreciate these posters. (image ork designs)

4. Pup Casso Paint Kit for Dogs- Everyone can create art, so why not your dog too? (image art casso)

5. Kid's Art Project - Have artworks from one child or many combined to create a poster. This is a great idea of art teachers, but also for families who want to preserve children's art work. (image kid's art project)

6. Spoon Flower - custom made fabrics, based on whatever you can imagine. This is perfect for creating clothes, bags, and pillows of your dreams. (image spoonflower)

7. 20x200- upcoming artists sell their photos and prints starting at $20. There are 3 editions / sizes typically ranging from $20, $200, and $2,000. Popular prints sell out super quick. (image 20x200 Balloons by artist Juliane Eirich)

8. Olympus Stylus 790SW- This claims to be the most durable point and shoot digital camera. My mom has this model, which does not need a housing unit to go underwater (in both salt & fresh water). While I love my olympus stylus verve, I am really in love with this one. If only olympus wasn't so dependable... I'll be waiting for a long time for an excuse to buy this. (image olympus)

9. etsy - If you don't have a creative bone in your body (which is doubtful... everyone needs an artistic outlet!) you can admire and purchase other artists' creations. Search for your favorite city, color, or to find something made in a certain area of the world. Be cautious... this can become an addiction.

10. Memory Games Berlin - modernized matching games. One is using colors, while the other using all things that are round in shape. (image MoMA)

11. Table Topics - conversation starting questions for dinner parties or just to get people talking. This is also great as a hostess gift.

12. Paint tube door stop by by Tetsuya Shibuya - simple, functional, and colorful.