(This post is a follow up from our trip around the world. I will be writing a recap for each place we visited during our 4 month trip. Prior to Thailand we also visited India and Nepal).


Arriving in Bangkok was a very pleasant surprise. Our flight with Thai Airlines was flawless. We were upgraded to some luxurious seats and the food and blankets were really fantastic.


After spending several weeks trekking through chaos and poverty we were back to order and infrastructure. Besides being in love with their new airport, we were also happy to see traffic lights that people acknowledged, streets that weren't being shared with animals, and to remember what calm and quiet sounded like.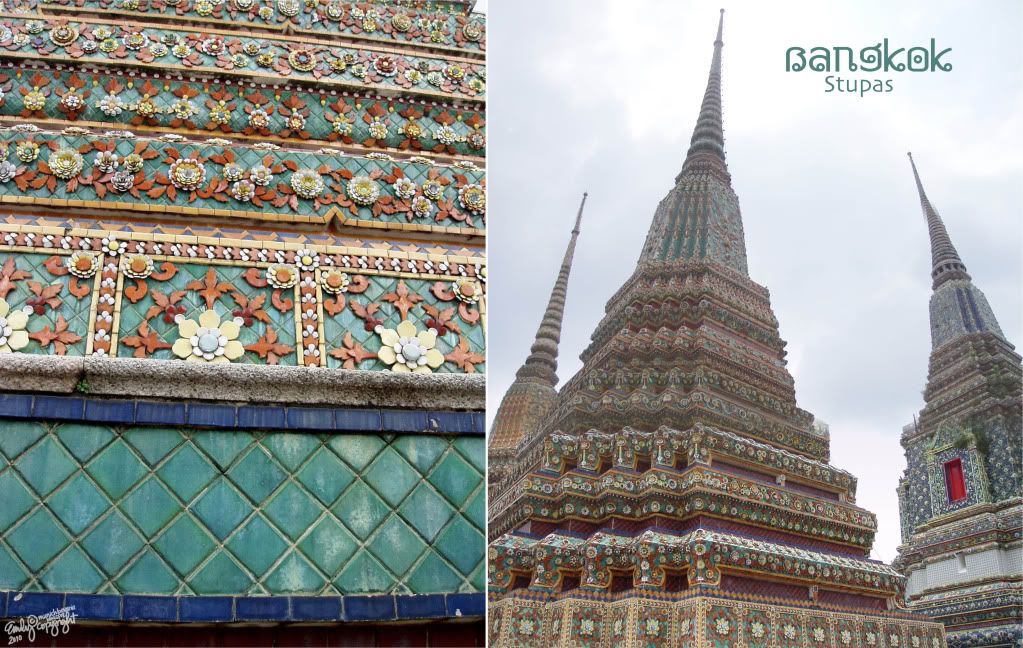 It surprised me to see so many familiar chain stores and strip malls and me a lot of the US. These are indeed the very things we wanted to escape, but it was nice to see some familiarity. (They had Tesco, Starbucks, and Boots Drugstore, so there was a lot of British influence).


I had always been interested in visiting Thailand, especially because years ago I had been offered a job to teach art at one of the International Schools in Bangkok. It made me curious to see what life could have been like.



We rarely stay in hostels, however I read about LubD's private rooms and decided that was going to be an excellent place for us to unwind. It really turned out to be everything I expected and more. If you're going to Bangkok I'd highly recommend it. The staff is so personable and the private rooms are great. It is always nice to come back to a beautiful and cosy room after a long day of trekking around the city.


The Silom Sofitel, which was very close to LubD, also has a Lenôtre pastry shop, which is a great place to pick up breakfast.


The people at Lub D gave us the tip of going to the main roads to pick up a taxi, because they said those that wait outside of the hotel often over charge. I have to admit I felt a little guilty turning one down and walking down the street to take another, but we followed the tips from locals.


- Bangkok instantly earns bonus points with me due to the ease of using public transport and for having a great airport. We obviously love to travel and do so often, so it's great when a place has so much infrastructure. They have planes, trains, boats, cars, tuktuks, a sky tram and subways.



- Any dim alley way was fair game for setting up some kind of stall, market, or whatever else. It's amazing how intricate the back alleys were. We would wander through and get lost - and occasionally overwhelmed with the smells (especially in Chinatown). This was also the first time I saw a lot of ads for 'shark fin soup', which is appalling.


- The night bazaar at Suan Lum was my favorite for shopping. It was slightly more upscale and had really nice clothing for as little as 3€. Stefan joked that everything we bought was 3€.


- At the Patong area / night market people were persistent in approaching Stefan about all kinds of 'shows'. Unfortunately virtually everything is for sale - women included. Even though he had me at his side the men were relentless, which was a bit insulting, but I guess in that line of work insulting people isn't exactly a concern.


- We often saw people around the city drinking out of plastic bags. I had never seen that.



- Eating street foods can be risky, particularly with the intense heat. We sampled some Pad Thai in the Khao San Road area, which we ventured to in order to see if it lived up to the hype. I am so happy we didn't stay there. It's the traditional backpacking area - complete with its own Apple computer store.


- The amulet market was really fun. I loved to watch people carefully inspect each and every buddha with their magnifying glass. I picked one to bring home.



- The Flower market is intoxicating. I've never seen so many orchids in my life.



- We encountered several scammers, usually under the guise of wanting to help us near the tourist sites. Before we knew it we'd be offered a tuktuk ride for 10 baht ($.33) and they would be telling us the sites we wanted to visit were closed or it was 'Buddha Day'. This happened roughly 3 times. We never took their bait and as soon as we showed up at the sites they weren't closed as they claimed. The main areas where they lurk are around the Grand Palace and strangely the less touristed Flower Market.


- Public transportation (boat included) is really inexpensive. We only had to pay 13 baht a person (about $.30 USD). Be sure not to get splashed - a lot of the river is sewage.



- The immense love of the King and Queen is remarkable. Their visages are everywhere.



- Bangkok has an amazing selection of fruits. We tried the famed mangosteens, which were good, but somewhat odd to eat.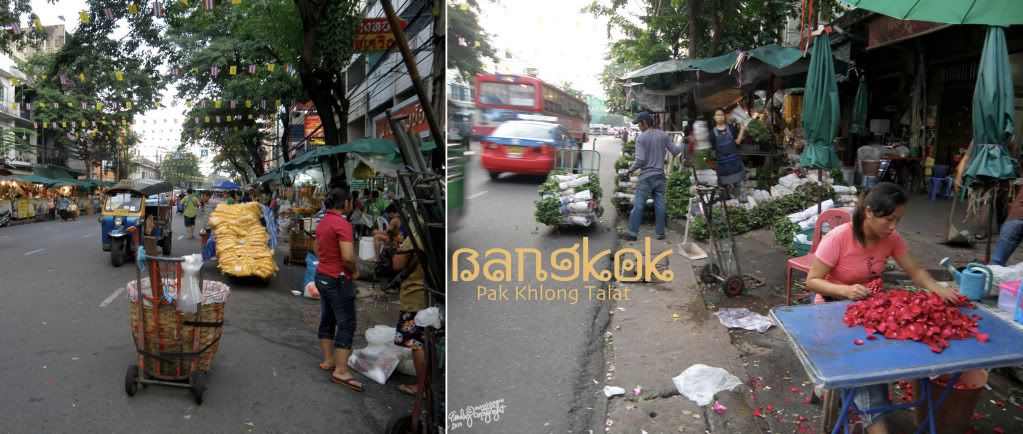 - We noticed the people packing up the markets and their stalls every day and setting them up again the next day. I was curious about the politics to it and how it was organized.


- There are lots of shiny sparkly details at the Wats. I loved to see how intricate things were.


Some of our favorite sites were: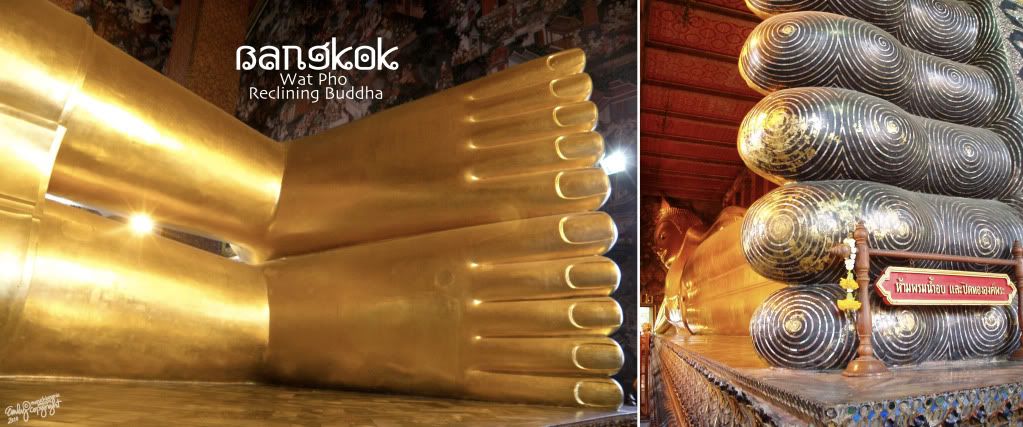 - Wat Pho with the reclining Buddha and a variety of beautiful stupas


- The Grand Palace with interesting architecture and lots of monks walking around.


- The best night view over the city is hands down at the Sirocco Sky bar. Drinks aren't cheap, but it's something you certainly won't ever forget.



Due to a bit of Temple fatigue and simply needing time to recoup and process everything we had just been through, we didn't do several larger touristy things like visit the floating market or nearby animal sanctuaries. It looks like we'll have to travel back at some point, which I would happily do. I can only imagine how beautiful the Thai beaches are as well.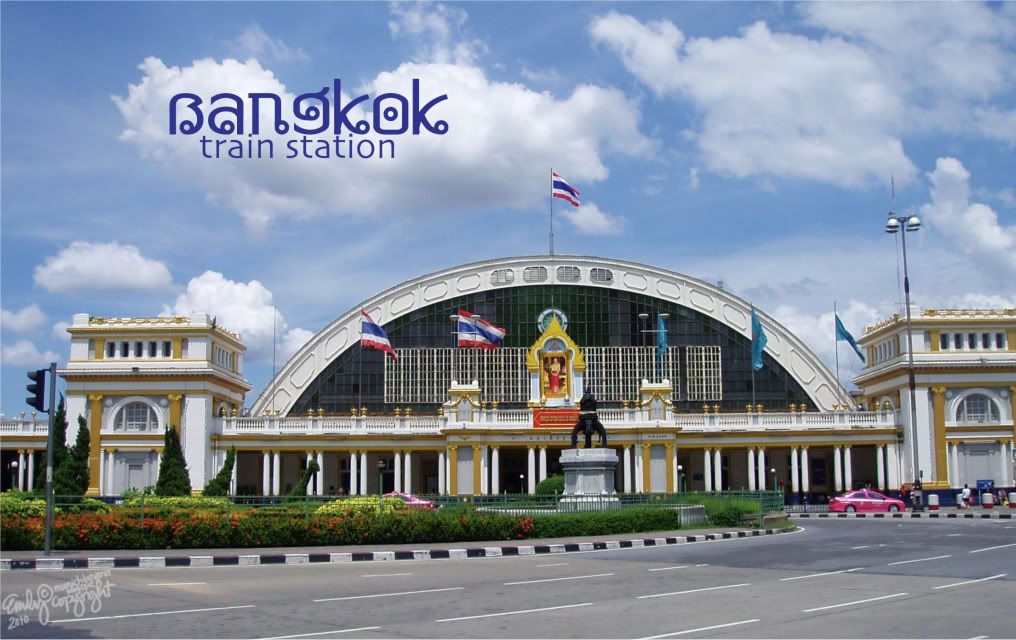 We took the train through Thailand for an interesting journey. Next Stop... Malaysia!