Part of the fun of a trip is the suspense before hand. Then again it gets slightly overwhelming knowing that we are leaving only 2 months from today and have quite a few necessities to take care of.


This weekend we stopped at Kaut-Bullinger, a stationery shop here in Munich, to pick up some map tacks. I'm a visual person, so it helps to mark where we've been and where we are heading.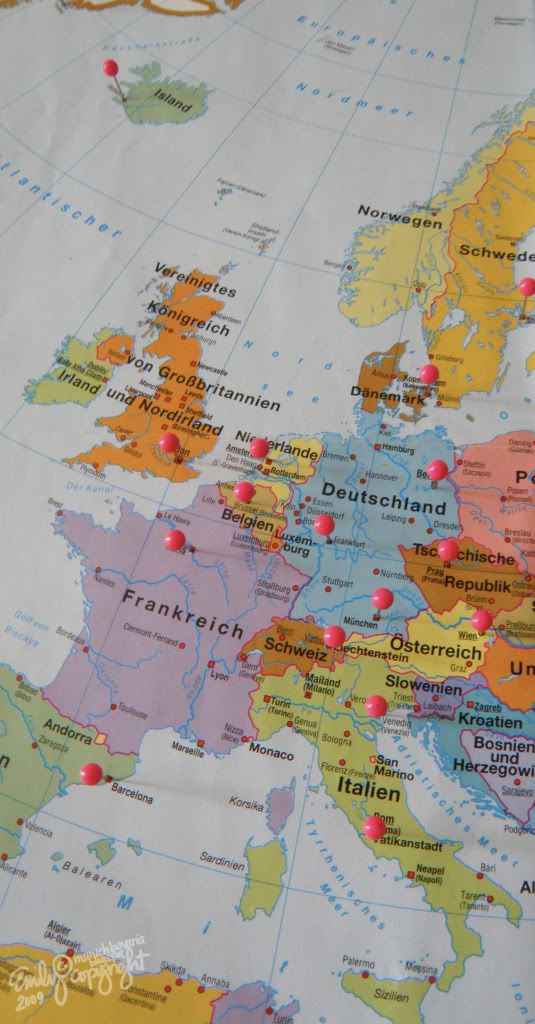 Every time we think we have our route figured out we seem to change something. Now it appears Star Alliance has changed things. Fortunately their new website is much more user friendly, although curiously the price for our itinerary is now higher - by 400€. Thankfully we already have our quote reserved, so we can use that extra money for other things. Our last changes are going into effect and we'll be booking our tickets this week!!

We're thinking that we might keep our route a secret, although I will say that we will be visiting many of our dream destinations.

If you really enjoy maps and need specialty markers, check out Map Center. I'm already thinking of the myriad of uses for the large assortment they have.

In other map related news, I just illustrated some maps for a historical fiction book that will soon be for sale. I am very excited about that too.