This month is national ice cream month in the US and the third Sunday is national ice cream day (today).

I think my search for the best sorbet/gelato in Munich may be coming to a close. A while back I stopped at Lorenzo Corno's on Hohenzollernstraße (right near Fredriechstraße) in Schwabing. I was excited to see lemon basil sorbet and then, between his 'pregos' and 'grazies', the sweet little Italian man asked if I would like to try something else.

After I declined he decided to give me a sample of the red fruit. Isn't that charming? Unfortunately I can only share it through my quintessential photo. I've since also had the dark chocolate, which is extremely rich and equally as delicious. I kind of can't stop thinking about it (isn't the 'cone' dish wonderful too?).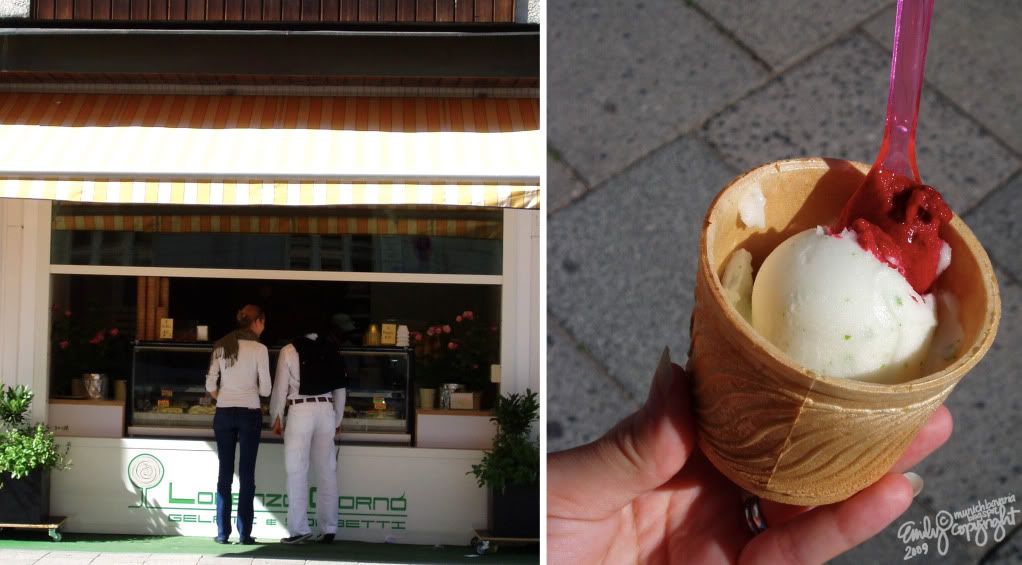 My love for ice cream is well noted (just click here to read more about that), so I was also extremely excited after purchasing an ice cream maker.

Sadly, and I am really a bit embarrassed to admit this, but my adorable red refrigerator finally has a fault. I knew full and well that you have to freeze the interior, however I didn't consider the fact my freezer space isn't that big and that it wouldn't fit.

It's a good thing after all that I can pay Lorenzo's a few visits now and then.