I loved walking through town today and hearing a mix of languages with the smells of spiced nuts, glühwein, and rahm bread wafting through the area. As much as I hate to admit, sometimes it's just great to hear English, especially when I hear the people complaining about not understanding the language. It makes me realize how far I've come.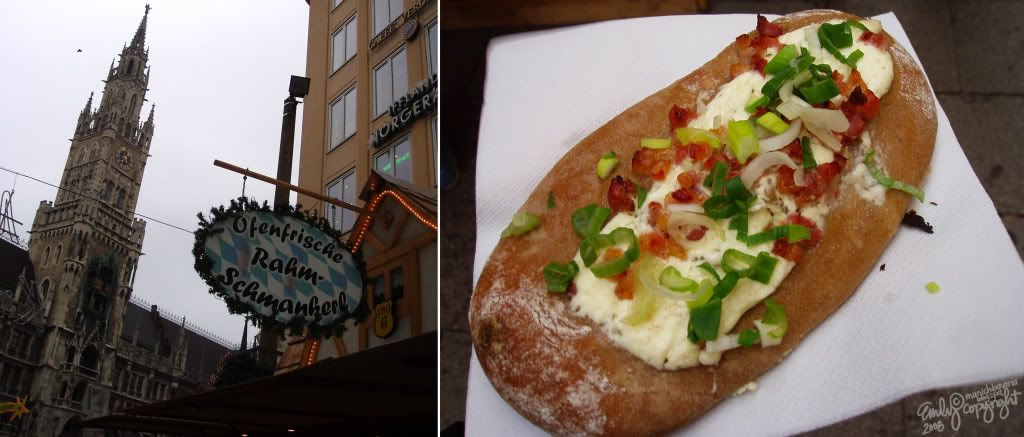 Stefan always loves visiting the markets and eating the carney foods that they sell, so I had a rahmbrot for him while I was out. It won't take much convincing to get him to visit the Tollwood festival with me and to go to the world foods tent when he's home. Secretly I'm also looking forward to their savory crêpes.


There were many shoppers out trying to beat the holiday rush, and tons of little ones ogling the shop windows. I loved to just stand there and eavesdrop on their excitement and narration of what was going on, especially at the Kaufhof store window, which features a plethora of moving Steiff animals.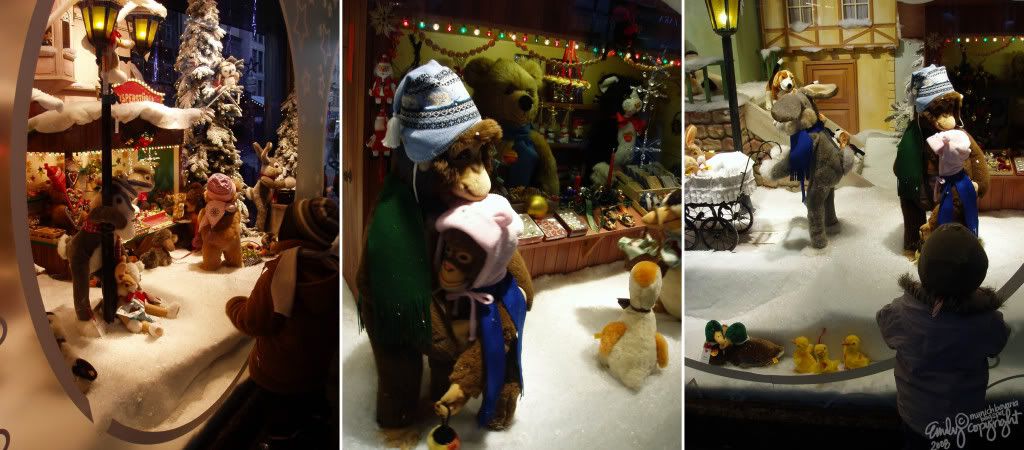 I know that the pictures don't do it justice, especially because I couldn't get enough of hearing a little girl say 'putzen!' as she looked at the window and saw one animal cleaning. It's very elaborate and if I stood there any longer I would probably be hypnotized into purchasing one of them, like the adorable chimpanzee.

The children are probably slightly disappointed when they receive one and it doesn't move, clean, and cook, on it's own, like it appeared to in the window, but they warm my little heart.


All of the store windows were interesting. Many shops have gone with the advent theme to promote purchasing multiple items. The variation was really interesting - everything from the Alessi shop to stores for the little ones. Maybe next year I will make a nice one for Stefan. There is plenty of inspiration.



The new Apple store appeared to be quite busy. It seemed so Americanized as soon as I noticed Santa and his elf in the window, of course listening to their ipods. One of the churches downtown is undergoing a facelift and what is more appropriate on the façade than an enormous ipod ad? I guess they have to pay for those renovations somehow.


I also stopped at the Fünf Höfe, which is my catch all shopping spot. I love the Muji store that they have and I was so very happy to find a few things for my little cousins. While in the store I spotted one adorable little dog that had his fill of holiday shopping. He blended in nicely with toys and I would have taken him home in a heartbeat.


Not only did I have a successful day shopping, I was delighted to arrive home to a wonderful package from a dear friend. Inside were beautiful ornaments and yummy candies that we don't have here.

That was definitely the highlight of my day.

It looks like this weekend we'll be decorating and getting some of the Christmas cheer around our apartment, so this thoughtful package came at the perfect time.

Slowly it's feeling more like the holiday season is here.