After spending a bit of time in Croatia we set out on a road trip through the surrounding areas. The drive along the coast is really incredible. There were moments where we had to remind ourselves where we were, because it felt so similar to road trips we have done along the coast in the US.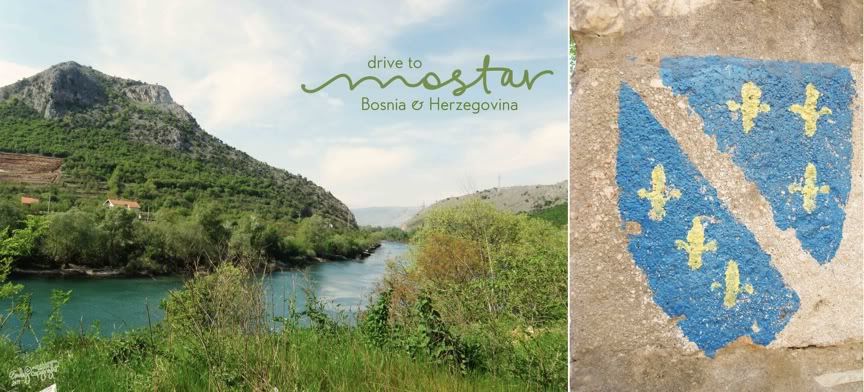 - Getting from Dubrovnik to Mostar takes a few hours, but it's such a scenic drive. There are also several border crossings, first into Neum (Bosnia), then back into Croatia through Metković, followed by a more stringent and time intensive crossing into Bosnia. It was advantageous to speak German, which always makes me happy to not only have English to rely on.


- Once in Bosnia it was interesting to see so many signs where the Russian has simply been spray painted through. It was a very clear sentiment that the Bosnians are finished with that.


- The medieval Ottoman influence is visible in Mostar immediately after arriving to this picturesque city. If it weren't for the very distinct signs of war it would appear to be out of a fairy tale.


- We immediately walked over to the banks of the Neretva River. The water is mesmerizing and so crystal clear. That serenity was interrupted by a man throwing about 7 pairs of shoes out of his house into the water flowing below. Definitely strange. It made us wonder how the river stayed so clear if people used it as a wasteland.


- The Stari Most is one of the big tourist sites in town. Unfortunately bridges are often bombing targets during wars and this was no exception. The stones of the original bridge were supposedly made from a combination of horse hair, eggs, and wax paste.


- The food has a very Ottoman / Turkish influence and included Ćevapi / Ćevapčići, Kebabs, and Baklava. It was quite good, although my Grandma's baklava still holds out as the best I've ever had.



- Later in the day we'd also witness several young men being paid to jump off of the bridge. This seems to be a coming of age tradition for the men of Mostar. I have no idea how much money they made in doing this, but as they hit the water below it sounded quite painful.



- The bumpy cobble walkways on both sides of the bridge are filled with shops and restaurants catering to tourists. There was a lot of pomegranate inspired art work.


- Minarets decorate the skyline and the city remains to be divided down religious lines, even for the support of sports teams.


- We walked through the quiet nearby market and neighborhoods to observe the less touristy areas. Many of the buildings have deep scars in their façades. As we walked down a quiet street we were surprised to see a group of young boys shooting at each other with pellet guns. With the marks of war everywhere it seemed even more of a reality.



- Nature has reclaimed some of the ruins, which is interesting and beautiful to see. It's certainly a place of renewal and regrowth.



- Bosnia and Herzegovina is probably not the first place think people of taking a holiday, but it has a lot of natural beauty.


Next up... Međugorje and Kravica, Bosnia and Herzegovina.