(This post is a follow up from our trip around the world. I will be writing a recap for each place we visited during our 4 month trip. Prior to Vietnam we also visited India, Nepal, Thailand, Malaysia, Singapore and Cambodia).


- Ho Chi Minh City, or as the people in Vietnam still call it - Saigon, is a bustling city. There are around 4 million motorbikes in the city. We also learned they are cheaply made in China and can be purchased for as little as $800. Thankfully helmets are for sale everywhere for only a few dollars. Many people also wear face masks to defer the exhaust from other motorists.



- Crossing the border also meant prices drastically dropped. It was my first time in a communist country, although I didn't notice a major difference from the Socialism. It was comical, however, to visit the ATM and take out a couple million Vietnamese Dong.



- Conveniently our hotel was located directly across from where the bus let us off in a quiet alley way, which made things very easy for us. Our neighborhood (Quận 1) was a busy area with lots of people and vehicles around. We slowly were versed in the art of crossing the street with the darting motorbikes driving everywhere. Traffic rules do not really seem apply, except for waiting at the red lights.


- The first day we conquered the city by foot armed with a map from our very helpful and friendly front desk guy. We ventured out into the streets for a meal and found a really nice Vietnamese restaurant, which was just around the corner. We ordered a few dishes from the menu, which seemed to fill the table. The funny thing is that they put all kinds of different leaves and herbs on the table that we didn't quite know how to include in the meal. We ended up just chewing a couple mint leaves after our meal.



- Another nice restaurant that we tried was Quan an Ngon. They had an open kitchen and it was fascinating to look at the produce and ingredients. Not refrigerating meat makes me nervous, but they had several chickens that appeared freshly defeathered.



- After lunch we went to a nearby grocery to find some exotic (to us) fruits. A really sweet man was so excited to speak English with me and attempt to communicate. He was telling me the names of the fruits in Vietnamese and asking me the names in English. Unfortunately for many I really had no idea, but I was eager to learn what his favorites were. We ended up having Dragon fruit, Ambarella - a bitter green fruit, and Rose Apples which are similar in texture to a radish and very watery, but with the light taste of an apple.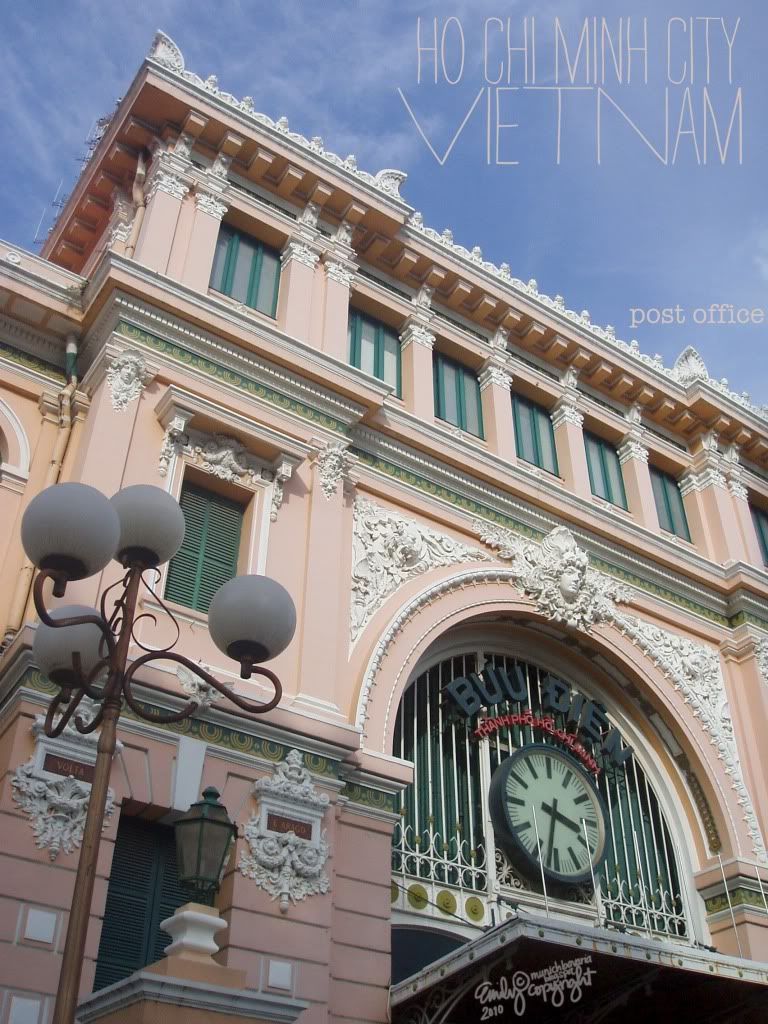 Interestingly many are served with a chili salt to add some zest. I loved that, because I love salt and spiciness. The rose apples were my favorite.

- We also stopped at the tourist heavy Bến Thành Market. As in many different cities in South East Asia, anything that you would ever want or not want can be found at these hawker type markets. The approach this time was a little different as people were not afraid to grab your arm and jump right in front of you to make you aware that they had the best merchandise there is. We were surprised how forceful these seemingly tiny ladies were.

- One of the big sites in town is the historic post office, which was also visited. It doesn't appear to belong in the surrounds and only the big poster / painting of Mr. Ho Chi Minh himself inside reminds you of where you are.


- Next to the post office, there is the Notre Dame cathedral, which again seemed slightly out of place. In general churches are a rather familiar site for us, but for the month prior we were more used to temples, so it was surprising to see a simple Catholic church along the way. It's funny that the most familiar suddenly seemed foreign to us.


- The inner city itself can easily be traversed by foot. Maybe easily is not right word, since one has to be very careful on the streets, as motorbike literally ride past half an inch from you. We tried to put our big city behavior to the test and just looked straight and walked whenever we had to cross the street with a steady rhythm. Since I'm still capable of writing this, it looks like we did OK.


- After a couple days in HCMC we set out for a couple excursions to the Củ Chi Tunnels and a day trip to Mỹ Tho with it's speckling of islands (Dragon Island, Unicorn Island, Phoenix Island, and Turtle Island).