Since hearing about Wasserburg Leuchtet I've really wanted to go. I think I talked about it for a good week or two.


It's always nice when cities go the extra mile in making the seemingly ordinary extraordinary. In this case the entire city gathers and beautiful light displays are projected on the building façades.



There are fog machines, laser shows, free outdoor movies, interesting effects with water, music, and the quintessential German carney foods.



Before we left we stopped at the train station in Munich so I could check the train schedule after the Jubileums Oktoberfest (and some old fashioned beer). There was just enough time to hit the ladies room and hop on the train. Dusk came quickly and before we knew it we were on a train from Rosenheim through the darkness to Wasserburg.



Many people have this paralyzing feeling when they are in big cities with subways and navigating the area. Evidently I have it for booney-ville country areas.


Once we arrived it was pitch black except for maybe the 2 lights on the platform and the headlights on the waiting bus. So much for google maps telling me it was only a 10 minute walk into town. There was no way we could have walked there, because the roads were also completely dark. Everyone who got off the train climbed aboard the bus.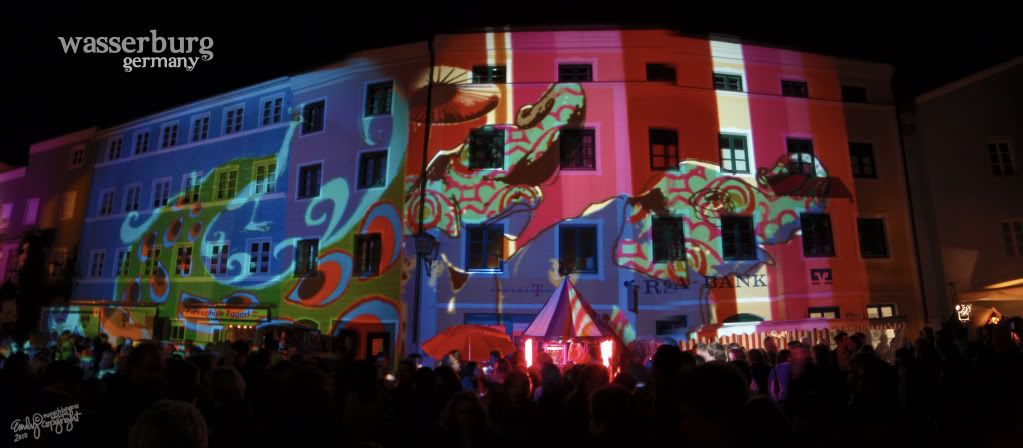 After we arrived to the inner city I called Stefan to fill me in on the train schedule. The bus driver said the last bus back was at 22:30, so I figured there would be trains out... assuming is never a good thing. The last train to Munich was at 21:00 and it was about 20:30.



Clearly Stefan was not so happy when he learned he'd have to drive an hour to pick us up after a very long work week. He was such a good sport and thankfully also able to enjoy the India themed light show with us.


I'm already excited to see what the theme is next year, although India will be tough to beat. There are so many vibrant colors.

We've been getting nostalgic - just one year ago today we left for India ourselves. The only anniversary I've ever been sad to think about.