A visit to Hamburg (at least for first timers) isn't complete without a stop near the St. Pauli / Reeperbahn area. It's Europe's largest red light district - even bigger than Amsterdam's, but it's not as showy. Sure there are plenty of shops advertising things you've never thought of, but visitors also come for other things - like seeing where the Beatles got their start.



In the book Outliers, which I mentioned before, you can read all about the early days of the Beatles in Hamburg. While I'd like to show you pictures of all the places they played at the beginning, we didn't stay in the area too long. We did walk past the Herberstaße, a gated street where women and children are forbidden to enter, where I'm told ladies work the windows. We also saw a woman, presumably a tourist, getting kicked out. Odd. It all seems a bit sensationalized.


From St. Pauli we headed down to the Fish Market and near the harbor. Along the way there are tons of bright houses with interesting paintings, street art, and graffiti.


The area around the old fish market was one of my favorites. The buildings and brick work are much different than in Southern Germany. Even the repurposed buildings are amazingly taken care of and the mixture of old and new blend so nicely together.


A fantastic restaurant, called La Vela, is right near the old fish market - and the food is impeccable. It was a wonderful way to spend the afternoon.


The more touristy St. Pauli waterfront still had plenty of action. There are all kinds of interesting boats, including police, customs, and this old fire boat turned biergarten.

We decided to go on a harbor boat tour, which was really interesting. It's amazing to have these enormous shipping boats right next to tiny boats taking tourists around.


There were boats undergoing repairs on floating docks where the water is drained and refilled. It sort of made me feel as though I was in a children's book as we passed all of the bright colors and admired the details.



There were also many cargo containers being moved and loaded. It was amazing how simple it all looked, as if they were building blocks. Hamburg has around 40 of the big cranes to move things in the harbor - each one costing a cool €8 Million.


We were also lucky to see this oil rig that had recently come in from the North Sea. Our captain was telling us what a difficult job it was to work on that particular boat.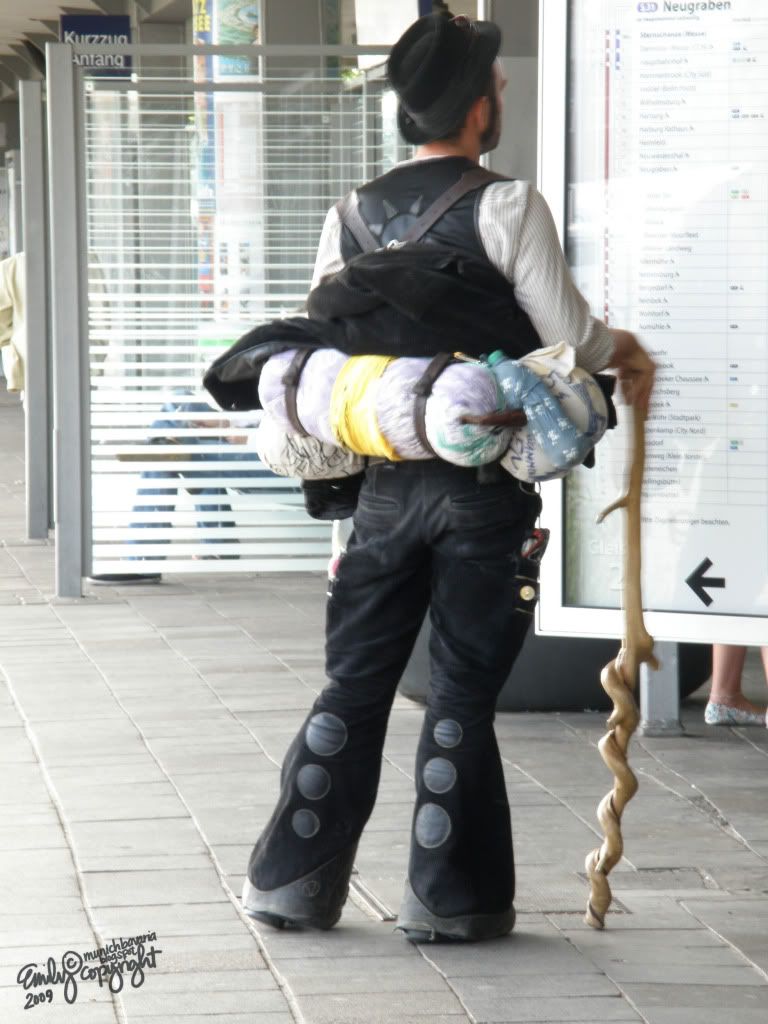 We'll definitely be back to visit Hamburg again. It looks like the gesellen aren't the only ones that love it! (I saw another one here in Munich last week - and this lonesome fellow while in Hamburg.)

You can see his traditional walking stick and a bit more of his costume than in the last photos.